The Best Busty Girls since 2009 were grouped in 5 groups of 4 girls each. Miss BoobsRealm winners and busty girls considered by BoobsRealm as the best girls of the year compete to name the Best if Miss BoobsRealm. We have the winnners of each group, who advance to the FINALS starting tomorrow to crown the Best of Miss BoobsRealm winner. This means this MissBoobsRealm will be another winner to join the past and future winners in 2025 to declare the GOAT.
Group 1: Merilyn Sakova
The OG MissBoobsRealm Merilyn Sakova won her group with ease (57% of the total votes). The runner-up was MBR unofficial legend Ala Passtel. Siri did not get as much love as expected, while Miss BoobsRealm Cam Girl (2016) Asiri Stone could not get close to the legends.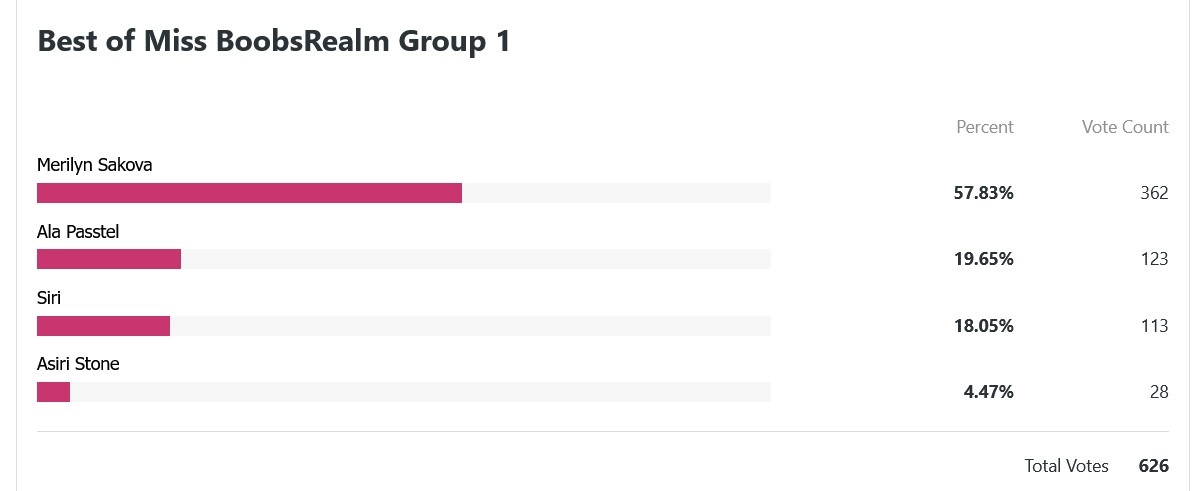 Group 2: Lucie Wilde
Lucie Wilde got her revenger. She is not Francis Farmer, but probably somehow after 8 years Lucie Wilde beat Antonella Kahllo. Lucie got 56% of the total votes, not even letting Best of 2019 Gabbie Carter have a chance. Miss BoobsRealm 2022 Mady Gio and Miss BoobsRealm 2013 and 2014 Antonella Kahllo did not get enough support to compete with the Myth, the legend, the boobs Lucie Wilde. I guess things in 2014 would have been different for Lucie. Let's see if she can pull out a Leo Messi.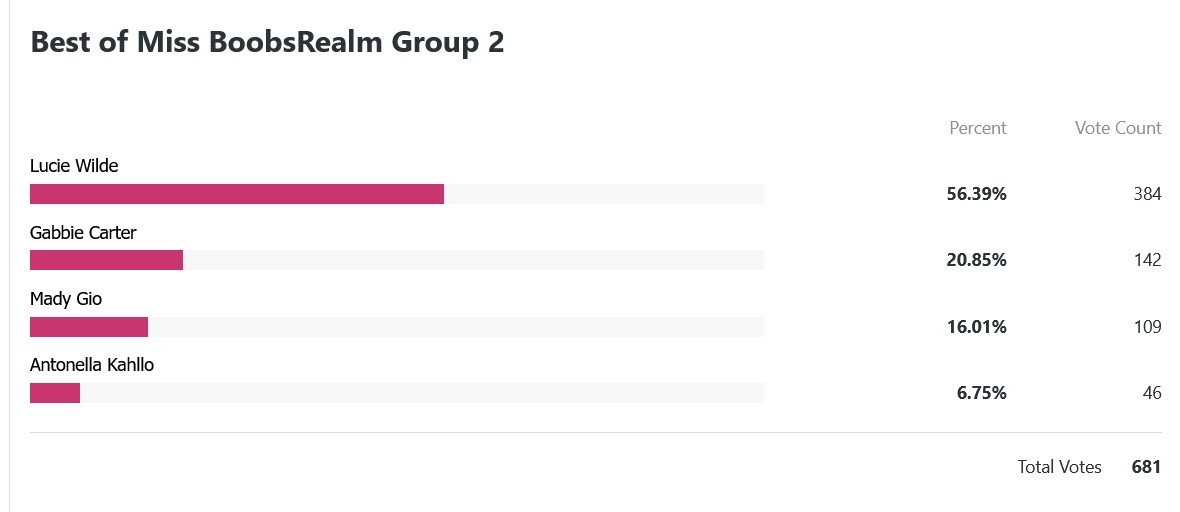 Group 3: Touki
The competition in this group between Gianna and Touki was one to watch out every hour. Some days Gianna took the lead, whereas others Touki was at front. I'm surprised Beth Lily did not get so much support. Sha Rizel ended up 3rd, but was far from Gianna and Touki. Touki won by only 6 votes, leaving the hardcore legend out after being added last minute as the Best Girl from 2009( this year was not going to be consdired, but was added as BoobsRealm debuted in March 2009). The French-Canadian now advances to the showcase of the immortals, in a FINAL round that features la creme de la creme.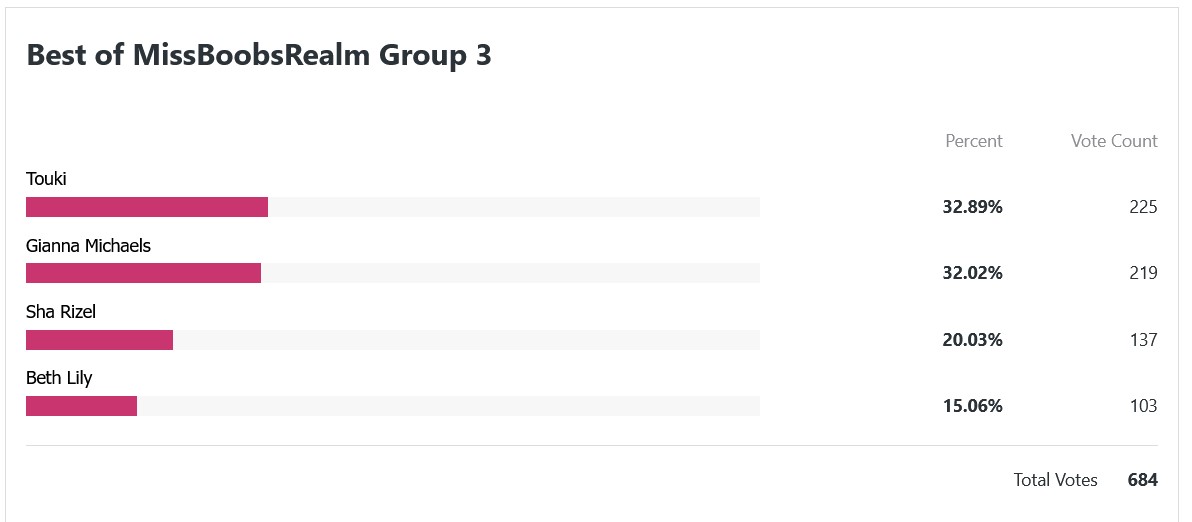 Group 4: Hitomi Tanaka
All Groups had 1 Miss BoobsRealm except Group 2 and 4. Samanta Lily had it very rough when competing with Tessa Fowler, winner of 4 MissBoobsRealm contest, Hitomi Tanaka and Yonia.t is not very clear why Tessa, who got so many votes in the last 7 years lost to Hitomi. The asian legend deserves, but it makes me wonder if this means something else went in in some voting in the past few years.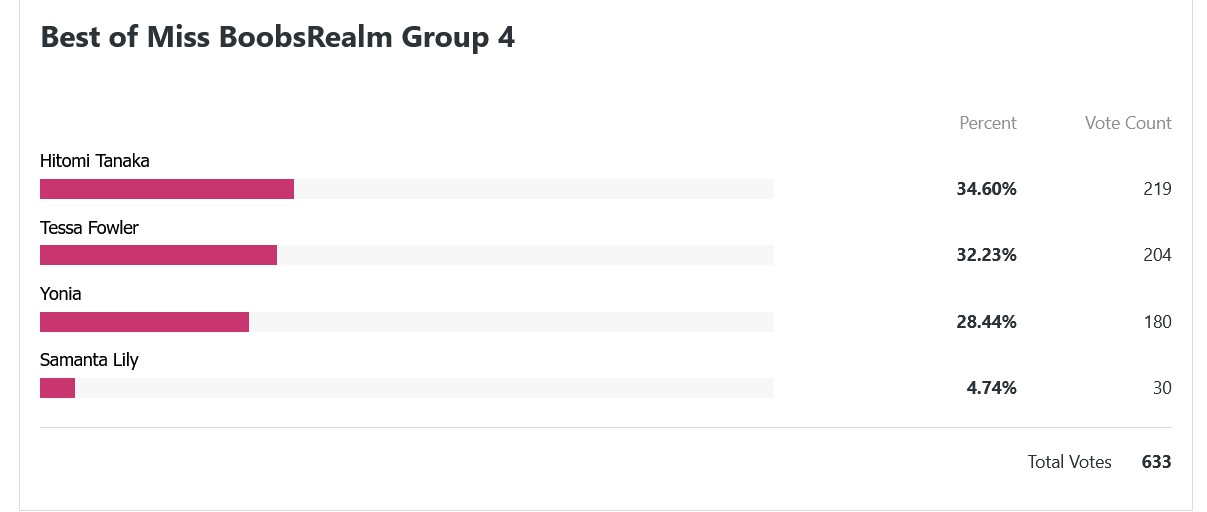 Group 5: Yulia Nova
The winner was clear since day 1. However, the other 3 legends had a fierce battle. Yulia Nova, who never competed in a MissBoobsRealm left behind Angela White (MBR18), Katerina Hartlova (MBR content) and Stacey Vandenberg (best girl of 2018).