This post was supposed to be added 10 days ago, then many things have been changing up and down. One day was going to be a very positive one, the next it was just going to be a very discouraging one. I am actually writing it on a Sunday evening prior to editing the Katerina running video for the Onlyfans. So, God knows what will change from today until Wednesday that it gets posted. Here some updates:
The title… Everybody lies, everybody dies. The inspiration was House MD's first and last episode. A friend of mine also brought up the metaphor as I was telling him all what has happened in the last 10 days. He suggested to consider that the BoobsRealm era could be reaching the final quarter. In fact, I did think about it, too, but then all changed again and I am back in the game. Bear with me.
Shoots canceled, shoots reconsidered, shoots, shoots, shoots
As a consequence of travel restrictions I was not able to go ahead with the shoot plans in 2020 and 2021 in Europe. As of April 2021 I had 11 girl agreeing to do shoots. One first manhandling, one first BJ and other debutants. I had so many girls for 2 weeks that I was going to turn some big names down. Go figure. BoobsRealm was going to have great content that would help make it the next step.
Fast forward July 2021. One new model retired -but fans do not know it yet,  as the account is being managed by a guy- the girl who was gonna do her first BJ found a boyfriend and now gets fucked on camera, losing the value the shoot was gonna have. Another one made 20k every month at 19 so she does not care to shoot for anyone. the big name who agreed to the first manhandling got a flea in her ear telling her it was not a good idea. Other just felt 1000 dollars was so little for 8 hours of work lol.  So I ended up with 2 girls… which would not make the trip worth.
Two days later I reconnect with a cam girl I was in touch years ago and who decided to come back. She actually found me and thought I was not gonna remember her Of course I do. Then one of the models who canceled was happy I had a reasonable and polite chat with her.. and now not only the shoot is again on the schedule but is introducing me to a NEW GIRL of EPIC PROPORTIONS – by Epic proportions I mean Lucie Wilde proportions… who is still a virtual unknown. The only issue is that my trip will not happen until the fall, so I am pretty sure someone will debut this SUPERSTAR before me. It is what it is, but I cannot complain.
So as you see, I went down from almost thinking I was not going to shoot in Europe to again getting enough models.
I always can still count with the lovely Sha Rizel
WEIRD NEGOTIATIONS
I was going to shoot a girl a cam girl who requested extra hundreds of dollars to shave her armpits. Hmm weird request, then asked for money upfront, which tends to be a redflag in this business. Luckily for me I got in touch with another girl who is even more famous and will be shooting with her soon.
Katie Savannah's latest shoot
I got together with Katie Savannah over a week ago. We have several videos for the BoobsRealm Store -some will be on Onlyfans and some on Loyalfans-. We also did some content for her Onlyfans. Katie is a joy to work with. There is nothing like working with somebody and feeling it is just doing fun stuff with a friend.
Shoots with the likes of Katie Savannah, Sha Rizel and Katerina are special. All girls I have worked with have been great. I became friends with Lana Blanc. However, there are some people you have more chemistry with and all things go perfect no matter if something does not go as planned in a shoot.
Join @realbabygirlxxo
for more of the uncensored version of this sethttps://t.co/ZM0HZxxMiS pic.twitter.com/VjDHAwYUeL

— BoobsRealm.com & onlyfans.com/boobsrealm_com (@BoobsRealm) July 16, 2021
A possible project
As shooting big boobs content in Europe was looking not likely I started questioning myself about the future of big boobs. Yes, there are certain things going on "backstage" in the big boobs world that are going to make it more complicated to shoot girls. Scoreland has issues finding quality girls. And all I can say is that all major sites will start to feature less new girls. I am happy I still have content already recorded that allows me to provide weekly videos until December 2022 already.  However, I started thinking of launching a site for Girls Next Door. Not busty, not pornish.. just a Zishy-like site with IG girls who still would dare to tease more, be funny and sexy.
As you noticed I am not online much posting on the blog -for reasons I will not disclosed publicly- so while I like the idea, the day has only 24 hours and I need to focus my limited free time and energy to editing videos and improving the quality of my work.
The DroHoe is one of my favorite girls who has not posed on boobsrealm. however, she did this tittydrop for us
Lovely @thedrohoe Epic Tittydrop pic.twitter.com/mHnbilgCYe

— BoobsRealm.com & onlyfans.com/boobsrealm_com (@BoobsRealm) July 13, 2021
The BoobsRealm Studio
As mentioned above, the BoobsRealm Onlyfans/loyalfans project will, at least, be alive until December 2022. With the positive news about Europe and a couple of new shoots in Canada and two potential shoots in the States -make it 3- it is even likely that the project will stay alive until 2024. So do not worry, there is content for years!
August will be a transitional month. The long-awaited migration to Loyalfans will take place September 3rd. It is not easy to migrate to a new platform as many fans want to use Onlyfans as their only platform. As a consequence, Onlyfans will still remain active, but most videos will be taken down.
I have not proceed with the claim with Onlyfans. My several thousands dollars owed by OF are still sitting there as with the more models added, the more complex the process is. The partnership with The Infinite Curves ends in July 31st and August will be the last month all BoobsRealm videos will be on Onlyfans.
Collaborations
The Partnership with the Infinite Curves opened doors and opportunity to bring in content from other producers. It also opens the door for some content/talent exchange. My first interaction with a producer -read as a guy who sales content he purchases/licenses from models- was not successful. This guy acted as he was the big producer and responded with an attitude when I talked about licensing opportunities. i was told before, and I can confirm, that professional producers -and professional models- are way smoother to deal with than fans who start licensing and selling content or girls who have never ever done modeling before.
Thanks for the Great Collab Infinite Curves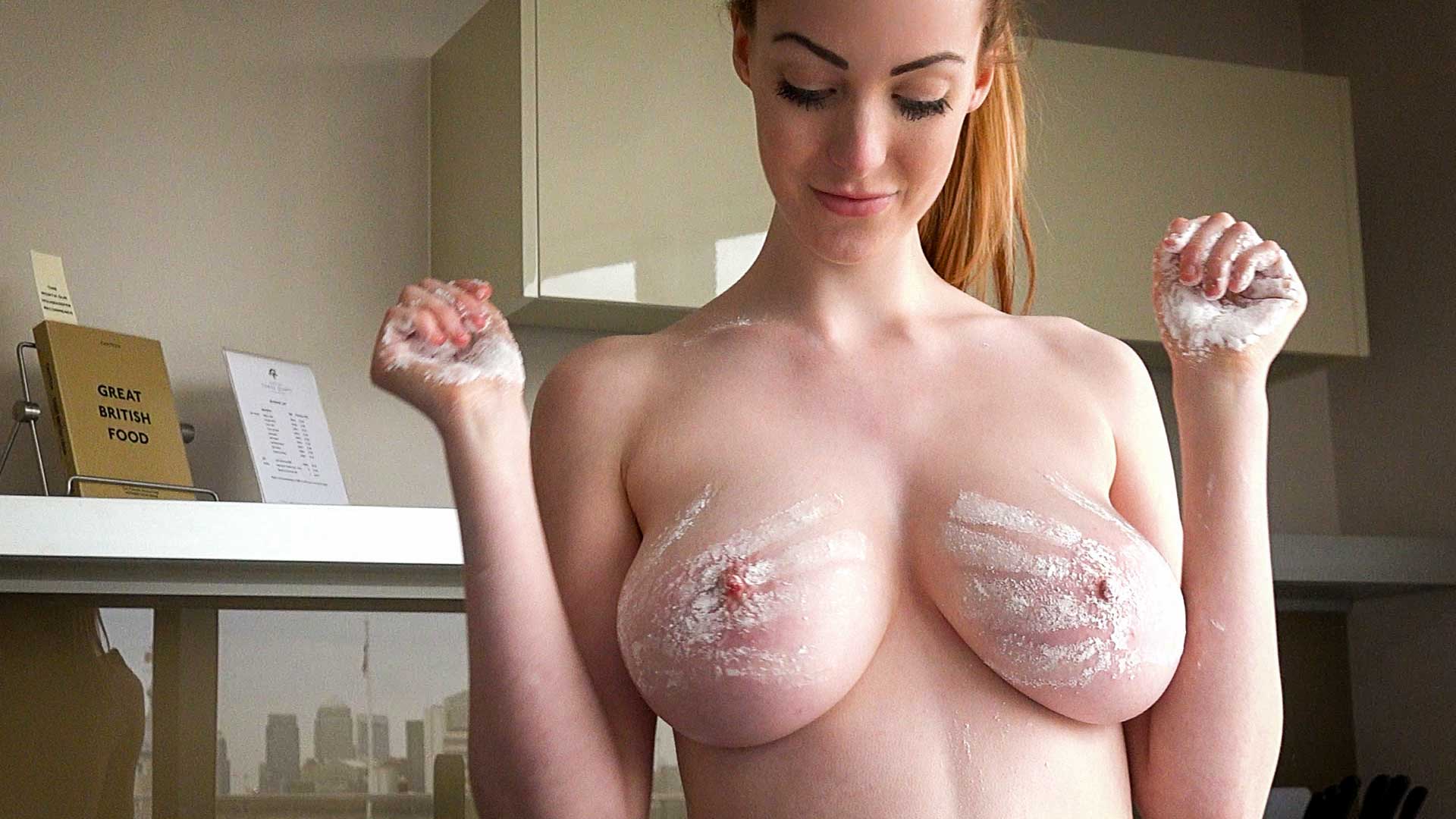 Is BoobsRealm Blog Gonna Die?
Hell no. I did get discouraged as I do not see many hot new girls coming in. I wanted to facilitate change by producing content. I still find it hard to promote content on the big sites that I would not watch myself. However, BoobsRealm will keep on the work. In 2021 I have published scattered posts as my limited time is not allowing to post more often, however, I am in the process of train my body to sleep 4-5 hours to be able to offer you something at least every 2 days and be able to edit content.
Bottom line, BoobsRealm is here to stay… I might have one more news to share in the coming months.. which would be a project I hold close and dear to my heart… but I will announce it once it starts. There is a chance it does not go through, but it will be the epitome of my boobs lover career.
Videos Produced by BoobsRealm start to be uploaded this week.. fully migrated in September.