This is the post #1,000 Published on BoobsRealm.com. I want to thank everyone for your support. I also want to share with you the girl that somehow started it all. A virtual unknown, whose porn scene made me watch more porn. Apparently she did only 1 porn scene. She was the hot redhead getting destroyed -literally– on Little White Chicks Big Black Monster Dicks 9. Her name is Katlinka Coctakerbitch.
BoobsRealm.com #1,000 post is not about the blog, but about pre-history of the blog. Before getting into the story I want to thank you for your support, for sharing the blog, for commenting, for making suggestions and for supporting the girls and the websites featured on this blog. Miss Boobs Realm is becoming an important contest and it is thanks to your engagement. I have interviewed many girls and more interviews are coming. It means that this small blog has bee noticed not only by fans, but also by popular models.
On the next post I will feature my top 10 of all-time. A very hard choice.  Below 4 girls on my top 10. Will you guess who is my #1?
I try to do my best to offer you a blog that differentiates itself from others. This is a blog by a fan made by fans. I know there have been bad pop ups and ads, but it has been to keep this website alive. I appreciate that many of you understand that BoobsRealm.com is not only about making some extra bucks, but it is more about sharing my love for Big Boobs Girls and interacting with you. Some people may not like some post, but that's also part of the idea. There is something for everyone. In this #1,000 I did not want to make a recap of these 3 years as BoobsRealm.com -even though the blog was alive under other platform but had to be started all over again in 2013-. I only would like to mention that BoobsRealm.com is currently among the top 100k most visited webs in the world.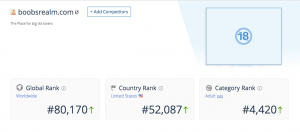 So on this post I wanted to help me.
Yes, below you will read about Katlinka. I already posted about Katlinka or Katalinka on the first TBT post –read story here-. But actually I'd like to know if somebody out there has found another scene or name of Katlinka Cocktakerbitch.
 Katlinka Cocktakerbitch aka Katlinka.  This is the girl that initiated me in porn per se. I had watch porn before, but never paid that much attention. I only saw fake boobs and that was all. Probably only liked Kaitlyn Ashley, Silvia Saint and Nikki Anderson.  This busty redhead was the one who hooked me up with porn videos. As I wanted to know her name and what else she did I started browsing online for years, leading me to discover all the big boobs models I feature on the blog.  She is the only girl that gets destroyed that much in the video. Like she takes 3 cocks at the same time. Not even Belladona could.
Seriously with that last name, who would expect her to use it on another scene. Maybe she was given that last name as she was not supposed to shoot ever again. Any Info is valuable!
Below some screenshots of my Divine Porn Inspiration Katlinka. You will watch the full video at the bottom of this post.
Watch the Full Video Below