Round of set of news and rumors between posts about Miss BoobsRealm 2021 candidates. On this post more on the feature of each busty girl in each post. Also Leanne Crow news and a farewell to Krystal Swift. As an add on, 50% OFF on the BoobsRealm Onlyfans and update with Katie Savannah.
Come to the blog every day as I am posting 6 girls that are in the Miss BoobsRealm 2021 every day. So if you come every 3 days you will may not see some of them. The posts will go on until December 1st and then the contest will start on Dec 2nd.
The BoobsRealm Onlyfans (and loyalfans) have a new update tomorrow. Katie Savannah is a schoolgirl who gets spanked – by me- The video will be uploaded tomorrow evening on both platforms, but the BoobsRealm Onlyfans will have a 50% OFF which is valid today and tomorrow.
Black Friday!!! 50% OFF only for this weekend!!https://t.co/59uiJUYUSD pic.twitter.com/PZEv5uxGMC

— BoobsRealm.com & loyalfans.com/boobsrealm_com (@BoobsRealm) November 26, 2021
Leanne Crow is pregnant again. Which means she might get her tits go even bigger now. Those tits would solve hunger in Africa. I do not know if she will shoot pregnant for Pinupfiles, but I am sure she will be active on her OF. After 2 kids I think Leanne may call it quits, but let's see in 2022.
this is from the first pregnancy.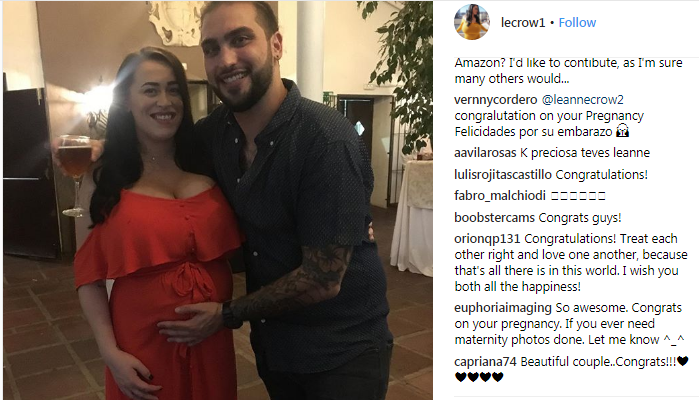 Another one who went away is Krystal Swift. BoobsRealm proposed her to do stuff for onlyfans, but Krystal came back saying she is retired now and will no longer shoot any content. I guess she has a man now or is pregnant. What I know for sure is that Krystal will leave many fans upset. Sadly, this is the nature of the business.
These past 2 years brought back Emily Born, Christy Marks, Shione Cooper, Emma Leigh, Jasmine Black, Siri and others, but also many girls left the adult world: Cara Ruby, Alice Brookes, Lana Blanc, Katerina Hartlova, Maria Body, Nina Nightbloom (all those with videos on BoobsRealm) as well as Lolosavo, KissMeFirst, Vivian Blush (who is no longer shooting content), Mia Melano, Xenia Woods and Gabbie Carter  . Lets' see who comes back in 2022 and who retires next year.
I knew about Maria Body's and Katerina's retirement prior to the announcement. I know of another well-known model retirement taking place next month, but I cannot make it public until she does it. Sadly we never got to work together, but conversations were very advanced.  On a side note, I hear rumors of a big boobs site shutting down next year, but I obviously cannot say anything because it could hurt that site business. I hope it does not happen, as it is a legendary site; however, the inability to get new girls or get the established ones to return is playing a big impact.