Many of you guys reading this article are for sure VR Porn lovers. If you are, a must site to check out is VRLatina.com.
This site has been around for a while and it focuses on pure amazing and horny Latinas that are going to satisfy your porn hunger.
All scenes are shot in the US and in various Latin countries. You will find here insane Hispanic hotties like Isabella Angela, Adriana Medina, Kourtney Love, Lucia Lupa and more. When it comes to genres you will find here hardcore, busty, BDSM, Babes 18 to 23, Milf, Solo Masturbation, girl/girl/boy and outdoor pool scenes. So basically, you will never get bored.
Navigating the site is extremely user friendly and simple. Just choose the scene you want and download it to your device to watch. All content is compatible to any VR device, so there won't be any problem with the download.
Every model has a short description and links to each of her scenes. A short preview is available so you know exactly what you will be getting before you go on and proceed with the download.
If you are either new to VR porn or are an experienced consumer, VR Latina really does offer everything you could want. To some really stunning unique women, to the prettiest girls I've seen in VR porn, you have plenty to choose from.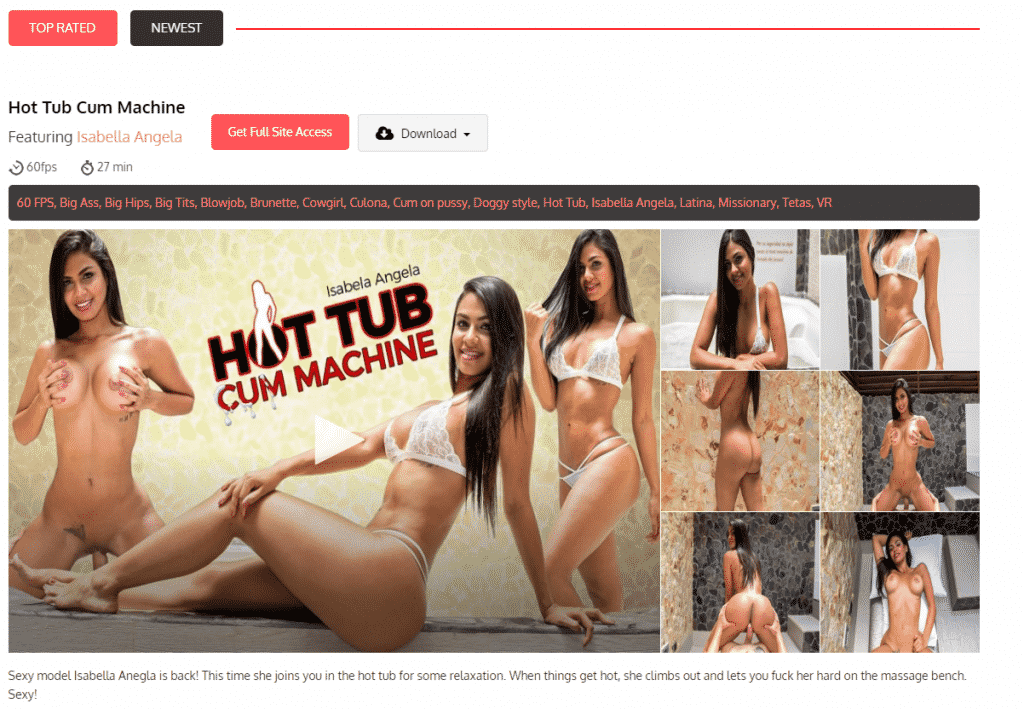 The quality of the streaming is excellent. All content is shot in 5K and with 180 degrees.
When it comes to pricing, the site is very affordable. You can choose from a 1 day trial for just $2.99 which basically would give you a good taste of what the site has to offer, or a 1 month full access for $14.99 that will give you plenty of time to watch, download and have fun with all this content. If you are a savvy VR user, you can also choose the 3 months access for $24.99 or a full year for $67.49.
VRlatina.com adds new content every week so you will never come across a situation where there's nothing left to watch.
The site accepts Visa, MasterCard and Paypal with safe and discreet transactions.
In conclusion, if you are into Latinas and VR, then this site will be a great fit for you. Entertainment is always a key factor so why not spoil yourself with some of these hotties who will blow your mind? They will put a big smile on your face, trust me when I say this. =)