A hot MILF is the thing of most men's fantasies. There's nothing sexier than experience, and these alluring beauties have plenty of that when it comes to riding cock. Dominant and confident, MILFs are at their sexual peak and ready to please and be pleased, sometimes with a little force.
They know what they want and how they want it, taking the guessing work out of how to please them. Unlike younger women, the only games MILFs like to play are the kinky kind. With most MILFs, you're just along for the ride, but what a ride it will be! Nobody does MILFs like Brazzers, home to thousands of videos exclusively featuring hot moms you'd definitely like to fuck. You can get access to these by trying our Brazzers Discount.
MILF Makes A Threesome Power Move

Take Jenna Love, the quintessential All-American blonde bombshell. She's one of our favourite MILFs over at Brazzers. Like most MILFs, her sex drive is absolutely wild! Jenna is always hot and horny, even when she's cleaning the house. One afternoon while picking up dirty clothes for laundry day, she barges into her stepdaughter's (Lilly Bell) messy bedroom. With her headphones blasting, Jenna didn't hear Lilly masturbating before she came in, and definitely did not see the surprise that was hiding behind the door – Lilly's boyfriend, Kyle. This is where things get interesting.
Just moments earlier, looking for a quick fuck, Kyle sneaked over to Lilly's house. While creeping around outside her bedroom, to his delight, Kyle's dick immediately gets hard as he looks through the window and sees Lilly touching her wet pussy. Lilly spots Kyle and he climbs through the window to join in.
After a sloppy blowjob, she brings him into the bathroom for some sexy shower fucking. In walks Jenna to clean, but she's completely unaware that her stepdaughter is on her knees with Kyle's dick in her mouth and doesn't hear the loud ass pounding happening right behind her. Or so they think. You see, they think they've pulled one over Jenna. But what they don't know is that Lilly's sexy stepmom has been secretly craving a threesome, so this cougar is about to pounce on the opportunity.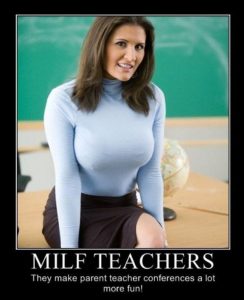 It's only a matter of time before Jenna strips off her clothes, showing off her thick ass and sharp curves. She slips into the shower to join in on the fun, taking Kyle's big dick into her mouth, to Lilly's surprise. But the stepdaughter soon gives in and joins her stepmom in giving Kyle what's sure to be the most memorable blowjob of his life. The threesome moves to the bedroom, where the real fun happens.
Married Jenna has always fantasized about a threesome, just not with her husband. She wants to experience every position possible, taking the reins while also being pleasured by her kinky stepdaughter and her boyfriend's thick, young dick. This stepmom and stepdaughter get really close with a little scissoring as lucky Kyle gets to watch. He soon can't take it anymore and joins in for some threesome hotness that features just about every position you've ever fantasized about.
There's Kyle fucking Lilly as her dirty stepmom rubs her clit. There's Jenna riding Kyle reverse cowboy style as Lilly rides Kyle's face with her slippery pussy. There's Kyle fucking Lilly's tight ass from behind as she eats out her busty stepmom. And back to lucky Kyle, as both babes go down on him, sucking his dick and balls together like the close family they are.
As they're cleaning up the room after cumming, the threesome gets busted by Jenna's dorky husband who walks into the bedroom and catches them naked. All three run out of the room completely satisfied, especially Jenna who played her power move and got the threesome she desired, giving Kyle a MILF experience we're sure he'll never forget.
Getting Access to MILF Porn Discounts at Brazzers
So, from their experience and confidence to knowing what turns them on and doing everything to get it, now you see why MILFs are the gold standard in getting you off. Brazzers is one of, if not THE best, sites for the hottest MILF Porn Discounts and movies to ever grace the internet. The site is also known for its lesbian, black, and anal porn collections. It's no secret why Brazzers is the #1 best porn site in the world.
This site has everything you're looking for and even stuff you didn't know you needed but soon won't be able to live without! Treat yourself to access to more than 1,400 of the hottest pornstars and over 5,000 wank-worthy movies by getting your membership to this premium site today.  Take advantage of our special discount offer now. Thousands of hot MILFs are waiting for you.