This is a post containing some wishful thinking combined with some trends I have seen in the past. I also include some girls that I think will have a big impact on the big boobs scene.
Big Boobs Girls to watch
Kittiesauce: The busty Chaturbate cam girl is becoming one of the best busty cam girls. People will be taking notice on this girl and I will not be surprised that Kittiesauce ends up shooting for top websites. Kittiesauce is not interested in posing for a site, but I am sure that her bubble personality and her bubble butt and round natural boobs will convince top producers to add kittiesauce to their model roster.
Lauraa18: The young busty spinner from California wants to keep a low profile. However, her fame keeps on going up. Her thing waist and her out of this world boobs make her an instant legend. You can catch Lauraa18 on webcam every morning on MFC
KissMefirst: One of the most beautiful camgirls I have ever seen. This Eastern European can become a top pornstar if she flies solo instead of only fucker her boyfriend on cam. Watch her getting those natural boobs manhandled and sucking cock and getting pounded on Chaturbate. The issue is that if she breaks up with the boyfriend, probably we will never see her again.
Elizabeth Anne:Despite saying that she will never goes topless I think that Elizabeth Anne will remain as a top internet sensation. I see her going the Wendy Fiore or Denise MIlani way. Elizabeth Anne could launch her own site and make a lot of money; however, she could be making a lot of money on instagram, if she hasn't already.
2016 predictions
With Spanish Nekane going the anal route with Pierre Woodman, I would not be surprised if other girls choose to do anal.
Glamour models going hardcore: Emma Green has been teasing with some cocks in the past few months. She was on a Digital Playground scene and also on LadyVoyeurs.com. ON that site also Hollie Sparrow watches how a guy masturbates and drops a huge load. Hollie talks about cum and gets nude to get the guy shoot his cum. While I don't see Hollie Sparrow going hardcore, I think this is a huge step forward to see her give a handjob. This site and its sister sites have had Cherry Bloom and Katie Thornton. Would this site sign girls such as Beth Lily or Leanne Crow? or maybe get girls from abroad such as Samanta Lily or Valory Irene or maybe bring Karla James or Faith Nelson in? time will tell.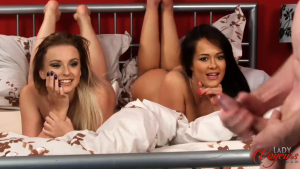 Scoreland offered the first sex scenes of Sheridan Love and other models. There are teases online that maybe girls such as Julianna Simms, Larissa Linn and Katie Thornton may be considering doing hardcore. Would we see any of these 3 girls making the jump on a cock in 2016?
Some of the best discoveries of the latest years are already gone: Lucie Wilde, Amanda Love and Emily Born. None of this trio has any interest whatsoever on taking the bra off in front of a camera. Emily's and Amanda's stories are similar. They now despise topless and have boyfriends who may not be happy they would pose topless. Family count also, so it is unlikely they will grace a website again. Emily has avoided social media, whereas Amanda continues teasing on instagram. In regards of Lucie, she has severed ties with the porn industry. However she is turning 20 next month and may understand that she can be a star on her own terms. Would we see Lucie Wilde on Scoreland, Pinupfiles or Cosmid? First things first, Lucie's english is basic at best, so if anybody wants to make it, she would need to get some classes… Any volunteer?
Photo courtesy of ddfbusty
2016 marks the return of Faith Nelson. Will she be successful under the new 2.0 business model? Would she become again the top star she was 8 years ago? Faith Nelson messaged me and told me that she still has to confirm 100% if she will make a full-time return. I hope she does. Thousands of people have been missing those tits for years.
Winter Pierzina has been active on MGF. However, her home duties prevent her to be a full-time model. Winter Pierzina has 2 kids and she wants to sell content to provide for them. Do you think Winter would be willing to finally shoot for a major site?
Noelle Easton first anal in 2016. I know Noelle is playing with anal plugs. On my interview with her she said she would never do anal. However, Jenna Ivory said the same thing and she has at least two anal scenes. I believe that for the right conditions Noelle can give us a one-time only anal scene.
Miss Boobs Realm 2015 Samanta Lily will consolidate her position as top busty star.  2015 brought us many debutantes and many 18 years old girls. This means that there are dozens of big boobs girls who will turn 18 starting next week. Who will be the first big busty girls to show their boobs online for the first time in 2016?? My cock awaits…
Last, but not least BoobsRealm.com will launch two sites in late January/ early February: One will contain the reviews of the top busty sites, whereas the others will be your main source for big boobs webcams. Stay tuned…- and enjoy this acclaimed post from the past- big tits gifs
I leave you with this busty unknown who showed her boobs at the concert and then felt ashamed when realizing she was caught on camera..Boobs On!