Busty Agentis Miracle hits the gym to show us how much weight can she lift. As we can se her 32L naturals make her the worlds strangest woman!
Busty Polish sensation Agnetis Miracle 32L has been around for several years. The blonde star has helped us satisfy our big tits cravings by showing off her big natural breast. On her Official website Agnetis  posts several photos and videos for us. She can be either walking around bouncing her big boobs or on the beach going topless and putting every other girl to shame.
This post shows you some of the photos on her Work Out session. Agnetis poses for the camera with her wardrobe on, but as time goes she decides her chest are too big for her top. She flashes her big boobs and shows us her strength.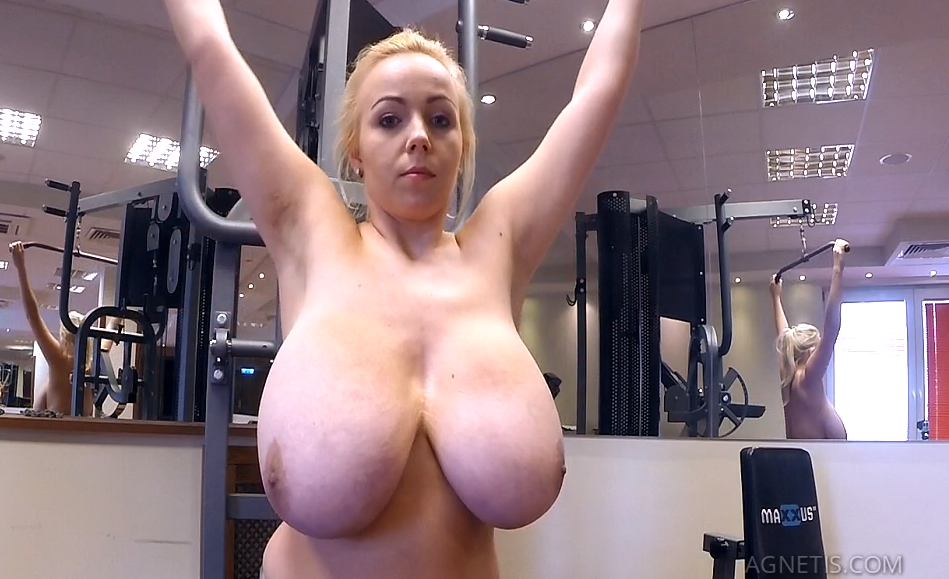 The main photo on this article comes from Work Out part 2 which is a video where Agnetis continues to showing how strong her back is. Those big tits are off the chart! She is wonderful! My favorite Polish girl. Big boobs 4 life!
Another characteristic that sets her apart from most of the girls now in 2018 is that she does not have tattoos or piercings. So for the ones who do not love ink on a body Agnetis is your go-to girl.
Some people speculated that Agentis was leaving the industry last year. However, BoobsRealm can confirm that we have more Agnetis for 2018.
If you have not joined her official website it is time you do it. Several photos and videos are available. More are coming. You will also have access to suggest what you would like to see in upcoming sets and get something for Agnetis on her Wishlist.
You can also follow her on Twiter @AgnetisMiracle and use the hashtags #Agnetis #AgnetisMiracle #DayDream #32L when mentioning her.