Busty sensation of the year Amanda Love is featured again on Cosmid.  Amanda Love takes off her big bra and tries new huge bras. You have to see how big those breasts are! Unbelievable! Check out Amanda Love bra fitting. It seems there are new videos coming up.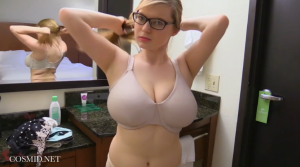 It is not a secret that one of my all-time favorites is Christy Marks. The Philly-native is one of the girls that motivated me to start a blog. She had such a beautiful face that I always wanted to see her getting sperm on it. I recall there is only one video where she asks for the facial. In a previous post I took screenshots of all Christy Marks facial cumshots, but I forgot about these, which are from the Threes's Cumpany scene.
The photos are hot, but you have to watch the video! Christy Marks  begging for cum on her face is so hot.