Wonderful czech Angel Wicky is a blonde bombshell whose career has been rising in the past 2013. She has done great scenes for Scoreland and DDFbusty.com as well as other famous sites. For 2014 she is willing to embark in a journey that will take her career to higher levels. She will be one of the next pornstars to be interviewed for the blog.
Angel Wicky gave on her facebook some inside of the pornstar's job. Many girls have to read daily questions regarding sex offers, how "easy" is their job, how people can do to enter the biz, if it is always fun to fuck every time. So, in order to demystify the life of pornstar and give advice she posted interesting  points that should be considered not only by girls wondering whether porn is their best choice, but also by fans who think the act of shooting a scene is less complicated than having casual sex.
This is an interesting read. You can become a fan of her official facebook page and follow her on twitter at @Angel_Wicky_II.
From her facebook account:
(Note: I added some pictures and links for your viewing please)
"HI GUYS AND GIRLS,
LOT OF YOU STILL WRITE ME AND ASK ME ABOUT PORN, HOW ITS GOIN ON, HOW I GET IN ETC, HERE IS THE TRUT: PART 1
I answer you now…
Its not easy way, its like every job, you start from nothing, for small money and you must to do things what you don't like and work with peaple you dont like…and it take years of hard work become famous pornostar which get god money and respect;)
1-the first, you must contact lot of company and agency in this business, go on personal meetings, make castings, have nice and good body for this job (boobs, ass, penis, muscules, high and weigh, measurment…), make dancing, striping, erotic photos, interview and masturbating.
2- you have to be exhibicionist, dont be nervous front of minimum 20 peaple, cameramans, photographers, asistents, make-up artists, be comunicativ on camera, know how to improvized, get peaple in interest in you etc…
Angel Wicky getting make up done before a scene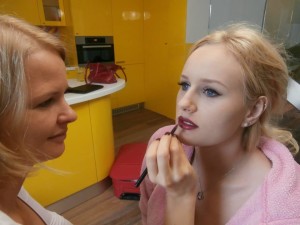 3-after you will wait if will someone like you and want to try you in erotic business, if yes , they will contact agency where you was on casting…after you can try to make some movie…BUT you will start with old woman, old man, guys have to start in gay porn, no with nice jung, and sexy person, so no with someone as me!! Its about acting a sex !! this is job so you must to do it and don't look with whom..doesn't matter how old the person is, how he or she look or what you must to do!!
Being a pornstar is not as easy as many think.
Performers have to do what they are told in order to get an appealing final product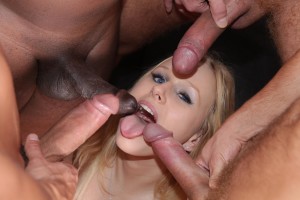 4-You got script, which position do, when make change, how long you have to do something, and you must do everything what director tell you. You cant choose what you want to do or how long! you must to do around 5 position, shooting is around 6 hours, but sometimes also all day, 16 hours one movie!! and you have to make cumshot when director tell you. It doesn't matter if its painful, uncomfortable, if you are tired, hungry etc…its job and you must to do it till the end!!
5- if you do it and you will want to continue, you have to wait at home again. So you must have normal job also, because when you start in erotic business you will have just little money and work time to time…
Angel Wicky getting double teamed for an Scoreland scene. You can check more here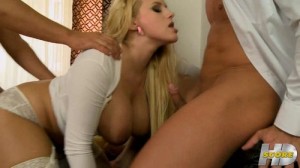 6-it will take years to get in professional, have higher money and be known!! but you must do it really as a professional and perfect, you must really want to do this job for your live and go for it. You have to handle all the disgusting and difficult things. And dont forget that exist special website where all company write review about you, your work, etc. so each time you try to go on casting or some shooting all company now what you did or didn't and how!!
7-Its not easy way, its like every job, you start from nothing, for small money and you must to do things what you don't like and work with people you don't like…and it take years of hard work become famous pornstar which get god money and respect;)
so please think about before you ask me again about all this thinks;) thank you."
And here a photo shoot video and a couple of extra photos