Angel Wicky is without a doubt the pornstar who has been making more waves in the mainstream world during the year. She is one of the few pornstars that has been green-lighted to pose for the world-famous magazine. Angel Wicky shared a translation of the article with BoobsRealm.com. It is an interesting read as it helps us get to know Angel Wicky more personally. Plus we have the exclusive photos from her session with the magazine owned by Hugh Hefner.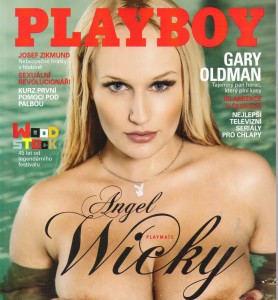 Angel Wicky- She is an Angel with a devil in her body.  Innocent and angelic to look at. Devilish and naughty inside.
Two opposites that are united in one body and created an attractive creature. Apparently Angel was very naughty angel in heaven.
She upset God who took her wings and threw her on the ground in the earthly world, where she remained imprisoned. Angel loves challenges,
new and crazy things and she has a head full of ideas. She is body and soul an exhibitionist who wants to be seen everywhere. She has
big ambitions. She knows what she wants and she is not afraid to do whatever it takes to achieve it.. Angel Wicky is an unusual girl from a small Czech town, who decided to conquer the world's erotic industry. She is currently working on several continents for the largest companies in the world. She is not only the world's porn star, but also a successful director and photomodel. With only  23 years, she has became one of the twenty porn stars that have found their way into Playboy magazine as an attractive Playmate. And she is going even higher!
Name: Angel Wicky
Born: 8.4.1991
Place: Highland area- Czech Republic
High: 165 cm
Weight: 60 kg
Measurement: 98-64-93
Ambitions: "More great project around the world, in which I act and direct. Have my own company, win porn Oscars, get into other global magazines and become one of the world's best in my business."
What attracts me to men: When he is cool, smiling, crazy like me, but also a strong personality who knows what he wants.
What discourage me: irresponsibility, lying, hypocrisy, infidelity
What gets me: In a bad way gets me people full of envy and hate people, inclusion-conviction and wishing bad things. In the best sense gets me loyalty, kind behaviour and support of my fans. Some of them are sweethearts =)
Secret dream: My dreams are my ambitions. I  work hard for fulfilling them.
Dream vacation: anywhere, especially with super people, good food, sun and beaches.
What makes a woman sexy: Confidence, naturalness and spontaneity
Personal motto: Live your life, do not listen to people who slander you and envy you. Do everything that you want and makes you happy. Only then you can say that you live!
Please do not forget to read my interview with her