Brazzers releases a new Angela White video where she fucks 7 guys. Did you know that busy Addisson posed with the famous BoobsRealm tank top? And Cam Girl Cheryl Pride astonishes us with her giant naturals.
Angela White announced Brazzers new scene featuring her versus 7 guys is out. So if you want to see Angela in a handicap match, this is your turn. Now I will make a personal opinion. Angela White is great, but once I have seen it all, I do not really get excited seeing it again. For many Angela White might be the best busty girl of the year, and probably she will win her Group in Miss BoobsRealm 2023, but I think the excitement that some girls bring in 2023 is different. While Tessa can get stale doing topless and nudes, porn can be stale too. I do not mean girls need to go further or more extreme, it is that there is a point where it hits a plateau.
Below a photo from another scene of Angela and Kendra Sunderland. Yes Kendra has been back for a while, with arm tattoos and just not in the library anymore. Yes, whatever.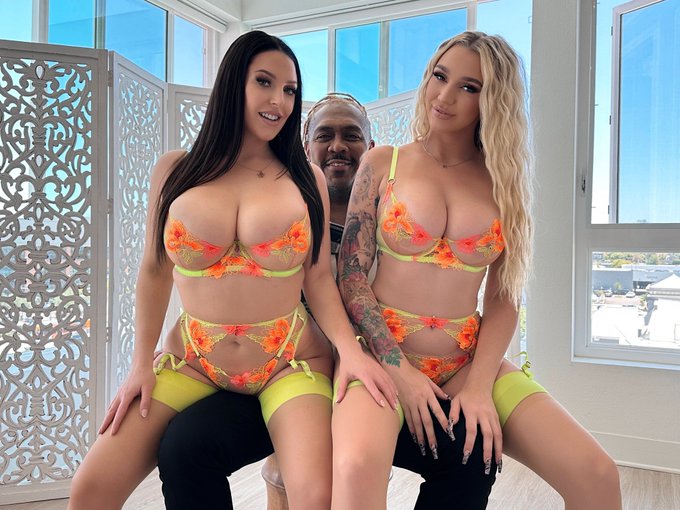 Cheryl Pride is an experience cam girl who deserves more credit. I think she is the modern day Busty Ema. Yes, Ema is still around, but Cheryl Pride is super busty, knows how to play with her giant tits and is nice to deal with. Cheryl Pride is known, but she has to be more popular. I hope this helps.
Last but not least a Throwback Thursday with Addisson. This black girl had tits that were Lucie Wilde's level. However, according to some fans, she would have had more success if she would have hid her identity, if you know what I mean. I think a haircut would have done wonders, but to each its own. Our friend Cel had the rookie pornstar wear the glorious BoobsRealm top.
Watch her scenes with the french boobs master.