Congratulations to Antonella Kahllo who, for second year in a row, wins the MissBoobsRealm crown. In a breathtaking final round the People's favorte Antonella beat the Discovery of the year Lucie Wilde 215 vs 214 votes. The third place was for Leanne Crow with 61 votes. It is impressive how Antonella got all her fans together to vote for her. I have to be honest. Even before the contest many fans e-mailed me saying that the contest had a winner already: Lucie Wilde. Antonella beat the odds and took not only the title home, but also will receive the $350 prize cortesy of our sponsor PornHD.
Without a doubt Antonella is a heavy contender for even the MissBoobsRealm2015 edition, which will start in November 2015.
Thank you to all the fans who voted and supported ther favorite girl. Thank you to all the girls who supported the contest. It is worth saying that some models got behind the contest while others just tweeted a couple of times, but even despite that they did well.
Congratulations Antonella! Now it is time to celebrate with the fans… Please share the boobies!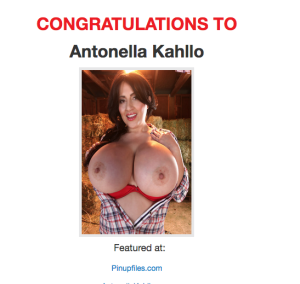 Antonella shared with BoobsRealm and her fans these photos from her Official site