I understand people like to play with being gagged and bound or spanking or some sex play in BDSM. Ok some rough sex. Nothing wrong. However, this RANT is about the thousands of people who cross certain limits which are still considered consent, but are in reality mental abuse to break someone else souls and mind and create a dependence.
I do not know who I will piss off with this article, but honestly I GIVE ZERO FUCKS!  I will explain you why I think people who use the DOM/SUB relationship are really fucked up in the head and should someone get some help. I know, they say -the subs- that it is consent, but in reality they are trapped in a relationship that will wear them down emotionally and will damage them to a point where there is no return. This is not BDSM for beginners.
Again, this is not about role play or some whipping. I am talking about MEN -mostly- who use certain technique to make a girl helpless and make them subconsciously -and consciously too- dependant on the DOM. These men are pieces of crap that deserve to get a beating.
Exhibit 1
A girl gets tied up in a dark room in a house in the middle of the forest for hours. The girl wants out. No food, no water, no words. Crying and yelling on her part. However the DOM makes her feel he is there and HE will decide when it is time to set her free as he is the only one who can control her life. She is "little", he is in charge.
This technique is used in Secret Societies in the initiation ceremonies. The applicant is put in a coffin, which is closed for hours. The person does not know how long. He needs to trust the Brotherhood. Hours later, after sensory damage, the applicant is freed. He sees the light and is thankful towards the lodge. This is technique is used to get the person into a mental breakdown where he submits 100% his body and mind and once freed he sees the lodge is their only Savior.
Shibari, a technique of suspending a Sub using ropes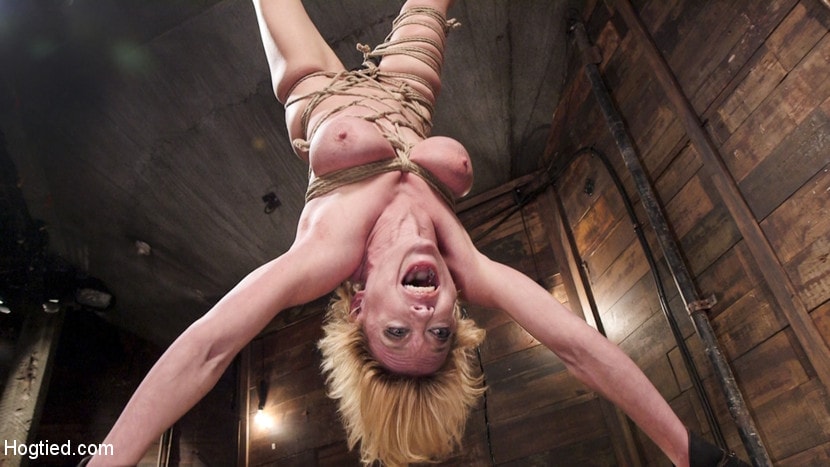 Exhibit 2
A girl is taken to a party where is is introduced to unknowns. Th sub thinks it is a normal party; however, those strangers start having sex between each other and her DOM tells her they must do as they see. They are the DOMs friends and the girl is offered as many dicks as possible and she has to trust the DOM.
Exhibit 3
February is the coldest month of the year. The Dom tells the female Sub they will have sex in the car, so she will wear just a winter coatand be almost naked. He drives to a lonely highway stops the car and tells her to go out and they will have sex in the woods. The sub goes out and opens the winter coat so they proceed to have sex until the Dom cums. The Dom then makes the girl walk away so he can take pics of her almost naked at freezing cold temperature.
Exhibit 4
Dom wants the Sub to not have sex with other guys, but he does not want to be tracked as he has sex with other girls and tells her she is the only one. However, he calls from private number so she can never escape from him. Sub changed phones number to avoid harassing, but months later she feels she needs the emotional pain only the DOM can provide.  The girl says she is in control and blocks anyone who tries to talk her out of the abuse. This is the most clear evidence of the the effects of breaking down mentally someone through the BDSM bullshit.
Women who rely on DOM/SUB relationship are girls who have suffered from low self-esteem. These girls only know pain as a way to have emotions. Sadly, they feel attached to men who captivate them and make them feel "little" as they are made believe than certain men only can dominate. These women are hard to deal with and use "sexual independence" as a way to make them believe they have control, when in reality the DOM wherever he is ruins her life making her insecure and unable to experiment other emotions, as she blocks them unless she is with the DOM.
All those actions are not performed by a caring and loving man/men. And the sub is a person who is 99% of times doomed to self destroy their lives. If you join FETLIFE you will find a lot of women willing to be used as cum dumpsters just because someone broke them emotionally and they do not know a way to make it back.
These women usually see other men as Inferior Men and they only respect -or fear- their Doms.
Now I am not saying you have to join Fetlife or everyone on Fetlife is a screw up. however, I was surprised to see how many fucked up men who deserve to eat shit exist and how many low self-esteem women are. I also took a few months to create a fake female profile on Fetlife and see what a girl there receives on a daily basis. The results of this last investigation will come later.
COMMENTS
I would love to read your comments.Maybe you know more than I do. I am posting here based on what I was told by certain people, sadly all real life stories.
Bullshit Crap