There is no doubt that Beth Lily is one of the prettiest busty girls to ever pose topless. Te busty superstar has just released a video on her Onlyfans where sie is naked on the bathtub. On the other side of the good news, beautiful Beth continues in the Instagram purgatory just because she has massive boobs.
Bosomy Beth shows off her naked body. While she does her best to handle her big boobs and cover her nipples, there is no doubt that the sneak peek of her nipples and the excitement created by the fantasy of seeing unintentional pink nipples or her vagina are what makes this tease hot to watch. I know many fans prefer explicit material, but there is some art and creativity at creating this videos. If you have not watched Beth Lily's videos on Onlyfans you cannot complain about her not showing more. However, if you have watched you already understand the storytelling and the work put in playing with our minds. Beth's work to busty lovers compared to other models who do full topless or full nude can be compared to thriller movies in the following way: Some people prefer the jump scares or explicit violence, while others like when the director play with our emotions and keep us on the edge of our sits. Beth does that, she knows how to make every second worth to watch. The view of her naked firm breast, while still not showing them fully naked can accelerate your heart rate.
Here a video of Beth and Fiona danacing salsa… not the best salsa dancers, but nobody will complain as those big naturals are bouncing delightfully
Just uploaded a new video on https://t.co/WNTPs91H5W !!! Salsa dancing with @FionaGirlSoho ❤️??? pic.twitter.com/GEzKygHHW8

— Bethany lily april (@BethanyLilyA) May 18, 2019
On another note, Beth and her hourglass figure have been shadow-banned by Instagram. Her tease content is deleted  by Instagram as the platform considers it vilates its terms and conditions,while the very same platform allows celebrities show their butts and tits. I guess that SJW Instagram thinks that bosomy women make the less endowed feel bad, thus censors huge tits. Anybody else getting frustrating by Instagram?
Follow Beth on Instagram and help her get more followers as she i shadowbanned on the platform
https://www.instagram.com/bethanylilyapril/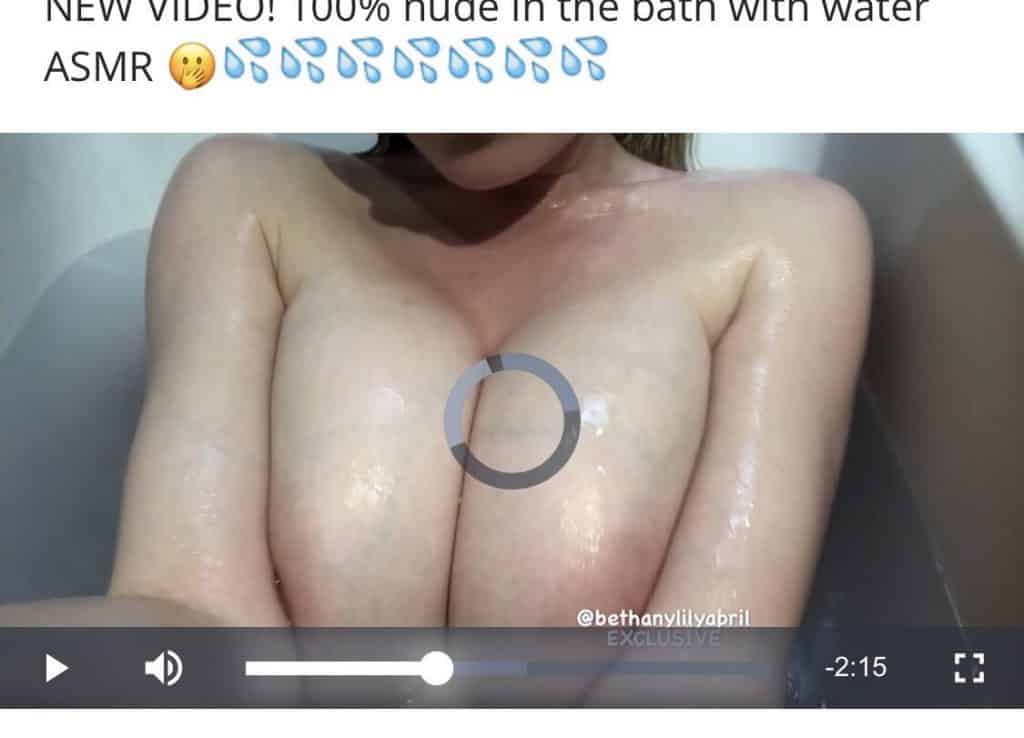 Now let's get back to the fun stuff and check out Beth's content. I strongly suggest you to give it a try if you have never payed for her onlyfans. At least one month. I know some fans are against it, but regardless of anything there is one undeniable fact:Overall Beth Lily is one of the hottest and prettiest busty girls of this century.
https://t.co/4st0vXPqJO ☄️??☄️??☄️??☄️?????☔️☔️☔️☔️☔️☔️☔️??????????????????????????? pic.twitter.com/QT69xcCjdw

— Bethany lily april (@BethanyLilyA) May 26, 2019