I hope you enjoy the busty girls on this post; however, before going forward, I would appreciate if you can complete the following Survey. It will help me plan changes to offer you a better site. I wanna know all your comments as the most feedback, the better for you and me.

Boobs Realm wants your feedback. I want to hear your voice so BoobsRealm.com becomes the Best Big Boobs Blog in the world. It only will happen with your support and help. Please complete the survey below. Also in this post watch MissConduct's hot Snapchat #Takover on the BoobsRealm account and  hot busty amateurs Rachel and Kurstea who have gotten legendary status on the internet.
Let's start with MissConduct. Janine is a hot busty Canadian who spends her time enjoying life, cooking and making her lucky boyfriend happy as well as her fans on her MyFreeCams room. This gorgeous hottie has big naturals that are really heaven made boobs. She recently did a Snapchat TakeOver on the BoobsRealm account. She even gets fucked for us!!!!
If you don't add BoobsRealm account you are missing out; check out all the previous TakeOvers. You never know who will show up… It has already featured superstars: Samanta Lily, Kittiesauce, Alice Brookes as well as new girls such as Bella Roux, Kitten69sDaddy and MissConduct.
Follow MissConduct on twitter @missconduct_ovo and get to know this cute busty girl a little bit better.
Now time to introduce you to two busty gals that the internet is going crazy about. First one is Busty Rachel. It seems that Rachel got famous some years ago. Rumor is that she got a reduction. Anyway, let's enjoy this photos. It also seems that her ex-boyfriend leaked the photos. We even got a titfuck. Those amazing natural tits got a dick between them and you can see it!
Busty Rachel is not a cam girl, but…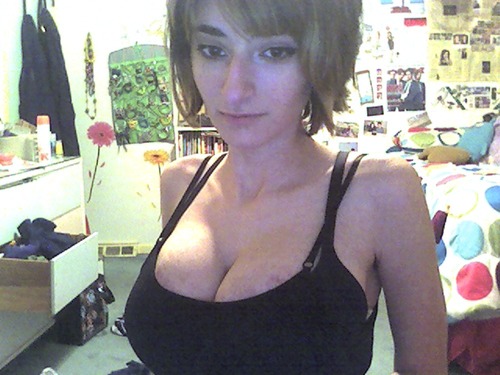 The next hot busty girl is a redhead . Rumor is that she is teasing an amateur porn debut. I have asked her about modeling. I will keep you updated on her answer. As you can see, she likes to play with her big boobs. Maybe she should do a Snapchat TakeOver on the BoobsRealm account, don't you think?