If you are reading this, you are a big boobs lover. I would even bet that 90% of the fans of this blog not only like big boobs, but are to a certain extend stuck in the Golden Era in terms of preferences and favorites, using the likes of Merilyn Sakova, Yulia Nova, Tanya Song or the ones that came out in the Pre even the Pre-Onlyfans era such as Lucie Wilde, Sha Rizel, Tessa Fowler or Beth lily or the "singularities" in the new Boobs Matrix/ Onlyfans Era Touki, Yonia, Makayla Melons or Dority Demi.  The main takeaway if we compare 2023 with 2017 or 2014 or even 2009 is that the landscape is different and almost everything has changed. The big question is, will you change with it or do you see yourself riding away into the sunset keeping the memories of the mammaries of a bygone era? Should I leave you room in the ride?
Past versus Present
Regardless of what like or dislike, change is inevitable. Outside the Big Boobs World you have also changed. Picture yourself just 8 years ago. Lucie Wilde was shooting Busty Buffy and Viola Baileys was bound to tbe the top European star. Cosmid found their cash cow in Amanda Love after the departure of Emily Born and Tessa.  Many things have happened to you in 8 years. Priorities have changed.  Is your love of big boobs the same?
Paysites vs Onlyfans
Scoreland and Pinupfiles were the go-to sites for boobs lovers. Cel was niche content showing some lactation and some BBW girls. DDF was the great main site in Europe and Torbe was on a roll discovering Eli Tetona, Sandra Milka, Hanna Montada and banging Terry Nova, Shione, Katerina and the list goes on. Sites had a standard price of 30 bucks a month. Paysites had a loyal following, but many fans complained that paying 30 dollars to get a full libray of at least 50 or more +10-minute videos was too much money.
It is 2023 and DDF had been purchased by LP and renamed PornWorld licensing content from studios in Europe and America. PUF had its latest update a remastered video of Merilyn Sakova and Scoreland is still trying to find the next Gianna Michaels, Tanya, Karina Hart or Candy Cole. The loyal fanbase is still there, but most former customers and many new ones have redirected their funds towards DIY platforms where just the right to watch previews can range between $4 to $10 then in order to watch videos they have to pay individually from $10 to %50. Some creators offer long videos whereas many just a couple of minutes. It seems that Klaus Schwab is the finance advisor of the new customers, "you will own nothing and you will be happy".
Two of my old time favorites Ines Cudna and Wendi White AK Marketa shooting Busty Euro Maids. One of the best big boobssex films by Scoreland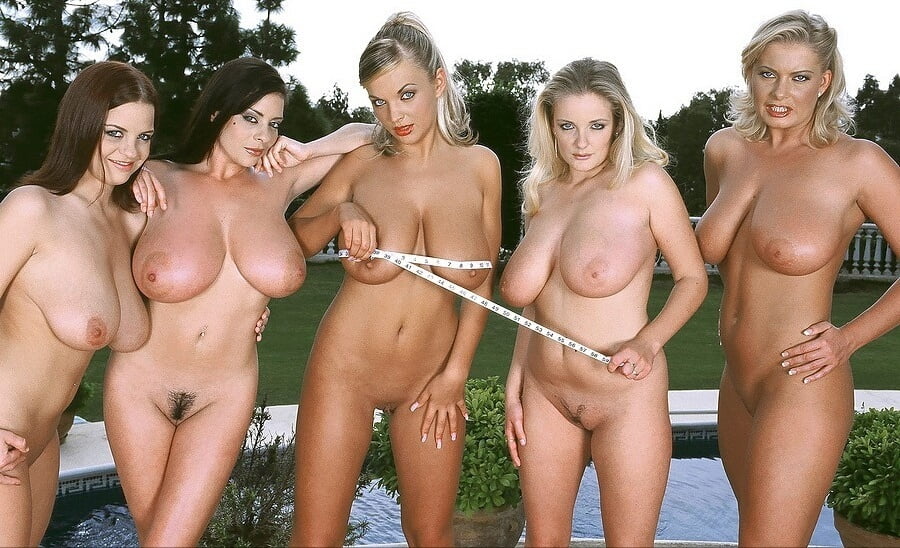 Top Stars versus Famous Girls
I still believe that if Tessa or Merilyn or even Lucie Wilde would have never been pushed to the moon by the boobs sites, they would have not reached the legendary status they hold now. Not because they were not stunning, but because they had a status. When I started creating content back in 2019 I wanted to follow-up PUF footsteps with a little of xx-cel boob play. I did not want to shoot anyone who was open to, I wanted  keep it Elite. Back in the day Score and PUF rejected many girls. The untold truth was that if a girl was shot by PUF she was seen as a very hot busty girl. In conclusion, busty girls that were featured on main sites transcended time because there was they had an aura. they were promoted on blogs and other sites.
In 2023 we have never seen so many busty girls on the internet showing their goods. However, they promote themselves on redditt or tik tok and other social media which absolutely is beneficial for them.  People are posting new busty girls on forums every single day. Who is the most popular is based on who you talk to. Just a few got the popularity of the previous era. Mady Gio is an example of that. Touki, Lolosavo an Gorilla Grip were other illustrious examples. However, not every boobs lovers knew who they were when they were active. Add that girls DMCA everyone posting their photos and do not allow promotional couple of photos be added, their promotion is limited to casual fans. Obviously, this is good for the girls who make money out of the person paying no matter if the guy is a true boobs lover or just a random. That is not in discussion. The point is , that for the traditional boobs lover the old-school type of star is no longer existing. The last of a dying breed were Yonia and Misty C. Daktari featured them and the scarcity of their content made them special.
Lucie Wilde's post always get the most engagement. Like her or not, she is a Generational talent
So are you staying?
So the main question remains. We know that there are gonna be new hot busty babes every year. However, the Golden Era Fans know that it has all changed.  In wrestling analogies I feel like JC (Jim Cornette) pointing out the obvious things that current wrestlers and fans/marks do not like. Is Corny out of touch? Is it like Kenny Olivier said, wrestling evolved and if you do not evolve with it,, you should retire. Or is it that wrestling stopped being what it was supposed to be to become what it never should have?
Whether I like it or not BoobsRealm is just a spike on the wheel and the wheel is going to keep turning. I love busty women since I have memory. I always will; however, it is not the same anymore.  I have announced the retirement in September 2021and set it to  take place in April 2024. It may take actually all 2024 to resume shooting and also 2024 will be the end of the blog as you know it. In 2025 the full year will be 400 girls from all eras in the most glorious Miss BoobsRealm GOAT. Next year I will have my last 8 shoots and may give myself a year or maybe just six months to shoot non-topless content just for a vanity project.  I still enjoy some girls. Probably less than 10 in total, but I am forcing myself to find something I really want to share with you. The Boobs World is full of busty girls, yet not as exciting as it just to be 15 or 8 or 5 years ago. Come 2026 BoobsRealm will join the list of dinosaurs that leave us. I will start other projects starting later 2023. I actually will go back to basics and end where the whole journey started before BoobsRealm.This post is not about a farewell, but it is to get your opinion on how do you see yourself in the boobs world. Am I alone losing excitement or are you also fading away from the boobs world in the next 2-3 years?