It has finally came the day when I have to say good bye to you. Not because I wanted to, but because I had to. After 4 years of expenses and legal issues BoobsRealm.com has to close down as a conclusion to a suit started by Kate Upton resulting from her #Fappening leaked photos.
Kate Upton has won a lawsuite against Boobsrealm.com. Lucie Wilde is on the featured image, because that photo was a milestone in the history of this blog.
Watch Boobsrealm's New Owner Kate Upton on her Easter video
It was October 2014. This posted came after the Fappening broke the internet. Check original post. Days later I got a letter from Kate Upton's lawyers requesting to take down her photos which I proceeded to do. However Miss Upton and her crew in a SJW crusade took it against Boobsrealm as started a suit blaming BoobsRealm.com not only for posting the photos of bosomy Miss Upton nude, but for being an integral part in objectifying busty girls.
The letter from Kate Upton's lawyers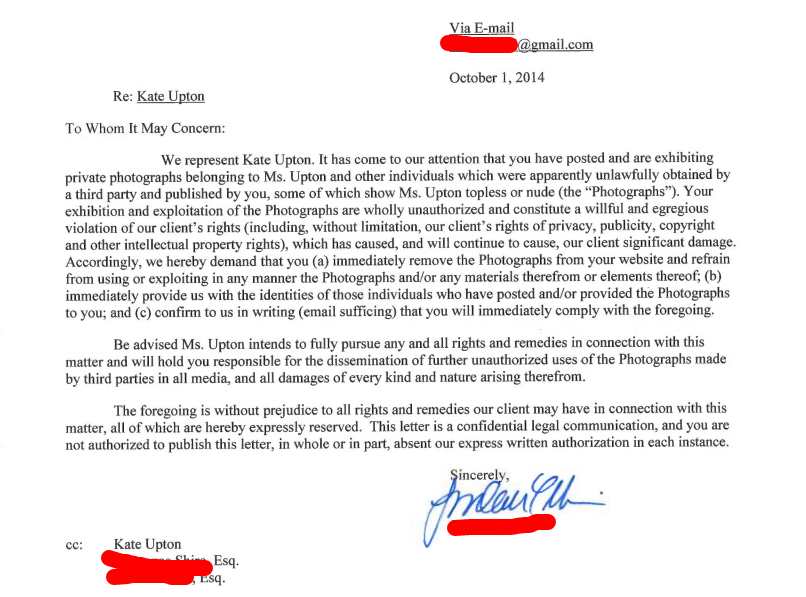 Following months of legal expenses and nights without catching sleep – Now you know why I was away for a while last year- A jury determined that BoobsRealm.com was practically the root of all evils.
"BoobsRealm.com is not only an adult site that exploits the image of girls with large chest. It also has a discriminatory message implying that girls with large breast are better looking that girls with smaller bust. This cannot be condoned in today's inclusive society".  A member of the jury stated.
Another member of the jury was not against the adult content, but stated a more SJW argument…. " This website is discriminatory against not cis busty women, meaning that it leaves out transgenders  who got implants in order to look more like the gender of their choice… BoobsRealm.com is a site that should not remain on the internet"
Kate Upton's lawyers stated that BoobsRealm was taking advantage not only from Kate Upton's image but from amateur girls whose "big fault" was to look sexy and have large chest. "Women do not tease men. If men look a half naked women with lust, it is the men's fault. If a girl decides to jump while wearing a bikini, it is not the girl's fault that certain men get aroused. "
Remember the old times…
Retweet if you Love Boobs ? pic.twitter.com/IkSRnhzwVX

— Kate ? (@nextdoornurs3) March 12, 2018
As result I am closing BoobsRealm.com. I was told that Miss Upton will take over the site, delete the content and start an Anti-Bullying campaign for those busty girls who feel objectified for having massive breast.
TMZ was the first media outlet that found out about the outcome of the suit. One of their paparazzi's found my location at a well-known bar in Montreal, where I was just depressed and unable to stare at girls tits because of my new-born trauma.
Please support the site on its last day of existence and join A cam site.
Note: The letter is real, but I took down the content and nothing happened.
✔Check out ALL my gifs of Misha Lowe!

↪ https://t.co/gDDtk3xm89 ↩ pic.twitter.com/FtU8jm8N3y

— ?The Breast GIFs? (@mostlyboobz) March 31, 2018