Ashley Spring is a German model who is mostly known for her work in Femjoy and Met-art.  She may be new for some of you, but she has been around since 2007.  She appeared for busty-teens, Ridago and Body in Mind.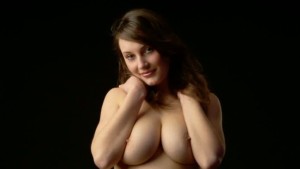 Ashley, who used to go under Rachel and Ashley Femjoy, became an instant hit with Femjoy and Met-Art. Fans all around the world feel in love with her. Her attributes are not only her big natural breasts whose tag show 80E – 36E equivalent in the USA_, but also her beautiful face and more specifically her eyes, which are very expressive and radiate joy.  Her big aureoles became a hot topic among her fans. Who wouldn't like to be her boyfriend or at least become her baby for one day???
One sexy selfie
Many fans, as in the case of many other solo models, are waiting for her hardcore debut.  I even got excited when she started following and tweeting busty super pornstars Siri. Unfortunately for  all those fans ( me included)  Ashley has stated once and again that she is not willing to perform any sexual act in front of the camera.
I did some research and find some photos that Ashley did in 2010. The photos, as you may see, are really professional. I personally think that Ashley has all the tools and charisma to become top glamour model. I see nothing, but success in her path. Nowadays, Ashley spends her days between modelling and a regular job.  She is a girl who is goal-oriented and does not let fame make her dizzy.
So let's enjoy this angelic figure posing for some lucky photographers.
I know that you may have just fallen in love with her, but she is in Germany and probably many many many guys are in line to get her heart. So well, learn some important stuff about dating from our sponsor  that helps you meet Hot Cougars.