I am always at the lookout for big titty models and websites that feature girls with stacked chest. LiveBustyCam is a WL cam site that features the girls we know who chat while masturbating. If you want to be entertained by Busty Cam Girls bear with me today.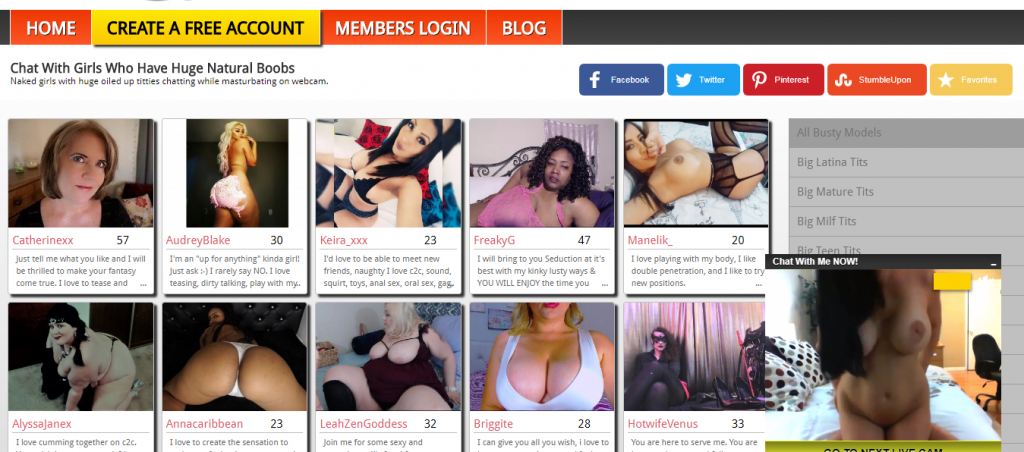 We always want variety and sometimes we get tired of the same layouts and the same thing every day. So LiveBustyCam is practically SM but just focused on Busty Cam Girls. This website will save you seconds of your life bringing you directly just to cam girls with big boobs.
Another great featured added that no other cam site has is that you get a preview of a room since the get go at the bottom right of your screen. This gives you an idea of what certain busty girl is doing live while you surf the web. You can click on each profile and have a glimpse of how naughty this busty sluts are.
I really enjoyed the presentation of this site. The colors and the layout makes me wanna surf the site and go through all the several dozens of busty cam girls that are online.
Among the top big titty online strippers I found I can name a few: BadKittykylie, exoticbarbie -who deserves a post on its own- Pinky Powers and her big man-mande udders and Anna Pink. The girl on the featured image is a super hot busty redhead -all natural- Scarlette_36E.
However, you will find several hundreds more depending on your time zone and how lucky you are. Overall there is more busty cam girls that you expect. That is the magic of webcam sites. There are always girls online anytime and there are always new titties coming up every day.
If you want Busty Cam Girls LiveBustyCam.com is your place to go. Click on the link below and  support the cam site. It is free to peek a boo… so what are you waiting for and Pick a Boob.