Hi guys. This is the first time I will add something for this section so I will write many new things.Welcome to the first blog realted to busty girls which is not just about posting pictures, but also interviewing and gettin some news for you, the fans. I hope you enjoy them. So let's start:
Terry Nova: The busty euro girl who became a legend for doing it all with those giant tits have stepped away from porn. She has recently moved on with her life and is happily married and expecting a child.  Terry, best luck in your future endeavours and your new life. We are gonna miss you, but we wish you the best. In the following picture from Scoreland scene with lovely Christy Marks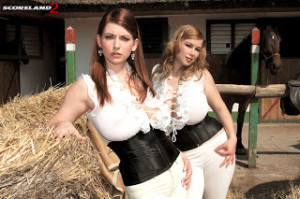 Lana Ivans looks better than ever and has launched her site http://www.lanaivansofficial.com/  seems she will be working for her own from now on. Jasmine  is seemed to be done with porn. I will be interviewing her in the following days, so stay tuned for more info on this hot Romanian. Here a picture from Lana's webcam show.. cheers!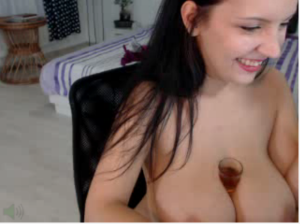 Merilyn Sakova aka Busty Anya is just sticking to cam. She is listed on my Busty Camgirls recommendations http://www.boobsrealm.com/busty-camgirls/ She had nose surgery last year and have dropped some weight. She still looks stunning and her boobs are still huge.. just a bit less huge. Apparently the rumours that said she was married and had a son are not true at all. Merilyn is living away from the pornsites who were ringinger her phone offering money for hardcore scenes. She, now 26 , feels  that hardcore is not for her. She got annoyed by the producers demanding by/girl and after her own website did not do so well she lost faith in the biz
Seems that many models fall in love with their managers.. or something like that. Everybody always wondered why Ewa Sonnet never became a bigger sensation and posed for other sites… the answer might be that she is attached to Phil Reztok, her manager and the man behind busty.pl and her singer career. Some people have even speculated that her time away from the spotlight was to have a baby, but that is a big allgation. Others say that she finished her studies. Another woman who has been linked to her manager is Jordan Carver. This might be one of the reasons why we have not seen more skin from her.
Do you remember this blonde bombshell Hannah Hilton ? She was active from 2007 to 2009. She was Jack Venice's girlfriend.  She was a huge fantasy of mine. Still is, but I do not know if she looks as hot as she used to. Well,  it is old news that she was escroting and even did anal during her services:
Partners all reported that Hanna has "unbelievable DD natural" breasts which are great to "lick" and "suck" on. She also has a "great ass" and one partner especially enjoyed having her "bend over" while "standing" so that he could "gawk" at the "spectacular view" and "DATY" her "super wet" pussy. She has a "perfect pussy" that "tastes great" and she has been known to "moan" and "grab" her tits and "squeeze" her nipples while she is having her "kitty licked". One partner also mentioned that he had a full "make out session" with her complete with lots of "hand roaming" and "DFK". Hanna gives a "fabulous BBBJ" with a "great technique" that is all "lips" and "tongue" but she does not allow "CIM" or "COF". Partners have said that they "couldn't wait" to get "inside" her pussy and they fucked her in a number of positions including: "MISH", "CG", "RCG", "ACG", "DOGGIE", "STANDING DOGGIE", and even "ANAL DOGGIE". In "CG" her "gorgeous natural" breasts look "incredible bouncing" up and down and she "squeezes" them into your face while "riding" hard. One partner asked her to get in "DOGGIE" position and then "admired" her "clam" for a few minutes before "entering". She "asked for it hard" and he "thumped her" until her lips were "bright pink". In "MISH", one partner said she raised her legs up "in the air" and he "pounded" her "tight pussy" really "hard" and then "pulled out" and finished on her "beautiful breasts". While she did allow a partner to visit "GREECE", he "had to stop" soon thereafter as she said "it hurt". (courtesy of  http://lukeford.com/) 
I checked Pamelas Peaks website and Hannah is still listed as a escort. Is it a mistake? Well according to that website she offers full service for the humble amount of $2,500.. Would you take her? She is modelling in Indianna under her real name Erica Hunter. I am on track to contact her for an interview… fingers crossed.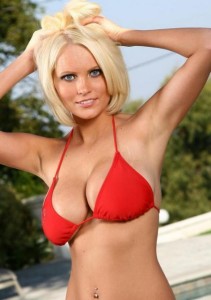 Maria Swan or Jana Defi is retired from modelling. Actually she has been for many years. The reason behind it was that dspite her beauty she did not get the money she should have as many other solo girls. Maybe it was a bad agent stuff, but it did not work out. Word is that she is married now and unfortunately for us, she got a reduction as she was never comfortable with the size of her boobs. So let's remember Jana as we all love her.
Last, but definitively not least, Winter Pierzina, who is particularly the most famous and amazing busty amateur of all time has vanished. why? Because many fans do not know that boundaries must not be crossed. She was open to everybody sharing her facebook with the fans: however, some pervs started harassing her and even called at her job to just talk to her on the phone. WHo in the blue hell would think that a girl, just because she is busty or have had nude pics would fuck a random guy who calls her or sends his dick on facebook? Some people need to mature. These events let her to deleted her account and step back from launching her professional career in the business… Yes, you read it well, I was talking to her and she was ok with starting modelling for sites. She was going to do some videos for the launching of this blog. Thank to you all "fans" we lost her. YOU SHOULD UNDERSTAND THAT YOUR BEHAVIOUR IS GOING TO SCARE AWAY THE MODELS.
This is the last picture we all are going to get from Winter Pierzina. Photo courtesy of http://www.bustyjessica.com/blog/