Delz Angel is relatively new to adult modeling, but she is gaining tons of fans each day. Her pretty face, her hypnotizing eyes and her huge breasts have become the ultimate dream for fans of huge boobs. She is a girl who has issues finding the right bra. Her current size is 30/32L
Delz Angel started modeling last november, but she had gotten huge boobs long before. She commented exclusively to BoobsRealm.com that she always was a fan of big fake boobs so she got her breasts augmented long before even considering posing. She always like hair extensions, fake nails and huge natural boobs. Her glamour fake look made everybody wonder if she was an adult model. She got asked that so many times that the spark was turned on and she gave adult modeling a try. The road has been succesful so far. She contacted a photographer in the UK – where she resides- and created her own portfolios: One on Purestorm and the other on Purple port. The intention was for the modelling to be a hobby and if it took
off. "Within no time at all, I was getting messages from all over, asking to shoot me and what are my rates I charge ! I have been really lucky to meet some wonderful photographers but I have been very selective on whom shoot with and turn down a lot of paid shoots. As for what sites I have featured on " said Delz. Her actual photo/video debut was in fact for DDFbusty.com (check it out here). In addition, she has been featured on  The Sunday Sport, The Sun Newspaper, Zoo Magazine , The Daily Mail, The Mirror and countless other Newpapers. She has  even graced The China Times. She was once asked to appear on live TV in the UK, but she passed on it. She has had sych a great reception that she already has her fan club on Facebook created by a guy called Roman Meier.
Delz Angel shared with BoobsRealm.com some pictures and even took some exclusive candids for the blog. Please enjoy and follow her on twitter @debdelamar
Note: Delz Angel will be competing for the Miss BoobsRealm.com since mid November. Stay tuned for more info.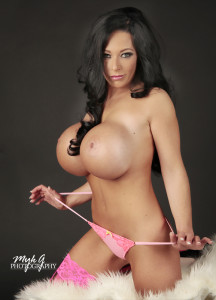 Delz Angel loves BoobsRealm.com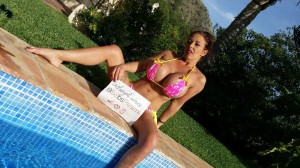 Delz featured on the Sun
Her husband has this on his desk. Who wouldn't?