Today I will clear up the post about GDP. Also I wanted to give you more information on the Miss BoobsRealm 2013 and 2014 finals.
Girls Do Porn Controversy
A handful of guys complained about the GDP post where it stated that some of the Girls on GDP were hoes and some complained because they were exposed. Truth is, GDP was the kickstart of the porn career of many girls in the porn business. They were paid 10k for 1-2 videos. Most girls were told they were shooting porn. One of the girls who sued them said she was traumatized, but did not know how to explain why she took a plane twice to shoot with those guys.
Also keep in mind that only less than 20 girls sued them, whereas others, such as Miss Colorado, did not because they knew they were hired to do porn.
For the fans
It is probable that the guys lied to some girls and some did complain rightfully. However, keep in mind a vast majority knew they were getting paid to have sex with a stranger (10K USD) and signed model release forms. Something you learn when dealing with amateur pornstars -and some pros- and some models-  they lie.
Miss BoobsRealm 2013
Another topic that generated a lot of feedback were the MBR2013 and 2014 contests. At that time I was very naive and did not know about how crazy some fans were, but I also ignored VPN existed. I later found out that someone's husband was an IT developer. Bottom line is the following screenshot shows the voting in the finals of MBR2013. Over 2,000 votes in the finals. The average voting in the past 5 years in finals has been 900 votes. The finals had 14 girls. Based on my experience, the winner and the runner-up have an excess of 1,000 votes combined if there were no VPN and voting would have been allowed every week instead of every day.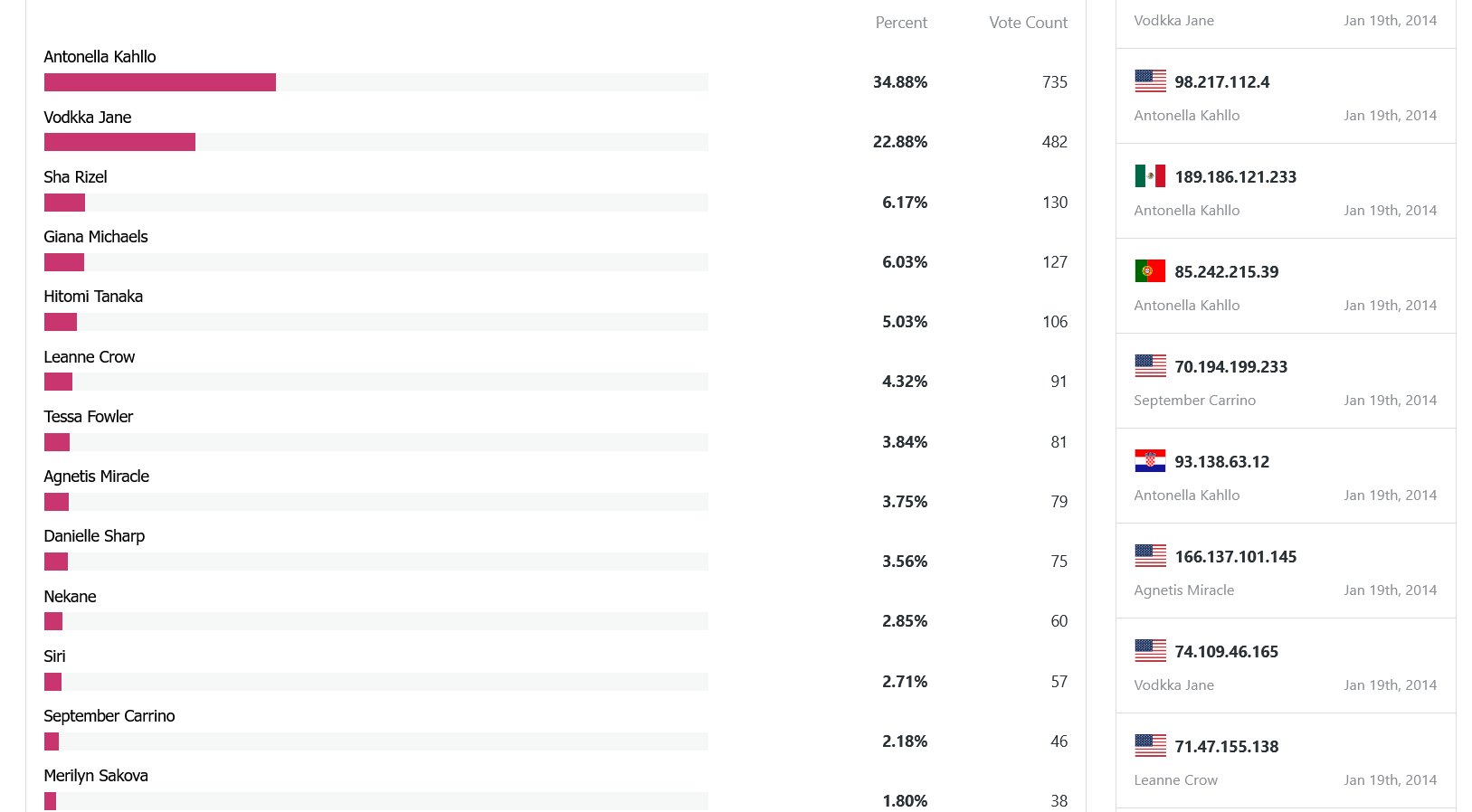 Miss BoobsRealm 2014
That year's finals were even weirder. The contest was held in an exclusive platform. Later that year when the 2015 edition was taking place the site got hacked. The whole database was polluted and I deleted it. The finals had a very impressive list of deserving girls:
2014 finalists: Antonella Kahllo, Siri, Sensual Jane, Katerina Hartlova, Hitomi Tanaka, Lucie Wilde, Tessa Fowler, Leanne Crow, Lana Kendrick and Angela White
Yes Hitomi and Katerina made it to the finals. this was Tessa's first final, where she reached the 4th place. Leanne ended 3rd. both with 300 votes distance from Antonella and Lucie.
"In a breathtaking final round the People's favorte Antonella beat the Discovery of the year Lucie Wilde 215 vs 214 votes. The third place was for Leanne Crow with 61 votes. It is impressive how Antonella got all her fans together to vote for her. I have to be honest. Even before the contest many fans e-mailed me saying that the contest had a winner already: Lucie Wilde. Antonella beat the odds and took not only the title home, but also will receive the $350 prize courtesy of our sponsor PornHD."
Any comment ? I find it surprising that the contest has been getting more and more voters each year, and it has been mentioned by fans on forums.
I cannot change the rules for previous years, but should there maybe be a BoobsRealm Hall of Fame? In that one we would have an inductee every year, which would be the best busty girl of the year?
I feel that Hitomi and Katerina are like Roddy Piper or Scott Hall. Legends that never won the world championship.