A few weeks ago I introduced you to one cute busty petite girl who is taking over the big boobs world. She goes by the name SmallGirlBigTitties. As you may already know she started on Tumblr, but has recently increased her popularity on twitter and also just  launched her manyvids store, which has amazing big boobs content. BoobsRealm is proud to announce SmallGirlBigTitties as the first BoobsRealm's Brand Ambassador.
Today I bring you an exclusive interview with the amateur sensation. SGBT is a very sweet girl that will captivate you with her charm and her big natural tits.
SmallGirlBigTitties is also the Honorary Miss Boobs Realm as she is going to be the main model for the blog for 2018. She took amazing photos and video modeling the Boobs Realm tank tops… enjoy!
Gifs on this post were created by http://iwasawinrar.tumblr.com
How did you decide to start posting content on tumblr? When was It?
I have always enjoyed sharing naked pictures of myself. It was usually always to boyfriends or sexual partners. My cousin introduced me to Tumblr one summer when I was in college. I found my way to the NSFW pages and saw beautiful women sharing their bodies. I wanted to join them! This was around 2012, I ran my Tumblr for a year or so and then gave it up before I graduated college in 2014 and I deleted everything. By fall of 2017 I was missing my days of creating content and sharing with the internet so I started up again. I'm sure happy I did! I'm very much enjoying it all over.
Who know about the Tumblr? friends , family? Did you tell them or some found out?
I don't tell anyone I know in real life about the Tumblr. I was always worried someone would find out, which is a big reason why I don't show my face mostly. My college roommate sort of knew, I spared her most of the details haha.
Haha that's great. I'm sure many guys that see you every day would wonder how you would look naked.. And they ignore they could see everything:)… We were talking about bra sizes. You told me you are a 34DDD but you have issues with finding the right bra. How is It? When did they sprout? How was it back then?
Yes I'm currently squeezing into a 34 DDD. I'm a bit out of shape these days so my cup runneth over.. so to speak! Though I have started working out again so I will trim down and will fit more comfortably in my usual size. I started developing breasts when I was age 10. They didn't start becoming bigger until early high school when I was around 14 or so. People at school used to joke and say I grew them overnight, I'm starting to feel like that's the way it happened! It's hard to remember the times without these big tits.
SmallGirlBigTitties modeling one of the Boobs Realm Tank Tops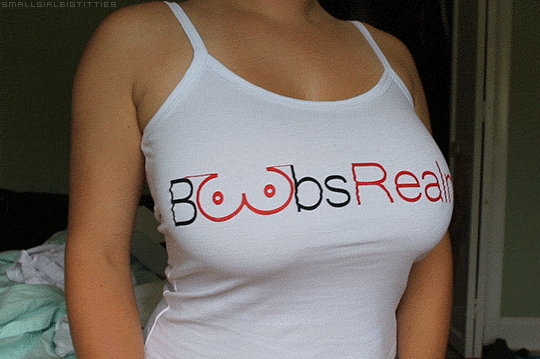 I think you are in perfect shape..and those boobies are perfect. I am sure fans agree…How is a regular day in your life?
Thank you! It's hard to define a "regular" day for me! I am a marine biologist, I work full time, 50+ hours a week and that takes most of my energy. I love to keep my followers, fans, and members happy though so when I get home from work I spend time on my blog. I'm answering messages, asks, submitting, creating new photos and completing custom requests. I run my NSFW Snapchat throughout the day but mainly during the evenings and on weekends when I am home. My full time job has been stressful and keeps me busy. Hopefully in the near future I can work a bit less at my vanilla job and put more time into the naughty stuff!
We all hope That too! So I guess you would not venture into camming.. If you get to wear an eye mask to keep your identity secret?
I have played around with a couple mask ideas! Camming is an appealing aspect of this work and I would like to check it out sometime. I feel like once I leave this current job and move on to other endeavors I may do a face reveal! I am very comfortable with this lifestyle and not ashamed, but I don't want my family and friends to worry about me. Someday I'm sure it will all come out. But yes! I would wear a mask, perhaps a sexy wig and a ton of makeup? Sunglasses? I have some ideas but I don't want it to detract from the sexiness! I do have one B/G blowjob video I sell where I get a facial at the end. I am wearing a lace mask with eye holes but so far I only make that available to repeat customers I trust!
Oh wow. That is a great surprise! I would sure love to watch it
It is a good one! I'm sure you'll see it sometime
I will.. any plans of doin more b/g?
For sure! I'm working on launching a ManyVids site in the near future. My plan right now is for the B/G content to only be available to my MV Crushes, just while I'm getting started anyway.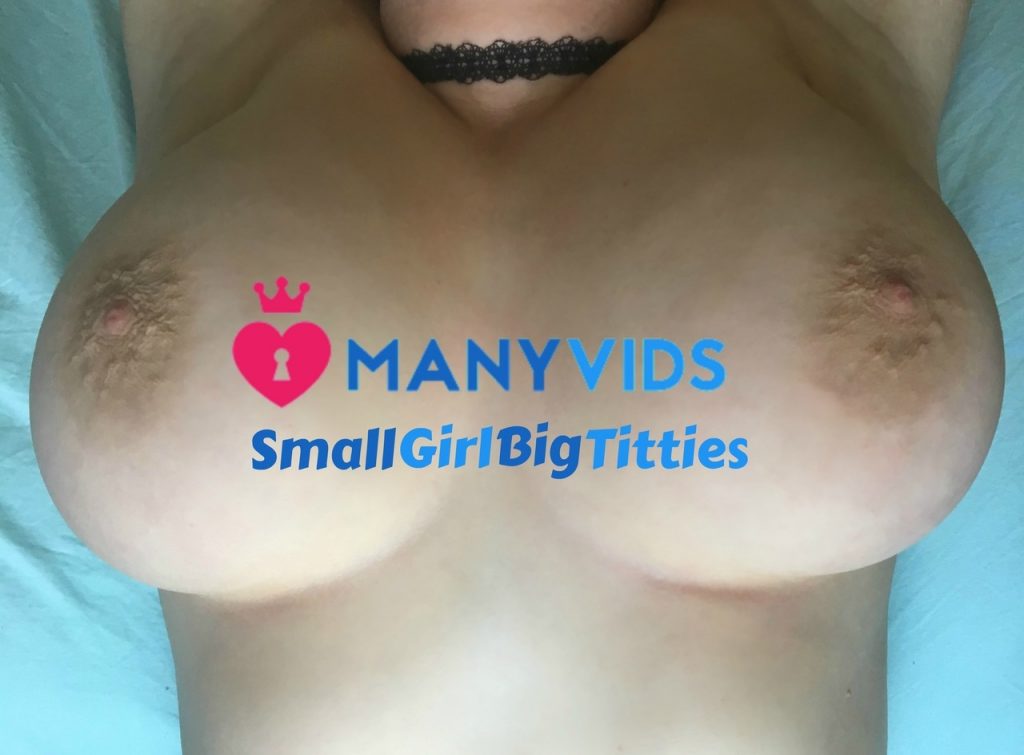 Speaking of b/g what's your favorite sex position?
Always a tough one to answer! It really depends on my mood of course! I prefer any position that gives me access to play with my clit while getting it on. That really intensifies everything for me! Doggy is always a good one for that, as well as spooning position with my top leg crossed over their body so my legs are wide open
That's hot. I'm picturing the scene…
How do you feel about titfucks?
Titty-fucking is great! Just the fact that my tits are big enough really wrap around someone and squeeze makes me happy. I've been told I give very good tit fucks. A happy ending during a tit-fuck is (almost literally) the icing on the cake!
Do you like swallowing o prefer the guy finishing on your boobs or face?
I don't mind swallowing! But I like it so much more to watch it explode all over me. Cumshots have a very special place in my heart, and by that I mean also on my titties.
Hahaha. That's so nice to hear.. i'd love to watch some…Obviously a fantasy would be to be the one giving it. Speaking of fantasies. What is a sexual fantasy you would love to fulfil and /or would be to shy to try?
I've always struggled to think up what a perfect fantasy would be.. I think for me a lot of it would be based on location. Like an open air bedroom in somewhere tropical and beautiful, surrounded by lots of foliage, with a balcony and a hot tub. Also the very same thing for a warm room with a fireplace up in the cold and snowy mountains, also with hot tub outside haha. There's just something very attractive to me about making love in beautiful places, that are remote, serene and close to nature.
Oh that's sexy. I'm sure it will happen. I'm sure many fans would love to fly you to exotic places…
If they did fly me to those places they would certainly reap the rewards of sexy photo shoots and videos being taken at location!
Speaking of fans.. How do they behave? Any anecdotes.. like weird requests or maybe some fans that are special to You?
Fans are mostly well behaved! There are a lot of good people out there and it's challenging but I try to give everyone the time of day. Even if someone messages me "hello, how are you? You are beautiful" I don't immediately jump down their throat and tell them to buy my content or stop wasting my time. I do not like that approach. I've caught a lot more flies with honey than vinegar I'm a real person with real feelings, I know they are too! I always thank my fans and let them know it's appreciated. HOWEVER, I do not appreciate unsolicited dick pics or creepy nasty fantasies sent to me, which do happen on occasion. Most of my fans understand they can enjoy my body and my posts while they keep those thoughts to themselves. Everyone who is rude and nasty will just get blocked!
Reminder SmallGirlBigTitties is BoobsRealm's Poster Girl
If you could define yourself in a word or a phrase what would you say?
Empathetic. When others feel joy, I feel their joy- when others feel pain, I feel their pain. I'm a truly caring person, I wear my heart on my sleeve.
That's so good to hear in this day an age.
Is there any secret talent or anything that most fans would be surprise to know about You.
Hmm, no "secret" talent! I have lots of little talents from my flexibility and remaining gymnastics ability to being able to queef on command but they aren't secrets!
Haha nice… You did gymnastics in school? We're in official competitions??
No I wish! I did it non-competitively for a few years.
Were titties an issue? I think most girls who do it are non busty girls
Titties are always an issue in sports! I had to wear a sports bra under my leotard. They weren't too bad for gymnastics but they were bad for running during softball!
I know fans are picturing. You should have some videos of you running braless 🙂
Besides making fans happy on Tumblr with your boobies. Have you used your breast and beauty to get out of trouble? Any example?
Usually they get me INTO trouble! Even when I dress professionally or conservatively I still run into issues with sexual harassment at the work place. I haven't really used them to "get me out of trouble" I use my titties for good! Not for evil!!! Haha
Haha those are good titties! They need an award!
On the other hand. Sad what happens at work.. anything you would like to share about what guys do at work?
Yes they do!!! Nothing really particular to share. Just some men are unprofessional and rude.
Oh I am sad to hear that. On a more brighter side, what are your favorites:
– Movie: Movie is a tough one, I would have to say Boondock Saints.
Tv show: The Office or South Park
Food: chocolate ice cream
sport: To watch: football and baseball
date night: sushi dinner, drinks and dessert at home outside, then play a game or cuddle watching a movie.
Pornstar: I don't have a favorite pornstar, my favorite sex working girls are the ones online on tumblr, Twitter, etc. the ones that are self made and real and amateur!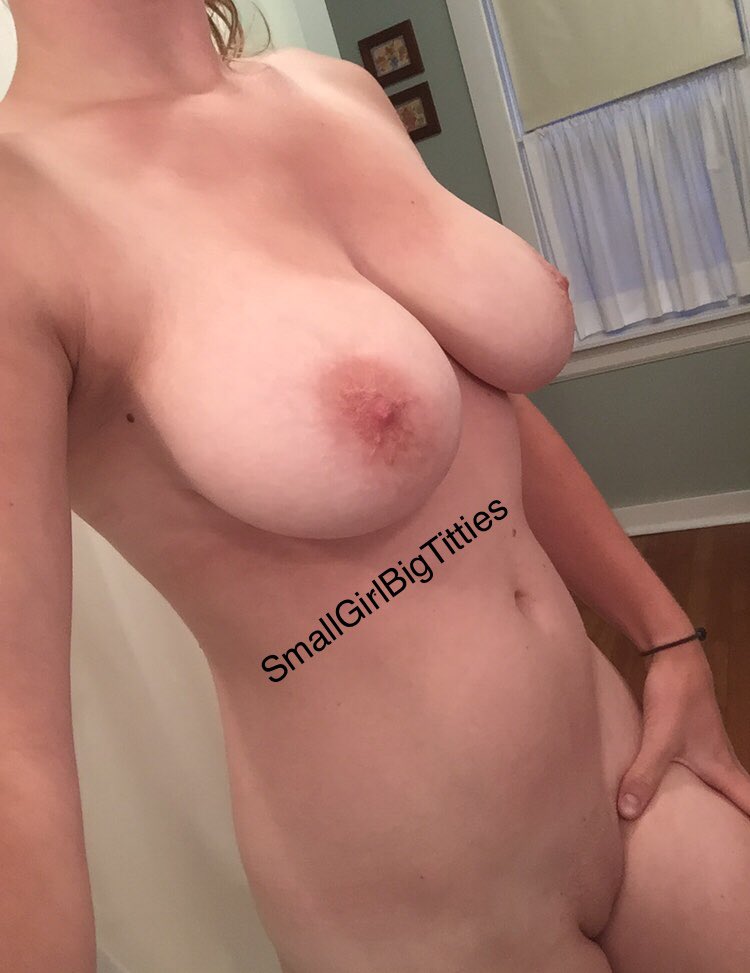 You mentioned you like some girls on Tumblr. Are there any in particular you admire?
I belong to a group of sex workers / content creators called HighKeyBabes and I love all the ladies in that group. It's awesome to have so many wonderful, beautiful women all working together to ask questions, share ideas, comfort each other and have basically our own HKB family! I am so fortunate and honored to be a part of it. You can find all of them on: http://highkeybabes.tumblr.com/  under their "babes" tab
Oh that is so great. I didn't know about the group but it is a new way to find hot amateurs!
Your internet name smallgitlbigtitties… we know how big the titties are, but how small are You?
I'm 5'3" 135 lbs. Bust 40" Waist 28" Hips 38" I'm very top heavy!
And everybody loves It! If you could change one part of your body what would it be?
I could sit here and try to think about what I'd like to change.. but I know that I don't want to anything at all!
That's perfect. I do agree and fans probably too. You are fine !!!
What are your plans for smallgirlbugtitties short term and long term?
Very good question! Short term I am working on keeping up new content on my blog and Snapchat as well as a launch of ManyVids soon! Long term I hope to get better at creating content and like I said, spend more time doing this than my other job. That's still a little ways away though. The possibilities are endless and I feel empowered to reach and please an even bigger audience!
And http://boobsrealm.com  will be there to help!
How does it feel knowing that many guys from all over the world are jerking off looking at your photos and fantasizing about having sex with you?
Honestly it makes me happy to know my body brings joy to people, no matter what form that joy may be haha. If I can be a fantasy girl for some guys to enjoy, then that makes me happy. There are so many beautiful, and wonderful women that are sex workers out there, I'm proud to be one of the many who is getting jerked off to!
Is there anything else you would like to share with the fans that will be reading the interview?
I would like to thank all of my fans and followers for getting me this far! I also wouldn't have been able to do this without wonderful promoters like yourself who take the time to get content creators out there. I really am fortunate to be able to do something like this, I'm having fun and I hope to continue with it! Thankful for genetics, the internet, and humans insatiable appetite for nudity and porn!