Not so many days ago I came across with this bombshells while sneaking at
putalocura.com
(check my
interview with Torbe
). Her name is Blondie Fesser. This heavenly creature comes from Argentina but has been living for a while in Spain. At her 23 years old she has become one of the best future prospects in the adult industry. She gives everything in each scene she is and actually seems to enjoy the action. Her perfect big breasts are 36C and as you can see she has a booty that seems tailor made for porn. Her measurements are 36C-29-43.
I had the pleasure of interviewing her so we all can get to know this Buenos Aires native a bit more. I strongly recommend you to follow this babe as she is not only stunning and down to earth, but also has a sexy voice that even an eunuch will have an erection. I am not sure if you can differentiate accents in Spanish, but the Argentinians, Colombians and Spanish girls have the hottest accents in the Spanish language. (I would like to fuck a hot argentinian like her and listen to that sexy accent while banging).
Note
: She told me she likes girls too!!! Follow her at
@blondie_cdt
With no further ado, I present to you Blondie Fesser.
BoobsRealm.com: How did you decide to enter the adult business?
Blondie Fesser: Well, it's been my fantasy for a long time. I knew from very little that I liked teasing guys, I used to do it at school, wearing tight clothes and curving my lashes. I wanted to be desired by men, it makes me feel kinda powerful I guess.
BoobsRealm.com: You are from Argentina, but moved to Spain. When was that? Why the change?
Blondie Fesser:
Well, that's a long story. I came from Argentina because I fell in love with a basque guy in the internet. I lived there around 5 years, but it was insane. I think they were the hardest years of my life. This was a big change for me. But now I'm on the road doing my thing!
BoobsRealm.com:
 I checked you on 
putalocura.com
 where I fell in love with you: however, you had already shot before that scene with legendary xx-cel. What other companies have you shot for?
Blondie Fesser:
Yes, working with XX-Cel was a pleasure. He is very kind and he really knows how to get the best shots. I felt very confortable with him.
 I did something in 2010 for Charlie Johnson in the Uk. I did a couple of scenes for CFNM.com and HarshHandJobs.com. But I was under the name of Laura Hernandez. It was so fun and that was really my first time doing porn.
BoobsRealm.com:
You are blonde and "fesser" comes from spanking in french.. I think we should thank for that "last name" to xx-cel? How did you choose your stage name&
Blondie Fesser: Lol. yes, I know. But XX-cel has nothing to do with it. I really needed a last name 'cause there're a lot of Blondies out there. I wanted something different, so I thought of a german surname, my grandma is from Stuttgart and I wanted to have something from my family.
 Je peux vous donner la fessée?
BoobsRealm.com:
This is a boob site, but I have to say that you face is really pretty and your ass is every man's favorite booty. What is your bra size? What are your measurements?
Blondie Fesser: Wow, thanks for the compliments!! My measurements are 36C-29-43.
BoobsRealm.com:
Have you been to America? Would you give a try to american pornsites? Is there any company you are looking forward to work for?
Blondie Fesser: No, I've never been to the States unfortunately. I would love to shoot for American pornsites as Naughty America, Brazzers, BangBros, Reality Kings… I want everybody to know what I do!
BoobsRealm.com: What do you do when you are not shooting a scene?
Blondie Fesser: Well, I do a lot of things, I'm usually working. I'm working on translations in the morning and during the afternoon  I'm on the webcam.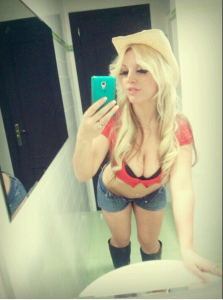 BoobsRealm.com: Were you nervous when you shot your first scenes? Was it as you expected?
Blondie Fesser: Yes, of course I was a little bit nervous. I was living in London, and I contacted Charllie Johnson by email. He gave me the scripts and the clothes I had to prepare for the scenes. I had to travel one hour to a place I'd never been. And nobody knew I was there, I was quite nervous about that. The scenes went very good, I felt very comfortable with all of them. I had the pleasure of working with Rene Richards, and she was really nice with me. It was a very respectful atmosphere. I really liked it, and from then, I decided to do what I'm doing.
BoobsRealm.com: Is there any sexual fantasy you would like to fulfill in porn?
Blondie Fesser: I'd say that I've already done most of them. But there's one I would love to do, me and many nude girls stripping, licking, banging, playing with each other behind a glass wall and many people watching, taking pics or touching themselves. I love teasing, that's the thing, it turns me on!
BoobsRealm.com:
 You have shot for Torbe. He is well known for getting the girls into bukkake scenes. Would you do a bukkake? anal? What are your limits?
Blondie Fesser:
Well, I did a facial
Bukkake
and I really enjoyed it. But i don't think I'll do more. It was fun doing it, but I think most of bukkake fans want the girls to swallow, and that's one of my limit.
I like doing anal scenes. In fact, I did a hard sex scene for another Spanish company, but I can't talk too much about that. It will be available soon.
Blondie in her bukkake scene
BoobsRealm.com: Facial, spit or swallow?
Blondie Fesser:Facial
BoobsRealm.com: Some people say that you look like Britney Spears. I think some company out there should hire you for a scene where you play Britney. Do you like her music? What do you listen to?
Blondie Fesser: Lol. Yes, sometimes when I'm on chaturbate, there're a lot of people that tells me I'm the big-boobed and big-butted Britney. Anyway, it would be very fun performing as Britney and then end up banging, hahaha. I like Britney, but i used to listened to her when I was a teenager. Now I prefer other music like country or hip hop.
BoobsRealm.com: What does a guy need to get into your heart? Is there already a lucky guy right now?
Blondie Fesser: Well, I lost my mind for a man a few years ago, and I'm divorced now. So now I'm just living my life and enjoying it. It's difficult to find someone who understands your job.
I love open-minded guys, who love and respect animals. They must be strong, because I am and with big beards, I love beards!!! Mama's boys and rude guys are def out!
BoobsRealm.com: Do you like one night stands? or are you the kind of girl that, besides porn, just have sex with just one partner.
Blondie Fesser: I used to do one night stands when I was younger. Now, I like to have a partner, or two. Sex is better for me when you find the right person, the one who likes more less what you like, the one who knows how to touch you, etc. You can feel the complicity with each other and learn many things. I'm not saying I won't do one night stands never in my life again, it's just that I prefer other things. And before going to bed with someone I like to know the person a little bit.
BoobsRealm.com: What are your plans? short-term and long-term?
Blondie Fesser: Short-term plans are going to the rest of Europe to do a couple of shoots and Long-Term plans are getting my visa to go to the States to work.
BoobsRealm.com: What languages do you speak? Do you think it is a turn on having sex with somebody that is speaking something else that you can't understand?
I speak English, Spanish and Basque.
Blondie Fesser: Yes, it happened to me when I came to Spain, it was a turn on 'cause I really like Spanish accent. But It happens also with German, which I don't understand. I find it sexy.
BoobsRealm.com: What would you like to add to the fans reading the interview?
Blondie Fesser: I'd like to say first of all, Thank you for being there! support me and saying beautiful things to me!. And I would keep on working hard to go to the top of it !
Thank you Blondie, I wish you do great in the industry and in life in general. I see big things for you in the near future -no pun intended lol-
Chcek her scenes for putalocura.com and xx-cel.com