I came across ifriends.net some time ago. The site has a lot of pretty girls, but the one that stole my heart and my dirty fantasies the most was Ellen DeRose. I had the honor to interview this sexy blonde and get to know more about one of the classiest and sophisticated camgirls out there. Ellen was too kind to reply and has been very supportive of the blog. While still keeping some mistery for the fans who want to join her chat room she answered my questions. She also sent me a cute souvenir for me and the fans.
Now time to read the interview and give her an standing ovation!
BoobsRealm.com: When and why did you decide to become a model?
Ellen DeRose: I used to model at school but never took it serious.  The modeling world is pretty cruel  but also addictive. About 10 years ago I started as internet model.  It allows me to do whatever I want, no controls just unlimited fun.
BR: You are offering amazing shows on ifriends.net What kind of things can your fans find on your room?
EDR: Ohh I love to get to know new people and, friends all over the world.  It's a fantastic opportunity besides, I love teasing, and roleplaying as well.  Name your favorite outfit and I am sure I have it in my wardrobe.  If not I will definitely get it!  I am exhibitionist by nature and this is a great opportunity to show myself without getting in trouble:)
BR:  What is your bra size? When did they start to grow?
EDR: I started to develop early in life and always wear push up bras and low cut tops and dresses.  They are 38DD, but I would definitely love them bigger…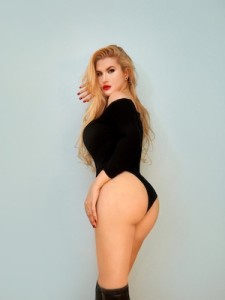 BR:  Have you considered doing a girl/girl show or even boy/girl? Or doing adult work for site, besides camming?
EDR: Actually I used to host with my gf for a couple of years.  She is an awesome sexy tall brunette.  I miss those times! So If I found the right partner, yes I would consider a cam show with them.
BR:  What do your friends and family say about your job?
EDR: They are very supportive, curious and I have many friends you can meet online as well.
BR:  How is a normal day in your life?
EDR: I am the pretty girl-next door type. I wake up late because I go to bed late. I cuddle with my pillows for a bit while waiting for my coffee to be done.  Then exercise, study for school, and camming.  Or I might go out with my friends, it depends on my mood:)
BR:  Do you do cam 2 cam? What is the best and the weirdest thing you have seen?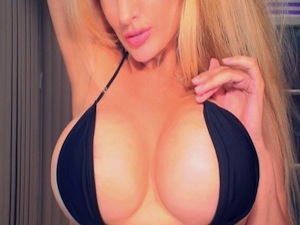 EDR: Cam 2 Cam is my favorite!  I have had couples actually make love during my shows.  It's kinda a nice threesome, LOL Wana try?:)
BR:  Do you think big breasts are a blessing? What are the top perks and the
worst things of being a busty girl?
EDR: My breasts are a definite blessing, I get noticed.  The worst is guys not look at my pretty blue eyes.  They never seem to make it that far, LOL
BR:  Is there any talent you have that fans do not know about?
EDR: Have you seen my tongue?
BR:  How different are you on cam from Ellen off the cam?
EDR: On cam I show off that wild part of me. Off cam, I am just a normal girl. Tall, big breasted blonde girl-next- door type who leaves most of her little secrets at home. Ahh and I wear more clothes off cam than on cam:) that's the difference as well
BR:   Let's get naughty =).. some quick answers
Sex position: Wherever we end up!
EDR:
Watch porn: Watching, sharing, discussing and trying
Tit fucks yes or no?: Yes why not use what I have.
Anal: Sure if the guy can handle my little friend, lol, I have a few sizes.
Facial, spit or swallow: Absolutely:)
BR: BoobsRealm.com is dedicated 99% to busty girls. IN your case, you are not only busty, but also look really amazing and, as your ifriends.net
handle  says, you have pretty blueeyes. Who in your family has blue eyes?.. and big boobs?
EDR: I am a daddy's girl,  – his smile and eyes, good thing my breasts came from my mother's side..
BR: Are you single? What kind of guy would have chances with you?
EDR: I am looking for an Intelligent, smart, gentle and respectful man, must have a sense of humor. We should be on the same wave and laugh at the same jokes.  With the ability to understand each other without speaking and have the same priorities in life, what?  I never said I am not picky.
BR:  What are your short-term and long-term plans in the webcam industry
and outside?
EDR: I love webcamming, and have no plans to stop soon.  Going to work on my own site and do some sexy photo shoots – if u have some ideas for it – feel free to share those with me in direct messages on twitter. What about my outside life – I plan to finish my degrees and get into the business aspect as well. Not saying more for now:)
BR:  Is there anything you would like to tell the fans reading the interview?
EDR: If you want to get to know me, the best way is just to stop over and ask whatever you want to know privately. If you have any wild deep fantasy you never shared with other people – I am here to listen and to fulfill it for you and with you.  Don't be afraid to ask, I'm very open.  If you never ask, you won't know the answer!
And thank you all for your support and love!!