Mara aka Mara Jane aka WinkingDaisys is a very famous girl who may probably own the biggest natural boobs in the adult industry. She started as an online sensation back then in 2007-2008. When BoobsRealm moved to blogger in 2011 I came across Mara's lovely pic of her hiding behind her huge breasts. I decided to use that pics as the background for that blog. Weeks later my e-mail had tons of e-mails from fans asking who she was, until one guy put a name on her face -and boobs- WinkingDaisys / Mara. I contacted Mara long time ago, but for different timing issues we never got to have the interview. However, this year Mara gave me an exclusive interview. The busty girl, who does not know for sure her real bra size, sent me the interview last month, but I had issues having time to post. Finally, Mara aka Winking Daisys interview is here! You always wanted to know about her, find out about her boobs and what she has in store for us…. Wait no more, below all your questions will be answered.
 BoobsRealm.com: How did you decided to start posting pics of you on the web?
Mara: Well, I was originally posted without my knowledge from people swiping pictures from my myspace, facebook and whatnot.. then I realized I was pretty popular and decided to run with it.  When this all happened I was in the middle of dissolving my first marriage so the timing to start with a whole new chapter was ideal and I obviously haven't stopped!
BoobsRealm.com:  What is the size of your breast? When did they start growing? How was it like?
Mara: I'm not too sure on that but based on the measurements 70 bust 40 underbust and the fact that N cups don't fit me anymore I would have to say I P or a Q.  I've had larger than normal breast for more than half my life.  At first it happened overnight, I want big boobs and had none then woke up with more than a handful (wishful thinking paid off I guess). I've always loved it because its always been what I wanted.
Mara's photo that was used as background for the previous version of BoobsRealm
BoobsRealm.com:  You recently launched your own site. What can fans find on there?
Mara: Yes I have second times a charm 😉 You can find the same kind of generas of clips there as you do on my clips4sale.com/46289 but obviously NOT the same stuff site exclusives only, not to mention exclusive picture sets and a FREE hour long members show via streamate that can be viewed within the site to my members at no additional fees! My site is updated at least weekly and always packed with tons of me. Despite what anyone thinks I WONT be adding hardcore on there ever.
BoobsRealm.com:  Would you consider venturing into boy/girl somewhere else?
Mara:  No, thats not something I am interested in doing at all.  I had many opportunities that I will continue to turn down. The long and the short of it is its not worth it.
BoobsRealm.com:  How is a normal day in your life?
Mara: Well I have kids so thats a big part of my time, I spend at least 3 hours replying to emails, ask and whatnot a day..and on days I work on content that's normally a 4-8 ordeal PLUS I do a lot of other things non-internet related things.. I put a lot of work into this nowadays (which I did not when I started) and it can get hard juggling porn life and real life but I manage.
BoobsRealm.com:  What are the most usual things that people tell you at the street? Do you also get women telling you something about your breasts?
Mara: I don't get many walk ups anymore since I am living in the middle of nowhere nowadays but when I was still living in San Antonio I would get ALL KINDS of comments – "are those real" "can i touch one" "are they heavy" "can i take a picture"  Some of the people would know me from the internet and some were just in awe, it was a good mix of men and women and weirdly enough a lot of gay men would comment as well.
BoobsRealm.com:  Why did you choose the WinkingDaisys name? and the Mara one?
Mara: I've used the screen name WinkikngDaisys since I was 12 so it just kind of rolled over into my adulthood and it spawned from using the daisy emotes on AOL Instant messenger I use to send people just the winking daisy emote instead of words a lot so friends started calling me Winking Daisy so I changed my internet alias to that.  As for Mara, thats my real name LOL when I was originally posted people were using it and I just didnt see the point in trying to cover it up. I have a less common name anyways and I like using it, no one ever assumes its my real life name and it is indeed my birth name. LOL
BoobsRealm.com: Have you used your breasts to get something you want? Do you consider them a blessing or a curse?
Mara: Besides free drinks every now and then, which I don't even do anymore.. no I don't use them to get things.  I don't consider them either, they're exactly what I wanted and I wouldn't have it any other way.
BoobsRealm.com:  Do you watch porn? How often? What are your favorite porn sites? Would you like to model for any?
Mara: Honestly no, my life is saturated so much sex and masturbation (on cam) that I don't watch not to mention I have my husband who can be pornographic enough on his own! All porn sites want hardcore at some point, so not my thing.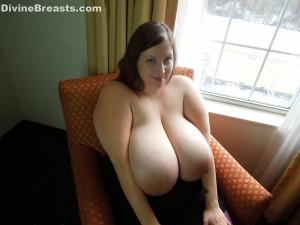 BoobsRealm.com: What is the craziest thing you have done during sex? Or  the wildest place where you have done it?
Mara:  Craziest thing would probably be the time I lost my voice from being loud and managed to scratch him so hard he bled on everything in our bed..it was insane.  Wildest place would have to be a church parking lot, that was with an ex many years ago…lol
BoobsRealm.com:  What does turn you on? and off?
Mara:  On- smart people, nerds, soft touching, boob play.. Off- idiots, attempted smooth talk, body odor.
BoobsRealm.com: How is you perfect man? Do you currently have a boyfriend?
Mara: Considerate, smart, stands up for there lady basic knight in shining armor kind of thing. I am married and he is everything I've ever wanted in a partner!
BoobsRealm.com: What are your plans short term and long term related to the internet modeling and other projects?
Mara: Well I like what I am doing and I plan to keep doing what I am doing and just keep honing in on my craft until its perfect. As for other projects, I have a few but I can't disclose anything as of yet.
BoobsRealm.com: I always ask this. Spit, swallow or facial?
Mara: NEVER SPIT!!  Always swallow or facial.
BoobsRealm.com: Do you like titty fucks? It must be difficult to find a dick that gets to survive your massive tits. All may look small.
Mara: Of course I do! Its so fun, ever if my boobs trump all dicks that try!
Mara salutes BoobsRealm.com
BoobsRealm.com: Do you have a message for your fans who are reading the blog?
Mara: Sure I do, If you think you've seen everything I have to offer just keep watching, I am about to blow your mind!!
To get more of Mara check all these links. I bet your cock and balls will end up dry!!!
http://winkingdaisys.cammodels.com/
http://profiles.myfreecams.com/WinkingDaisys
https://chaturbate.com/p/winkingdaisys/?tab=bio
http://www.clips4sale.com/store/46289
http://winkingdaisys.tumblr.com/
https://www.facebook.com/MissMaraJane
http://www.juggmaster.com/jmasterhome/store_guest/dvdss11-gst.html
http://www.divinebreastsmembers.com/bigtits2/models/Mara.html
http://www.amazon.com/registry/wishlist/2CLRS7I2NZLSZ