I came across this busty MILF thanks to Elliot James, one of the top editors in Scoreland. There is no doubt that Carol is a pretty lady. She is a cougar  looking to satisfy your needs. She recently went back to Scoreland where she displayed her goods. She goes by the name Carol Brown 36K..so does she really wear a 36K bra? 
I had the chance to interview Carol and get to know her better. I am sure you all will became fans as much as I did when reading the interview.
You can follow Carol on her official twitter account @carolbrown36k
You can find more of her HERE
Just enjoy!
BoobsRealm.com: When and why did you decide to become an adult model?
Carol Brown: In  1995 I found a copy of Razzle magazine by my husbands car (he was my boyfriend back then) I had a look through it and decided to send some photos in to the readers wives section. After that I sent some photos in to the Daily Sport from there they put me in touch with The score group and the rest is history.
BoobsRealm.com: Single? married? kids? What do your family and friends say about your career choice?
Carol Brown:
I am very happily married with two children. My friends and family know what I do and are cool with it.
BoobsRealm.com: Your bra size is 36K. When did your boobs start growing? How was it back then?
Carol Brown:
My bra size is 34L these days at the age of about 15 my boobs started growing bigger than my friends. I got teased a lot at school from the boys and was never short of admirers.
BoobsRealm.com: What sites and companies have you worked for?
Carol Brown: 
I have got my own website 
www.carolbrown36k.com
 here is a few of the companies I have worked for in the past.
The Score Group
, Galaxy publications, Paul Raymond Magazines,
Bustybritain.com
,  Bigbouncingboobies.com, Television X , Shiny films, fionna cooper, Rosalind Woods to name but a few.
BoobsRealm.com: You have been in the industry for many years. From the VHS to the twitter era… Do you think the internet is killing the adult business, as some say? What is your take on all this evolution.
Carol Brown:
Without a doubt the industry is not what it used to be. I think all the free sites are killing the industry. Back in the day it used to be so exciting watching a VHS dirty movie, porn is far too easily accessible these days. But I have to admit I do still buy top shelf magazines sometimes. There is nothing quite like flicking through a top shelf magazine in bed.
Vintage Carol Brown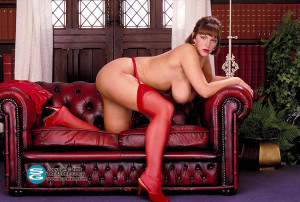 BoobsRealm.com:What do you do when you are not modelling?
Carol Brown:
My family takes up all my spare time when I am not modelling
BoobsRealm.com: Back in the day, in the 90s we had mostly busty babes, whose boobs were fake, You were among the few that were natural. Was it an advantage back then? Why do you think we have more busty natural girls in the industry in this day and age?
Carol Brown:
I have always loved having big boobs they get me a lot of attention. Even though my boobs are all natural I do get asked if they are fake. Having Naturally big boobs helped me get in the magazines. I think there is more Busty models about this day and age because of the internet its easier for models to get into the industry.
BoobsRealm.com: Do you like titty-fucks? Have you ever found a cock that is bigger than your boobs?
Carol Brown:
Believe it or not my husband is not into big boobs so if I want to give someone a titty fuck I book a porn stud to practice on.
BoobsRealm.com: You have done anal… is there anything you wouldn't do on film -or in private- ?
Carol Brown:
I love anal sex I would do anything on film with my husband apart from Hard sports. I don't do vaginal/anal penetration with anyone other than my Husband.
Carol getting her tits grabbed!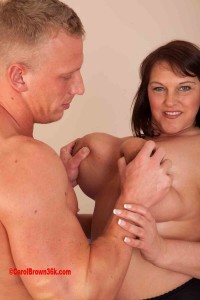 BoobsRealm.com: Spit, facial or swallow?
Carol Brown: I love swallowing spunk the most but happy to have it in my face or spit it out.
BoobsRealm.com: You like the most younger guys or guys your age or older? You like to teach younger guys?
Carol Brown:
I like doing bj films with younger guys
BoobsRealm.com: What is your wildest sex encounter?
Carol Brown:
My wildest encounter was been spit roasted on film with my husband and a fan.
BoobsRealm.com: What is a sexual fantasy you feel you want to fulfil?
Carol Brown:
My fantasy is to do a Bukkake
BoobsRealm.com: What are your plans short-term and long-term in and outside the adult industry?
Carol Brown:
I plan to concentrate on my website and interact with my members to find out what they want to see me doing on film
Carol likes to play for you!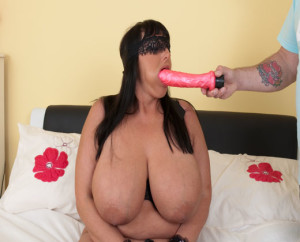 BoobsRealm.com: What advice would you give to the busty girls out there who are considering getting into the adult world or are rookies?
Carol Brown:
To any busty Ladies wanting to get in to the industry I would say go for it but only work for reputable companies and don't do hard core to begin with take things slowly like I have. If I had done hard core with other studs etc I don't think I would be still popular today.
BoobsRealm.com:
What would you like to add to the fans reading the interview?
Carol Brown:
I would like to say a huge thank you to all my fans both old and new but especially to the ones that remember me from back in the day when I had smaller boobs and less confidence.
Please enjoy this pictures from
Scoreland
,
BustyBritain
and her own site