Ines Cudna is probably one of the most beautiful busty girls to ever step foot in the adult industry.  Ines debuted in 2003 at the age of 18 on busty.pl where along with Ewa Sonnet became the two favorite busty girls. Ines graced Scoreland.com websites and the Scoreland Magazine and ddfbusty.com with her perfect body and her cute innocent face. After some years she left busty.pl and joined myboobs.eu a great site that has more updates than the once upon a time fan favorite polish site. BoobsRealm.com could contact Ines thanks to Andre, who owns myboobs.eu, who I thank form the bottom of my heart. Ines was so kind to answer all the questions. She allows us to get to know her a little bit more. For sure she is a very smart lady and really knows what she wants.
BoobsRealm.com: When and why did you decide to start modeling?
Ines Cudna: I don't remember well.  : ) one guy ask me in bus, maybe you want be a model" etc… at firstI was not sure that it was for me. I was 18 years old. I went with that guy for a coffee and we talk about everything related to modeling. From that moment I I knew I  wanted work in this .
BoobsRealm.com: We have not seen you much in a long time. You have some pictures on myboobs.eu and eventual camming shows on livejasmin. What have you been up to?
Ines Cudna: Yes, you can see some fresh content  on myboobs.eu. They will make my  Oficial Solo Website InesCudna.eu. There will be also behind the scenes content. Regarding  livejasmin, I do only  shows every once in a while and do it only for fun.  Now Im out of the business. I focus on helping animals, a few NGO. I  love so much dogs.
BoobsRealm.com: The fans have speculated about you a lot: These are some rumors: you and Ewa Sonnet were couple, you were a lesbian, you are married and have child, you went to Canada. What can you say about these rumors. Any you would like to confirm?
Ines Cudna: Nothing of that is true. Ewa and I we are only friends from work  and I never  went Canada .
BoobsRealm.com: You have only been features on busty.pl and myboobs.eu. I heard that the busty.pl owner was jealous of you working for other sites. How accurate is that?
Ines Cudna: No, because before I started my cooperation with myboobs I had finished working for  busty.pl
BoobsRealm.com: Are you still friends with Ewa? How was you favorite model to work with?
Ines Cudna: Yes, but it is friendship on a big distance.  She lives very far from my place.  haha I don't have favorite  model. Job is Job.
Ines and Aria Giovanni
BoobsRealm.com: There was a video on your own site inescudna.com that featured you and a lady that was supposed to be your mom. Was she really her?
Ines Cudna: Yes it is true. It was my mother.
Ines and her beautiful mom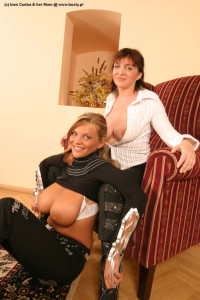 BoobsRealm.com: Everybody agrees that your breasts and your angelic face were your perfect assets. What is the part of your body you like the most? and why?
Ines Cudna: Thank you : ) yes I like my boobs and next on my list are my ass and legs..  why humn I don't know : )
BoobsRealm.com: Have you ever been to America? What would be your favorite place to visit? What is the city you like the most?
Ines Cudna: No I have never been to America. I would like to visit New York and the Grand Canyon.
BoobsRealm.com: What is your bra size? When did your breasts start to grow? How was it back then?
Ines Cudna: My size in Poland humn every bra that I buy is a different size . It is crazy to get a bra my size. ; ) my boobs started to grow when I was 15.  It was terrible because I was the only one that had big tits like that  at the school and you know how boys are….
BoobsRealm.com: You know how fans are. They see a hot solo model and start praying for boy/girl. Why you never did any hardcore scene? Did you get proposals?
Ines Cudna: Yes I had millions of proposals to shoot B/G but it is not for me… There is a big  difference for me. One thing is to masturbate or play with girls, but fuck with guys is a no-no. It  is… reserved for guys, if we are couple.
The hardcore scene was a fantasy for most of the fans… it won't happen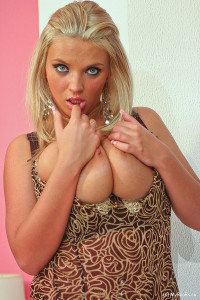 BoobsRealm.com: We saw you on "Busty euro Maids" holding a guys penis during the scene you introduce Mandy May to your boss. Many fans have that scene in their mind forever. I got some messages even today about that scene. However, when you introduce Marketa to the guy, you don't hold it anymore. Was there a reason for the change?
Ines Cudna: It was the only time that I touched a strange guys' penis… and was not fun for  me.
BoobsRealm.com: Your latest work is on myboobs.eu. How can you describe that work and how different it is from your previous scenes?
Ines Cudna: Yes, haha is funny and very good atmosphere. I love guys from myboobs.eu team.  hmm it is very difficult questions because the Score team  was nice. With busty.eu … here I think we are friends so it is different.
Ines with a lucky myboobs.eu camera guy
BoobsRealm.com: I am gonna ask this on behalf of all the boy/girl lovers. I hope you don't mind. Do you like titty-fucks?
Ines Cudna: Ok no problem with a question like that for me. I think that, like every girl with big  tits, I love it, especially when the guy finishes on my tits.
BoobsRealm.com: Back in the day, when you were modeling social media was not as a big deal as it is today. Do you think that it would have affected your career if there would have been twitter and instagram back then?
Ines Cudna: No I don't think so, and I don't like social media
BoobsRealm.com: Do you take selfies? What is your take on that trend? Now everybody takes even nude selfies.
Ines Cudna:  I don't like social media , and selfies . it is not good when  people live only in a virtual world. I know Im a part of this virtual world but it is different making an official  website ect… than uploading your life on social media. People post everything… pictures of your  food, dog, ect ect it is not for me
BoobsRealm.com: What are your short-term and long-term goals in your modeling career and outside the business?
Ines Cudna: Now I' am almost done with shooting, I spend most of my time helping animals. It  is what I want to do. Now  this business is a place for younger girls ; )
BoobsRealm.com:  I don't think you are old or anything like that. You are still young and look better than most of the girls out there.
Ines Cudna: Thank you!
Ines Cudna: Is there anything you would like to add to your thousands of fans reading the interview?
BoobsRealm.com: Yes I would like say big big THANKS for this many years that we spent  together and for many many  warm and hot words for me that  read on blogs, forums  ect…I hope this is not the end =)… Welcome to myboobs.eu. My Official  Website is coming. You will enjoy  my pictures and movies   xoxoxoxo Ines
Now some pictures of the Polish Goddess!!
Check more of Ines for Scoreland HERE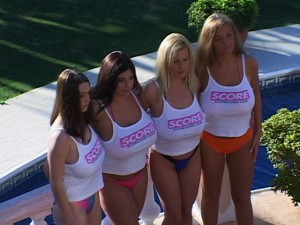 Ines posing sexy for DDFbusty.com