Angel Wicky is a czech pornstar born in 1991 who is becoming a fan favorite.  She is a busty blonde who stuns everybody who sees her. She takes this business with all seriousness. We already had a peek on this beauty when she shared some thoughts of the adult world but she was really kind enough to accept an interview. I took some time to post it for several issues I had, but finally I am back with you guys.
For all her fans, Angel Wicky opens up to you… and for the guys for whom this girl is new, get ready to meet this bombshell. 
BoobsRealm.com: How and when did you decide to become an adult model?
Angel Wicky: Actually, it comes very naturally. I study musical and art school since my childhood. Singing, dancing, theatre,  plus I just love competition, winning, being an exhibitionist, and be known=) So this is a great way how to show my skills, do what I want and what I love, be exhibicionist, nasty, dirty and sweet together. Be my own boss, travelling and meeting new people, do and learn new things and build a career. My dream was to get into the erotic and porn business where I wanted to break through , to build a career and make great projects around the world . Show everyone that even normal-looking girl can be beautiful , that plus size models are just as breathtaking as the skinny one. Show all the natural beauty , where women are without million plastic surgery and without visible bones . No one is perfect , and I'm certainly not ,just I think that pretty face ,big breasts , hips and butt are the most beautiful part on women. In fact Im bisexual and I like similar types of girls like me =) So I'm very happy that I can work on projects where people value of  girls looking like this. I also wanted to show that porn can be done well artistically, act, sing, for example also bake or cook in the video. Make it as theatre, film, where they are beautiful locations, costumes and hairstyle, so it also fun, and  its something what worth for to look at. Give the movie pizzazz and don't make it only about the retracts and sex, where all horny guys want to sprayed.

BoobsRealm.com: What do your family and friends say about your career?
Angel Wicky: I don't have mine family, i have to leave them, but all my friends and people i love accept it. Im still the same person as I was before start in erotic business. You have to separate private life from the work life, thats one of the most important things in every job, specially in mine. Plus i think if someone love you and want to be with you, he/she doesn't care what job you do. And if someone have problem with?  He/She is not my friend any more.. I don't want have around me people which are bad, full of envy, hate or incomprehension 😉

BoobsRealm.com: What do you do when you are not shooting a scene or in a photo shoot?
Angel Wicky: I'm spending time with my friends, cooking, baking, make some sport and fitness, watching nice films, documents and movies based on true events, the same style in book and magazines, educational and scientific journals. I also go on some massage, cosmetics , make pictures of things around me…and, of course, have lot of sex=P


BoobsRealm.com: What size are your breasts? When did they start growing? Did you like having big boobs back them?
Angel Wicky: My breast are number 5, in cups is like DD/E..when they start growing? Uff, it was almost like nothing all my puberty and around my 15 birthdays just boom=DD Sure i loved them, and i still do,im happy about=)

BoobsRealm.com:  You have done anal recently. Is there a fantasy you would like to fulfill in a scene?
Angel Wicky: In fact i did almost everything, anal, double penetration, grup sex, scene with japanese or black guys, bondage, S/M, i was slave and also domination…All my fantasy i had i try already in my job and also in my private life. I don't have problem talk about what i like and implement it =P

 
BoobsRealm.com: What are your limits? What would you never do in a scene?
Angel Wicky: I don't do swallowing, double anal or vaginal, and really extreme S/M and bondage.
BoobsRealm.com:  What companies have you worked for so far?
Angel Wicky: Uff, ok, so for example Rocco Siffredi, Mofos, Score, DDF, Dorcel, David Perry, Brazzers, Kink, Mario Saliery, 21 sextury, Magma Film, Reality King, Frank Thring, Chavier, Legalporn, Culioneros, Roy Alexandre…=)
BoobsRealm.com:  Is there any anecdote or specific issue that happened during a shoot that you would like to share? Something funny or that angry you?
Angel Wicky: Most of funny things happened during posing and making story line. If someone say or do something funny, or falling, or make some funny face…so, if fact i have thousand funny stuff like that but if i will write it its without contest. Its better watch backstage movie and photos=) some of them i also post on ma facebook and twitter;)
BoobsRealm.com:  Do you watch your own scenes? Do you watch porn at all?
Angel Wicky: Sure i do, i watch every movie and photos i did. I want to know how its look in the final version, what i did good or wrong=) plus i download nice photos and share them with my friends and fans on facebook and twitter;) I do watch also other porn, see something inspired, I like artistic style, and sometimes learn from better and older porno actress as I am;)
BoobsRealm.com:  Who are your favorite pornstars?
Angel Wicky: I don't have any favourite, each look and act different…each is in something special, i like just watch each time different one=)

BoobsRealm.com:  You told me you may be coming to America in 2014. Can you give us more info of that? When would you be hitting the continent by storm? Which city do you plan to live in?
Angel Wicky: Yes thats true, I wanted to say it as a surprise when i have book all the stuff and buy tickets=DD but, you already say that..so yes i do, i got great offer in America and i should leave as soon as possible…i just need to finish last few project in Europe and plans about America and after i will tell you and my fans and friends more;)


BoobsRealm.com: Are you single? What does a guy have to do to have your heart?
Angel Wicky: Aren´t you curious so much=P i don't tell you.. =P What does guy have to do? I don't know, it just happened =DD So of course the appearance also play a role. I must like something on him, and it must radiate the virility, strength, charisma, and that he knows what he wants. But otherwise the appearance is not so much important for me. Im more deliver of the nature, his temperament and self-esteem, as he is able to relax and be cool, reliable and hardworking. But on the other hand, how he is in private, unbridled, crazy, creative and able to release the animal in him. Just the personality like me – businessman and angel with devil in the body 😉
BoobsRealm.com: Do you like one night stands, friends with benefits or you prefer having sex just with your boyfriend?
Angel Wicky: I  have sex and anything intimate in my private life only with person i love, with boyfriend.
BoobsRealm.com: The money shot is the most important scene in porn. That is why it is called the money shot. Do you prefer facials, spiting or swallowing?
Angel Wicky:I prefer cumshot on my tits or facial, and if its on my tongue i spit;)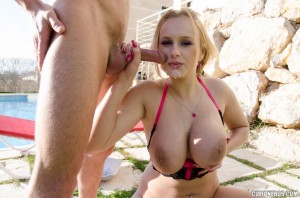 BoobsRealm.com: Have you ever enjoyed a scene with a guy that you wanted to continue it after the lights were turned off? any details jeje.
Angel Wicky: No, As I mentioned above i have strictly separate private and work life and sex.
BoobsRealm.com: How different is Angel Wicky in bed from the Angel Wicky we see in a scene?
Angel Wicky: It depends=) sometimes im the same person but sometimes different=)its all about the moment mood;)
BoobsRealm.com: What are your other plans short-term and long-term in and out the adult biz?
Angel Wicky: My future plans are very clear , I definitely want to continue this work ! Now I finish the plans for America and it would be great if everything worked out and I could fly and as soon as possible. I even got the invitation to Australia , so just bomb! I'm terribly happy that people like my work . I want to do other cool projects and videos , create my own website about me and my work , and make my own production sites as a director . Im gonna be in this business a looong time, so you can still see me (as doggy, from the front, on the top, front of the camera, behind the camera … even if you will actually don't see me,  I'll be there!) Plus I have an idea for at least two books. I think fans and people could be interested in backstage of porn, true and how it goes in this job. I want to make music CDs. Because I studied opera and musical singing and I also singing in some videos. I could be  the first pornostar in the world that has a CD in the classical style. Simply said, those challenges and ideas I have very much =))
BoobsRealm.com: Is there anything else you would like to tell your fans reading the interview?
Angel Wicky: I would like you know that im really happy for your kind words and support. Im so happy you like my job and follow me , and i promise i will work hard on new great projects which you can enjoy=) with big kiss and hug your Angel Wicky
And here some additional photos of this busty beauty