Roxanne Miller is a busty girl who comes from Romania, which is turning into a farm of busty girls. This hot babe just turned 23 last week. Young bosomy  Roxanne was kind enough to give me an exclusive interview so fans can get to know more about her. You can check her most famous work at DDFbusty.com and Scoreland.com but also on her camshow.
So let's get to know Roxanne better. You will find a sweet kind girl
Roxanne sent me this exclusive picture for the interview. A really nice one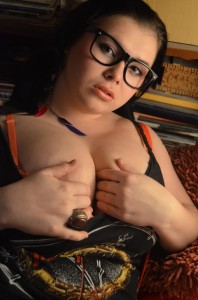 BoobsRealm.com:
How did you decide to become an adult model?
Roxanne Miller: I moved in Bucharest and I had the dream of becoming an actress. I went through many castings and all the money that I was making weren't more than 70$ a month.  Then I decided to look for a job. I had to choose in between multi level marketings and videochat. So I decided to try camming, since I have done multi level marketing  before. Plus I needed a job that would fit with school schedule.
BoobsRealm.com: What size are you breasts? When did they start growing?
Roxanne Miller: I tried in December a 36M cup and it was just a little large. My twins started to grow when I was 8. By the age of 12 I was a full B cup. When I started camming at 19, I was a DD cup. My tits are still growing and that is amazing and also frightening.
BoobsRealm.com: You have been quiet lately, just camming. Why not modeling?
Roxanne Miller: 
You are not up to date. I have been invited in the Scoreland Cruise in Dominican Republic and I also worked in February with 
abbywinters.com
.
Roxanne and fellow camgirl Lavina Dream on

Scoreland
Roxanne Miller: There are ups and downs. My friends consider me a nice sweet girl, not a mercenary bitch lol. I see the good in people and try to focus on that. I enjoy it a lot. Sometimes I get so turned on that I cum like… a lot!
BoobsRealm.com: What is the best thing and the most bizarre you have watched camming?
Roxanne Miller: The best thing… hmmm… let me think… a couple making love for me, fulfilling a fantasy of mine. The most bizzare? There are some: an old man dressed like a baby in diaper, a guy with a champagne bottle (upside down) up his ass and there was also a guy that said he raped a girl and he doesn't deserve a cock, he put cam on and butchered his cock.
BoobsRealm.com:
Oh that is creepy.
BoobsRealm.com:
 I found this deviant art profile 
http://roxxxyfoxy.deviantart.com/
 you like photography?Can you tell us more about it?
Roxanne Miller: It's an old hobby of mine. I managed to get a pretty good camera and started to work more for that. I actually became the official photographer of a guitarist. I like landscapes, but I like people more. I can't post the new pictures because I don't have the right to expose them. I also like boudoir pictures.
BoobsRealm.com: What do you do when you are not camming or modeling?
Roxanne Miller: School- I study Public Relations and Communications, photography, videos, drama, I write, I laugh about my crazy cats… let me think… what else do I do? hmm… I try to improve my skills in photoshop.
BoobsRealm.com: You have been with some girls in some scenes. Do you like girls in your private life? ever tried?
Roxanne Miller: I wouldn't have done it if I wouldn't have kissed a girl before. Yeah! I did it in my private life also. I find it very sexy and exciting.
BoobsRealm.com: Would you consider giving boy/girl a try? why?
Roxanne Miller: No, I don't want to do a boy girl. First of al, for me sex is not happening after saying: "Oh, hi, I am Roxanne! Let's fuck!". For me sex is chemistry also. The second reason is that I don't want to spoil a fantasy. I'd rather let you imagine how I make love, than to just show you.
BoobsRealm.com: Do you have a boyfriend? What does a guy need to do to be the one?
Roxanne Miller: A guy needs to be smart and to understand I don't like to be pushed or pressured. I like a guy that makes me laugh. I don't like pick-up lines and the "look how macho I am" attitude.
BoobsRealm.com: What is your sexual fantasy?
Roxanne Miller: One that I haven't tried yet is to make love in a train wagon. I also have a fantasy story about that.
BoobsRealm.com:  I have been obsessed by titty-fucks? Do you like them?
Roxanne Miller: They are fun! The good part is that you have a blowjob included.
BoobsRealm.com: What are your plans short-term and long-term in the adult industry and outside?
Roxanne Miller: Short-term? I want to become the biggest boobed girl in Romania. Long term? I want to become a legend. Outside the adult industry… I am opening a photostudio.  In this way many camgirls from Bucharest will have awesome pictures for their profiles.
BoobsRealm.com: Is there a busty model you admire?
Roxanne Miller: Vanessa Y. She is a sweetheart! And she loves beer also. Lavinia Dream is also a sweetheart! We had tones of fun!
BoobsRealm.com: I have seen on MFC that Romanians are usually really busty. At least the ratio is high. What is your take on that?
Roxanne Miller: It's because of the water! I am kidding! I think the girls are either skinny and flat or with fake bad tits, either big boobed. They say Romania has the most beautiful  girls.
BoobsRealm.com:  I always ask this =).. Spit, swallow or facial?
Roxanne Miller: If I am in hangover, I spit. If not, depends where he wants to cum!
BoobsRealm.com: is there anything else you would like to add to the fans?

Roxanne, Jonna Bliss and Katerina Hartlova having fun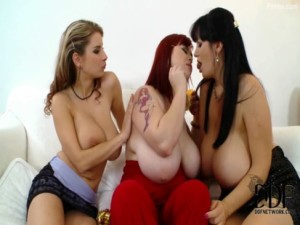 Here some more photos of this BBW star!