Casey Deluxe is a busty german girl whose fame has been increasing in 2015. The naturally 30F cup blonde has been around for about 3 years; but her shoots for Scoreland and Nadine-j have help her be under every big boobs lover radar. Recently casey got surgery, which meant that she could not be online often or took photoshoots. However, Casey's rack is back. I got the pleasure of having Casey Deluxe on the blog some time ago for this interview. This is a must read for every boob lover fan. I think your questions will be answered.
BoobsRealm.com:  When and why did you decide to start modeling?
Casey Deluxe: I started to modeling in the summer of 2012 as an amateur model. My boyfriend love my big tits and he encourages me to pose for foreign amateur photographers.
BR: What sites have you been featured at?
CD: The most and hottest content with me is to find on my own website www.CaseyDeluxe.com. There I show even more of myself than on other
websites. I am also a model for bikinis at www.Saxini.com and www.Nixxxe.com. And many other Websites like www.lockthecock.com, www.Nadine-j.de an www.Scoreland.com and www.bikinipleasure.com.
BR: How is a day in your family when you are not shooting?
CD: I have two cats and a nice apartment. I love to have a good sleep for a long time. My life is totally normal.
BR:  What is your bra size? Were you always comfortable with having big
breasts?
CD: My Brasize is 70G (US 30 F). I love my boobs. They are natural and I do not know it differently.
Casey Deluxe huge tits for you (nadine-j)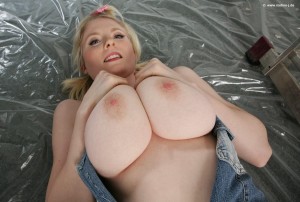 BR: You launched your own site caseydeluxe.de How is going? What can fans find there?
CD:  On www.CaseyDeluxe.com you can see the newest and hottest pictures and HD videos with me. I love to open my Pussy for my fans. Also my little crisp butthole. I show everythink. Pussy-Closeups and even Anal-Plug Games. I like this kind of dirty games. It makes ma really randy. On my own site i work only with my personal photographer and my boyfriend encourages me to show more and more.
Every time when i make photos and videos for my website i get wet and horny and my pussy is swollen.
BR: What models do you like to the most? Who would you choose to have a photoshoot with?
CD: There are many cute models on the internet. I like LUCIE WILDE. She has fantastic natural tits. Sometimes I would like to make a hot Photo Session with her. We will see
BR: You have done some titsucking for nadine-j.de. Would you venture into something edgier? What would it be? What would you never do?
CD: Never? To fuck with other guys than my boyfriend. I love him since more than 7 Years and he like what i do. I work only solo or with other girls. Girl-Girl is sometimes okay. Thats all. I don´t know exactly what i´m doing in two or three months. A month ago I didn't know either that I slide a giant Buttplug into my sweet tight butthole.
BR: Were you comfortable with nudity during your first shoots? How different do you feel yourself now from those first shoots?
CD: The first shootings was embarrassing. I was a really shy girl. Now i feel much better than on the begin of my career. Sometimes i get really wet in front of the camera. But this happens only at the work for my own website.
BR: Are you married? engaged? What does the perfect guy needs to be/have?
CD: I am engaged with my long time boyfriend. He is the perfect guy for me. He is perfect for me and we are a good team.
Casey Deluxe getting her tits sucked by Milena Velba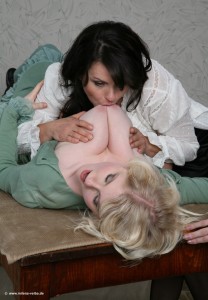 BR: What turns you on/off?
CD: I like dirty talking … and sometimes also role games. Sex in public I like too. I don´t like stupid people and boaster.
BR: Have your breasts helped you to get out of trouble? Any story?
CD: No, never. I like to wear unobtrusive clothes. If I dress like a cheap streetwalking harlot without underwear – is it just for a Modeljob 😉
BR: What is your favorite sex position? Is there any that you could care less about?
CD: I like Doggy style and the Danish wheelbarrow. Of course … like every other girl.
BR: Do you watch porn? Do you think European girls are more open to the idea of watching and even doing porn?
CD: No, I do not watch porn. I love to do it – not to watch it. I don´t know american girls and therefore i cannot say who is hotter for porn or something else.
Casey Deluxe posing for Scoreland
BR: What are your short-term and long term plans in and outside modeling?
CD: I have a lot of fun at the moment. I hope my website runs a little better and I want to do this for 4-5 years. Perhaps I open a little bar in the future.
BR:  What would it be the perfect date? (I have to know so I can arrange everything when I get to Germany lol)
CD: This is easy: Pick me up with a white Bentley at home, inside you have 10 bottles champagne. Then take me to your motor yacht.
Put a million dollar in a suitcase and give it to me for a dream journey with my boyfriend.
It is always Christmas when we get Casey Deluxe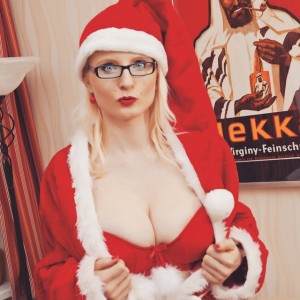 BR: Is there a message you would like to give to the fans reading the
interview?
CD: I like all of my fans. They are very taff guys. If enyboby want to have a personal video or you want to see me in spercial clothes – just write
a mail to me. email: kontakt@sexycasey.com .
You can follow her on twitter .. now before you check out another interview or post on the blog check this video -in german, anyways but casey is hot!-

Casey Deluxe – Vorschau auf mein Bangat Fotoshooti… – MyVideo