Scarlet LaVey is one of the top busty alternative pornstars of the moment. She has performed for some of the biggest sites dedicated to busty girls such as Scoreland, Big Tits Round Asses. At her young age of 22 Scarlet shows she is mature girl. She prides herself on saying that "I firmly retain a true sense of identity and individuality". The 5'9" tattoed busty star confesses to BoobsRealm.com more about her background, influences and future plans. This is a must read interview for all busty girls lovers who enjoy finding a smart big boobie girl.
Twitter: @ScarletLavey 

BoobsRealm.com: When and why did you enter the adult industry?
Scarlet LaVey: I shot my first scene in 2011 while living in Northern New Jersey. Up until the time I moved to Los Angeles, I worked for smaller scale companies around that area. My career truly kicked off when I relocated to the west coast in 2013. That's when I began performing under the name Scarlet LaVey.
BoobsRealm.com: Why did you choose the name Scarlet Lavey? any relation or tribute to Anton LaVey?
Scarlet LaVey:
Actually, my husband thought of it. And yes, the Black Pope is indeed my namesake. I was trying to come up with something really unique but accessible, all the while being a name that would fit. My husband took Scarlet from Diary of a Drug Fiend by Aliester Crowley and merged it with LaVey. What I can say is he and I have an impressive book collection. And while a great deal of our lives center around our unending education and growth within the Left-Hand Path, I'm unable to speak on our exact associations. At least right now.
BoobsRealm.com:  What do you do when you are not shooting a scene? How is a normal day in your life?
Scarlet LaVey: I like to think that I live quite a well rounded life. My routine doesn't stray too far from the norm. Believe it or not, a large amount of my time off camera is spent reading books.  Oh and lots of fucking.
BoobsRealm.com: What is your bra size? When did you breast start to grow? How was it back then?
Scarlet LaVey: My current bra size is 36 H. They began to grow when I was 12. I had DD's by the time I was 15. It was and still is my trademark.
BoobsRealm.com:  How do people react when you tell them you are a pornstar?
Scarlet LaVey: It's varied. People who've known me since my adolescent years pretty much expected it. I don't shout it from rooftops. It's just my job.
BoobsRealm.com:  You have many tattoos. How many are they? What do they mean?
Scarlet LaVey: I don't really count. It's not something that I put too much thought behind. And contrary to what most of these ridiculous TV shows will lead one to believe, most people don't really assign meaning to their tattoos. And if they do, not to every single one. Unless it says so, my pieces are just cool flash or someone's good idea and that's it.
BoobsRealm.com:  Who are your favourite porn girls? And guys? Is there someone you would love to work with?
Scarlet LaVey: Porn girls? That's easy. Larkin Love is as insanely gorgeous as she is intelligent. I love working for Joanna Angel. She's awesome! Coolest chick around. My two good friends Marilyn Mayson and a new face to porn, Brianna Rose are both drop dead beautiful. The list goes on.
Every male talent I've worked with has been a pleasurable experience. Really nice guys, no egos, no bullshit.
BoobsRealm.com: What is a fantasy you would like to have on film?
Scarlet LaVey: Davey Havok and my husband double teaming me.
Scarlet wants Davey Havok from AFI to fuck her!!! Let's get him playing Miseria Cantare while cumming.  
BoobsRealm.com: I think you haven't done anal or bukake. Would you do the? Is there something you would never do?
Scarlet LaVey: I can't think of something I wouldn't do. Limits aren't really my thing. As for anal and bukkake, that's coming. I'm just waiting for the right project and the right time. I don't think the world is quite ready for that yet. But sit tight! That's all I can say for now. 😉
BoobsRealm.com:  How different is Scarlet Lavey on film from private life?
Scarlet LaVey: What you see is what you get. Well, no actually that's a lie. I'm probably sluttier in my private life than I am on camera.
BoobsRealm.com: You shot for Scoreland, Suicidegirls, Nottyboy. What other companies have you work for so far?
Scarlet LaVey: Wicked, Burning Angel, Naughty America, New Sensations, Reality Kings, Brazzers. The list goes on. I have some shoots for Evil Angel coming up. Super stoked for that!
BoobsRealm.com:  What are your plans short-term and long-term in the industry and outside?
Scarlet LaVey: I'm starting my own production company which is going to produce both physical and digital high quality content. I'm keeping the details under wraps for now. But I'm sparing no expense, I can assure you of that. For now, I'm recording the first episode of my podcast Scarlet's Witching Hour.
Outside of acting in adult films, I happen to do professional makeup for a lot of shoots. That's really ramping up. In fact, that's actually what's been keeping me most busy as of late. I'm starting a YouTube channel with tutorials, the works. I'm even starting to do mainstream jobs.
If that wasn't enough, my husband started a pro audio software company called Infernal Love. The people he's got on board have done some of my favorite records of all time. I'm heading up PR and some branding / operational duties for the time being. Right now they're neck deep in development for their first two plugins. One is debuting this year. The cool thing is since adult film is becoming a very tech reliant industry, more so than it's ever been before, they're developing these powerful tools with some adult film production needs in mind.
BoobsRealm.com: Do you have a boyfriend? Is it difficult to find a boyfriend as a consequence of your career? what does the guy need to to or have to be the one?
Scarlet LaVey: As I've mentioned, I'm married. I imagine finding a stable relationship AFTER entering this industry might pose as somewhat of a challenge. However, the relationship I'm in is built on history and friendship first. Well, technically the fucking was first, but you catch my drift. And let's be realistic, no not everyone could handle such a lifestyle. But we're both sort of out of our minds, at least compared to the "average" person. It's the only way I see a relationship with these particular conditions surviving.
As for what a guy needs to be "the one": I saw my husband the second day of my first year of high school. He was two grades ahead of me and it was pretty much love at first sight. Honestly, for me to be into a guy, you can't be boring. That's the kiss of death for me, when I start to feel bored. Because I get bored easily. I need a certain degree of craziness and uniqueness to keep me stimulated. First and foremost, yes, you have to be extremely attractive. That's what captures my attention. But just as important, being with my husbands is pretty much like being with a different person everyday. And that's what keeps it going!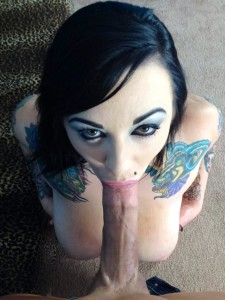 BoobsRealm.com:  Spit, swallow or facial?
Scarlet LaVey: Never spit! It's always a toss up between the last two. Hehe.
BoobsRealm.com:  There are many porn parodies being shot. If you could be a character of a porn parody, who would you be?
Scarlet LaVey: Chi Chi in a Dragon Ball Z parody! That would be fucking awesome.
BoobsRealm.com:  Fans can be sweet but also gross and weird. What is the best thing a fan has sent/told you and the worst?
Scarlet LaVey: My fans are great for the most part. I'm fortunate enough to be showered with kind words more often than not. As for the "worst", one might consider this bad, and it was definitely bizarre. But at the same time, super funny. An individual, claiming to be of middle eastern descent, emailed me detailing how he would kill me for Allah for being shameful and immoral. We googled his email and all that came up were these forums in Arabic. The only words in English were in caps and read, "NITROGEN" and "CITRIC ACID" Raised an eyebrow for sure.
BoobsRealm.com:
  Do you have any anecdote from a shooting? an injury, laughing during sex, a man who could not
work, stinky co-worker? 
Scarlet LaVey: Nope.
 Thanks Scarlet for the interview and the fansign. The Last message is a quote from The Book of the Law. For more info you google Thelema and Allister Crowley.
Some more pics of beautiful Scarlet: