Siri is – probably and with all due respect to the other pornstars- the top star in the adult industry. This 5 feet 9 inches heavenly creature from Minnesota debuted in 2012 and became fan favorite since her first scene. Siri has managed to not only captivate fans with her amazing beauty and her too- hot- for -our- brains scenes, but also with her interaction with fans in social media. I wanted to interview her long time ago, but she is really open to her fans answering questions and tweets that I thought it was really hard to interview someone who has said it almost all. I read many interviews and finally wrote down some questions that i thought might be interesting for the fans and Siri.
I have to admit that Siri is the new Queen of Porn. She has the IT factor that makes her impossible not to love. She is really a one in a million girl and we have to feel blessed that she enjoys the adult industry. Siri is so good at what she does that she is able to be her own agent and has control over her career.
Siri was kind enough to answer the following questions for the blog. I have to say this: I always want to meet the girls I interview and actually I have lusty fantasies, but Siri is different. She is a girl with whom I dream about  having sex with, but I find her a really interesting girl to talk with and that adds more to her hotness!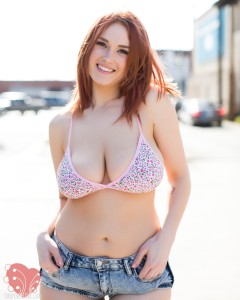 BoobsRealm.com: How is a usual day in your life?
Siri: That depends on whether it's a shoot day or not. On shoot days I'll answer emails in the morning, work out before heading to set, and then work on more emails and social media when I get home. Non-shoot days are very structured for me and a mix of communicating with fans, managing/scheduling future shoots, video editing, processing updates for my membership site, and managing the many other income streams which are necessary to my making a living. This is more than a full-time job – I work constantly, at least 80 hours per week. And the minority of that time is spent having sex.
BoobsRealm.com:
You always wanted to be a pornstar, but actually got your communications degree. If porn would have not been that good, what would have been your second dream job?
Siri: One of the cool things about communications is that it's applicable to pretty much any job; the skills I learned there will always be very valuable. If I were going to choose a different career I'd actually be a makeup artist. I love doing my own makeup and expressing my creativity in that way.
BoobsRealm.com:
You are a swinger. That is pretty courageous. I think many people do not dare because of jealousy or fear of comparisons… how do you manage those issues?
Siri: Non-monogamy is not for everyone, but I knew long before starting my career in porn that being non-monogamous was right for me. I believe that it's not the simple act of being physical with someone who's not your partner that causes hurt – it's the lies, deceit, and betrayal that follow. Being in a sexually open relationship, my husband and I tell each other everything. We have absolutely no secrets. No lies, deceit nor betrayal. Jealousy is such a common emotion in most relationships. But jealousy is ultimately rooted in a fear of being left, that you can't trust your partner not to find someone "better" than you. Trust and honesty are really the most important things in a relationship. If you live with some deeply buried fear of your partner leaving you for someone "better," whatever that means to you, that's not happiness. If you trust your partner enough to feel completely emotionally secure in your relationship, life is so much more enjoyable.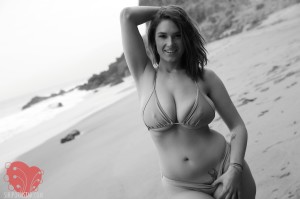 BoobsRealm.com: Talking about swingers… here in Montreal there is one club… have you been in Montreal? If you come, I think I should escort you guys to that swinger club, lol…. how do you choose your swinging couples… what if he likes the girl but you do not like the guy?
Siri: I've never been to Montreal. I bet the swinger clubs there are wild! My husband and I aren't really into "taking one for the team" – if we're not both enthusiastic about the other couple, then we don't play. Generally we don't  play with couples who only want the girls to touch each other. I like everyone to participate! Typically we're attracted to very genuine down-to-earth people, with a good sense of humor. It always enhances the experience when we can all joke around with each other.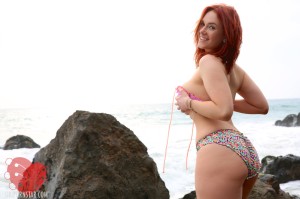 BoobsRealm.com:
You have a buttplug vid, but still haven't done anal. When do you think you will say "I will do anal on cam"? I would love to watch you on gangbangs and bukkakes.. any chances?
 Siri: I'll do anal when the time is right. And that moment just isn't here yet! But believe me, you'll know when it is. I will make sure my fans are the first to know when I decide to start putting things in my butt! I also intend to do gang bangs and bukkake eventually. I'm looking forward to all of it!
BoobsRealm.com: Is there anything you have tried in sex that made you say " I will never ever do that again"?
Siri: Having sex in a hot tub. It was a bucket list thing. And it was fun for, like, one minute. Then the hot, chlorinated water started irritating my lady parts and drying out my natural lubricants. Chafing set in quickly. Not good! I won't be doing that again.
Note: Siri and Sara Jay are #Team BJ. If any of the teams they support win the FIFA 2014 World Cup they will give BJs to their followes… Let's root for Brazil, England, USA and Germany!. I go for Germany, but Siri in a Brazil costume makes me go for Brazil!
BoobsRealm.com:
Is there any fantasy you would like to fulfill?
Siri: Oh, there are so many I can't count them, haha. The biggest one involves a firehouse full of super horny firemen gang-banging me. I imagine them all sliding down the pole in the firehouse, one by one, and lining up behind me, while I announce that there is a fire in my pussy, and it can only be put out by load after load of cum. Mmmm. 🙂
BoobsRealm.com:
You have your own site 
siripornstar.com
 which has a really nice design and obviously has hot scenes and links to your other videos. However, still some so called fans upload free content and put it online. What do you think needs to be done to protect the porn producers?
Siri:
 I spend hours checking sites for pirated copies of my scenes on torrent and tube sites, and then sending DMCA copyright takedown notices. But trying to get stolen content removed is only half the problem. I think the most effective way to fight piracy is to re-train the way people think of porn. Because right now, the vast majority of porn consumers 
do not pay
 for porn, and would never even consider paying for it. They're so used to "free" porn that they think there's no value in it and that it's something they are entitled to. If we're going to see the adult industry survive and thrive in the face of all of our work being stolen, then we have to show the fans that watching stolen porn is WRONG. That's why I'm supporting the new #PayForYourPorn (
payforyourporn.org
) social media campaign – it connects performers directly to fans, helping inform them of the horrible effects of piracy on the industry, and why the best thing you can do to help is to simply #PayForYourPorn!
BoobsRealm.com: I remember I saw you the first time on a Rodney Moore video. I said to myself "this girl is gonna be a star" eventually you became that star. You have that IT factor. Not only the body but the charisma. I have heard many good things about you from some producers. What do you think has been you key for success… not only with fans but with directors and actors?
Siri: Thank you for saying that! I think it's a certain combination of genuineness and professionalism. You can't succeed in this industry by just having a cool personality, you have to be business-minded as well. And likewise you can't be all business-driven and no personality. There's a balance to it, and I think the most successful girls strike the right balance. Having loyal fans makes a huge difference, too. Some girls have loads of Twitter followers who just see a hot girl and click the follow button but don't ever pay attention to what they say. It took me 2 years to build to over 100k Twitter followers, but the vast majority of them are real, loyal fans and they're eager to show their support. If I enter a fan-voting contest and tweet to all my followers about it, they seriously bring the vote. It's awesome.
BoobsRealm.com:
There are many fans and crazy stories about photos they send. How many cock pics have you gotten? What is the weirdest thing a fan has ever sent you?
Siri: I lost count of the dick pics long, long ago. I get a bunch every day. I don't have a weirdest thing a fan sent, but I do have a nicest thing – after my YouTube channel was deleted and I lost a lot of my videos, a fan of mine sent me a USB drive with every video I had ever uploaded to YouTube. I thought that was very nice and thoughtful! Also, I have gotten some incredible fan art as well. I think it's really sweet when a guy actually mails me the original artwork, which has happened twice and made me so happy.
BoobsRealm.com:
You have your own show on Vivid Radio. How is it going?
Siri: My show Live With Siri has been on Vivid Radio for a month now. I talk about all things sex-related, and usually I bring in one of my hot porn star friends as a guest too. We have tons of fun! I'm all about interacting with fans on the show. About half the show is taking questions and comments from my callers – anything from questions about swinging, to anal sex, to gang bang fantasies. I tell a lot of my personal sex stories on air, too.
BoobsRealm.com:
If you could play a character in a porn parody who would it be? why?
Siri: Power Girl! I just love cosplaying PG. There are so many porn superhero parodies, why not involve Power Girl in one of them? I would absolutely love to put on my costume, kick some ass and have sex in it, haha. Black Widow would also be cool. I already have the whole costume. My hair right now looks just like Scarlett Johansson's as Black Widow in the most recent Captain America movie. Hint, hint.
BoobsRealm.com:
Facials, swallowing or spitting?
Siri: Facials AND swallowing. I don't ever take a facial with my mouth closed, so that's a two-in-one. I think taking a facial and not opening your mouth is cheating!
BoobsRealm.com:
What advice would you give to any girl considering entering to the adult business?
BoobsRealm.com: Is there something you would tell the fans reading the interview?
Siri: Thank you for your support! I love my fans, and you guys are the reason I have one of the coolest jobs ever. Keep sharing the love, and please remember that adult performers like me will only be able to keep getting naked and dirty for you if you support us and #PayForYourPorn.
More Siri for you!