The name Viola Bailey or just Viola must be ringing in everybody's head, as this angelic figure has become the dream of every man (and perhaps some women) who are following the adult business. Unless you have been living in a cave, you have seen this pretty lady. I had the honor of interviewing and I want to share with you her answers to everybody's questions and more.
Viola Bailey was born 21 years ago in Riga, the capital of Latvia. This heavenly figure has been featured in the top european adult websites such as Dffbusty.com, Femjoy.com, met-art.com  under different names: Viola, Violetta Banks, Annabelle, Vanea H and more. No matter what name she uses, the beauty is the same. She goes by @wilolka on twitter, which is her nickname from her childhood.
As I said, Viola gave me an exclusive interview where she talks about it all!! Yes, everything… If you think she is pretty in the outside, just check her answers: you won't believe that the perfect woman exists and is Viola Bailey. What she likes and dislikes about her body, who actually encouraged her to become a model, whether she would go boy/girl, anal sex and more.. With no more introduction, please read what this 5 feet 9in more than perfect girl has to say.
Check other posts about Viola Bailey here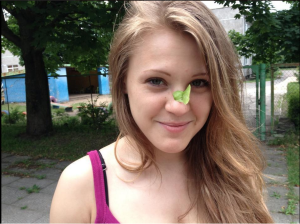 BoobsRealm.com: How did you decide to become an adult modeling?
Viola Bailey: Since my childhood, my dream was to be a Model or an Actress. I'm too short to be a fashion model, but I thought I could still be Photo Model, but I was not much interested in that.  Then my mother told me ''Why don't you try shooting for Playboy? There is good money! You have a Great body for that, so Why Not?!'' All My life I've been very shy…and I said to her ''I cannot do that''…however,  later on, my Grandfather suggested me to try is as well…and after this I started to look for work in the erotic photography.
BoobsRealm.com: You have gone by many names: Viola Paige, Viola Bayley, Annabelle, Violetta. Why so many changes? Which one do you like the best?
Viola Bailey: Yes, my first stage name was just Viola, but then everybody start call me Annabelle, I Don't know why and how it started though… Then when my photos came out on Nubiles.net they 've started to call me Viola Paige, Of course I didn't like that… I thought to myself that there were too many models called Viola so I have come up with something different. I called myself Viola Bailey . However,  then, 21sextury, called me Violetta Banks. After that I texted the administrator and asked him to change it! But he Said ''There is Not Mistake, you are Violetta Banks!''. Now I want to people know me like Viola Bailey's!
Beautiful Viola Bailey on met-art
BoobsRealm.com:  What is your bra size? When did you breasts started growing?
Viola Bailey: My Bra size is 75 DD (34DD in America) they've started to grow after I've finished doing sports. They grew up very fast, from  14 to 18 they grow up to this size 😉
BoobsRealm.com:  You are one of the overall prettiest girls I have ever seen, and I know many fans agree. What is your favorite part of your body? Which part is your least favorite? why?
Viola Bailey: Thank You. The best part of my body for me are my legs. They have the best shape, I thank sports for that. I don't like my Breasts too much, because  when they are asleep the nipples are big :D, but the main part I don't like is my face…I have many complexes about it.
I think every inch of her body is perfect, don't you think?
BoobsRealm.com: Do you watch porn? Who is your favorite pornstar?
Viola Bailey: Yes, I watch porn, I watch porn a lot, but just watch it, I never masturbate to it. My fave pornstar is Sasha Grey, I don't know why, she is in a dirty porn, but I think in real life she is very sweet.
BoobsRealm.com: I remember you said in your Woodman casting that you like video games. You must be probably the hottest gamer ever. Which are your favorite games to play? (name some)
Viola Bailey: Yes I love them, every time I travel, I do it only with my notebook to play when I have free time. Of course, I don't remember the name of all games but some of my favourite are – Skyrim, Oblivion, Morrowind, Grand Theft Auto 2, Vice City, San Andreas, 4/Liberty City Stories. Sims, Sims2, Sims3, South park, Track Mania Sunrise, Fable 3, Need For Speed, Mortal Combat, Tekken, Alice Madness Return, S4 League. Blood Rayne, Counter Strike, Spell Force, ArcheAge, Postal. 😀
BoobsRealm.com: When did you lose your virginity? How was it?
Viola Bailey:  I Lost it, but didn't feel it, because it was my mistake, I was drunk, and I'd rather don' t remember it at all.
BoobsRealm.com: You have been in girl/girl action. Do you like girls in your private life?
Viola Bailey:  I don't like girls in private life. I lost my friend, because she became bisexual, and every time she was trying to touch my boobs. I've just stopped talking to her. So, I give my Love to girls only on video.
Viola on g/g on ddfbusty.com
BoobsRealm.com:  You have a boyfriend, right? How long have you been together? What does a  guy need to do or have to have your heart and mind?
Viola Bailey:  Yes, I have boyfriend, now we are together about 1 year and 2 months. We had relationship about 5 years ago, but we broke up, because he dumped me. But now everything is good. I don't know what I can tell you about other guys ,maybe something changes, because that is how life is, but I think everything will be as good as it is now and even better.
BoobsRealm.com:  We saw you in a MikesApartment scene in a b/g/g where you only had contact with Henessy. Everybody saw it as a step closer to boy/girl. Hundreds if not thousands of fans around the world dream about you doing boy/girl? Can you tell us if there is a chance you will do it?
Viola Bailey: To be honest, I think…It's dirty, because Nobody says ''Girl is fucking boy'' , Only boy can fuck  a girl. They just use girls for pleasure, and girls do it only because they are CRAZY FOR MONEY! I don't want to be seen as meat by 100+ boys, I don't find it beautiful. For me it's humiliating… Sorry to say, but I don't like dirty man; those who fuck about 100+ girls in this business. I'm original: only one man can do it with me, and I don't need money for that. To everybody… please know me as G/G Actress or solo, because I'm not crazy about money, I have a perfect relationship, and by the way, not so dirty 😀
Viola Bailey On Woodmancastingx.com
BoobsRealm.com:  What is the best part and the worst part of being an adult model?
Viola Bailey:  The best part is that my dream of becoming a model and actress is happening. I play on camera and have photo shoots. I like doing it for the guys. I want them to have pleasure watching me. But the worst part is that all my colleagues, all my study buddies and friends know what I do, so they tell a lot of lies. They were spreading rumors that I sleep with photographers, I do B/G and I do escort. And in a while everyone is going to start believing  those rumors, which are false.
BoobsRealm.com: What do you do when you are not on set?
Viola Bailey:  I am sitting at home, play computer games 😀 . Now I have my own Twitter page, so I spend my time chatting with people.
Does everybody would have loved to see the shot go a little more further?
BoobsRealm.com:  If you could have a super power, what would it be? (besides making every man love you, which you already have)
Viola Bailey:  I'd want to copy the appearance of other people: also their voices. I'd copy my enemies, for example, and would make a fool of themselves or would put them in some awkward position, so everyone would think it was real.  Or  I would disguise as someone else: for example, to rob a bank,  or take the identity of  some rich man and announce publicly ''I will give all my money  to Viola'' 😀 So basically an ability to manage humans and take control of all of u 😀
BoobsRealm.com: What is your sexual fantasy?
Viola Bailey:  To be honest I've already tried everything, so I'm out of fantasies… but maybe I'd love to participate in an orgy party, but only with my boyfriend, just to see it from a side and get excited.
BoobsRealm.com:  You have wonderful boobs. Do you like titty-fucks?
Viola Bailey:  Sometimes I do it, but I don't find it very pleasant. I do it only as it is my boyfriend's fantasy. I give him everything I can.
BoobsRealm.com:  To turn on the fans even more.. lol…Spit, swallow or facial?
Viola Bailey:  Mhm….I do all kind of things with my boyfriend. Sometimes I want it hard, so he does it hard and fast; fucks my ass and my face, put his dick on my lips, he takes me by the ass and by the pussy, uses toys, put toy in my ass, and fucks my pussy, takes me in all poses, and cum in my mouth… and sometimes just makes a sweet passionate love to me.
Indeed Viola is from heaven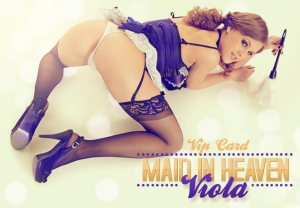 BoobsRealm.com: What are your plans in the industry? and outside the industry?
Viola Bailey:  I want to just keep on growing up. Time will tell me what I need to do next.
BoobsRealm.com: Is there anything you would like to the fans reading the interview?
Viola Bailey:  Yes thank you for this Interview. I was happy to answer this questions for you. Now u know me a little bit better, like person, not just an actress
XXX
Viola Bailey's
BoobsRealm.com: Thank you so much Viola. I am sure all the fans have enjoyed the interview as much as I have. I hope they can clean their keyboards now.
Now guys, check out some pictures of this euro angel
Check below some pictures from her threesome for MikesApartment
She has a perfect booty. lucky boyfriend!
Amazing fan art by @dog_bacon
For the full scene go here
Does Viola look at the guy with lust?