For years fans, producers and models have been wondering what happened to busty Slovak sensation Karina Hart. BoobsRealm.com was in touch with The former Karina Hart from 2010 to 2012, but then the bosomy star disappeared. After shooting for Scoreland as Karina Hart, DDFbusty as Karina Heart and pinupfiles as Kay Love KH decided to launch her own site. That site never saw the light as the former Karina Hart moved on to non nude modeling. I got the information that she was making a living as a make-up artist; however, I got another interesting information at the same time which I never posted as I thought it was just another case of catfish: Karina Hart was living in the States and escorting.
As soon as I got that information I managed to track the ad and the escort review. The ad was referring to an escort in Atlanta, Georgia. One review said that the girl on the pic was indeed the same that he had the service with; however, other users say they did not look the same. I forgot about it until this week…. It happens that indeed the former Karina Hart is living in Atlanta and still doing modeling. She is married to a photographer and has a regular job.  It makes me thing of the escort ad. Was it a coincidence? Was really Karina Hart in the States. Is this another "leaked" info to mislead fans about her whereabouts? So she is not a hairdresser or make-up artist.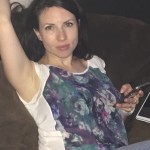 Another busty star from the past decade Faith Nelson was vanished for years. After the news broke about her family issue, we did not know much about the blonde busty star. BoobsRealm.com got in touch with the sexy busty girl. Faith said all the issues are clear now and she might be back shooting. Fans noted that inbedwithfaith.com was down. The reason why, and this was confirmed by Faith, is that she is now flying solo. The internet changed in the past 7 years and she wants to try how things go in this world flooded with social media and whitelabels. While no new shoots have been confirmed, the following photo might be the newest topless one you can find as of 2015.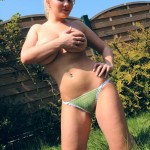 When asked about a picture to confirm Faith,s identity, she sent me a selfie. I can say that either it was faith herself or somebody stole her selfies… The photo is one of those candid ones at home. She almost made me swear on my mom's grave to not show it to anyone, so I won't, but let's say that for the ones who missed Faith Nelson, seems that is coming back along with her bed. #inbedwithfaith.