We endorse Siri to win Hotmovies.com Porn Star Tournament!
Siri is in a tight race in the final for HotMovies.com's Porn Star Tournament against Georgia Jones. As of the time this was written, Georgia Jones is ahead at 55%. Truthfully I don't know much about Georgia Jones. She appears to have dated and lived with Charlie Sheen at one point.
Editor's note: On BoobsRealm.com we support all pornstars; however, Siri is a favorite of mine and I will help her at everything she needs. She is not only beautiful, but kind and smart.
Fans can click on this link and vote and vote again every hour. This competition is tight. The more votes the better.
Note: This post is a contribution by Jeorge M. A loyal Sirian and fan of BoobsRealm.com
What I do know is about Siri and how hard she has worked for her fans and community. Siri has a large following of fans and has connected with fans through social media and has offered many fans an inside perspective of a life as a porn star. Many people are unaware how much hard work goes into being a pornstar from the long hours of filming, the pay scale, health risks, and the unpaid hours they spend outside of filming in order to promote their work. Siri is very open about all she does and is very honest in her reply to fans' questions and clearing any myths. In many ways for me personally I learned from Siri a deeper human value and perspective that made me appreciate the hard work and personal risk she and other take in making porn. Real porn fans pay for their porn. Siri is worth paying for and worth voting for. She deserves the grand prize of this tournament.
Apart from Siri winning the grand prize of the tournament, $500 will go to the charity of her choice, RAINN. The Rape, Abuse & Incest National Network is the nation's largest anti sexual-assault group which provides services to crime victims. This effort by Siri isn't fake. Siri is a feminist activist who has supported other efforts like The UnSlut Project to counter sexual bullying. And as we all know she promotes a positive way of porn.
Siri is simply a beautiful person with a beautiful smile and sexy body.
Siri has an amazing pair of H cup tits, all natural. No artificial fillers. And I believe it's fair to say that if you read this blog you are a fan of big tits.
Not sure if Siri's rival can titfuck like this. Notice the cock has disapeared.
Siri also has an amazing big ass. Not only is her ass amazing but it also performs anal.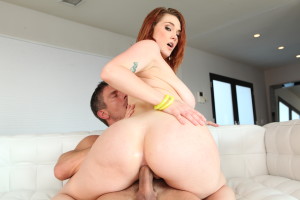 Siri has performed a wide range of scenes and loves cock.
And if you didn't already think she was amazing enough, she has given her Twitter fans blowjobs in the past as she did in #TeamBJ 2 along Sara Jay. Now that is fan service.
So if you are a fan of Siri or simply a fan of big boobs please vote for Siri