HUGE NEWS! Busty social media Sensation Lisa Bukawski made her Scoreland debut. We got this photo. The photoset and video are coming shortly on the big boobs website. Also Dutch Messy Cleo appears for the first time on the Miami-based site.
There is an interview BoobsRealm had with Lisa Bukawski that is coming out this week! For now.. let's enjoy her professional debut for the big boobs site. I have been very critical of the latest Scoreland's choices, but Lisa Bukwaski is a huge upgrade for the Score Group. A step in the right direction. They got the hottest free agent in the big boobs world!
Exclusice preview of Lisa Bukawski on Scoreland.. before anyone else posts it!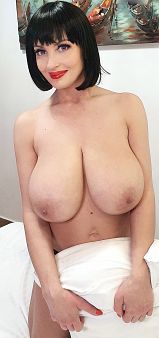 Messy Cleo has already been featured on Yesboobs, but now she gets to the Big Time. Cleo has an interview, a video and photoset already out on Scoreland. More content is coming. Cleo has wonderful giant firm tits!
Below You will find Lisa Bukawski and Messy Cleo on Scoreland. However, the link reads Lisa only because I want it to improve that for SEO =)