Bangbros fact checks Mia Khalifa, formerly known Mia Callista, about her porn career and proving she is playing the victim by lying to the media and giving false information.
Mia Khalifa jumps in the victim bandwagon and claims that Pornhub is not paying her for her videos. Also that she only got paid 12k and she only worked for Bangbros. Bangbros created a site called FactsBeatFiction.com to point out her blatant lies.
Before the video, let me add my 2 cents. I did not have the time to address the issue when I saw the twitter trends weeks ago. Bangbros proved her wrong already, but here is what I can contribute from my end to the truth.
Mia Khalifa claims she started porn in 2016. However, on September 16, 2014 I received an e-mail from Elliot James, editor of Scoreland, with the photo of the upcoming new busty sensation Mia Callista. Yes For those who do not remember, Mia debuted on Scoreland as Mia Callista.  I knew she was money. Despite the fake tits, an arabic girl was not common in porn.
I then contacted Mia Callista for an interview. She was open to do it. However, I took some time to e-mail her. She then changed her name to Mia Khalista. When I asked her why the name, she said "Callista sounded whorish". When I contacted Mia for an interview a few months later she was already getting viral. Obviously she felt she was a big star and never came back to me. Unfortunately the e-mail was lost in my previous hosting's e-mail.
However here is the e-mail exchange with Elliot James, which proves that Mia did shoot for Scoreland before October. The photo attached is the featured image on this post. SO I also fact-chedk you Mia Callista.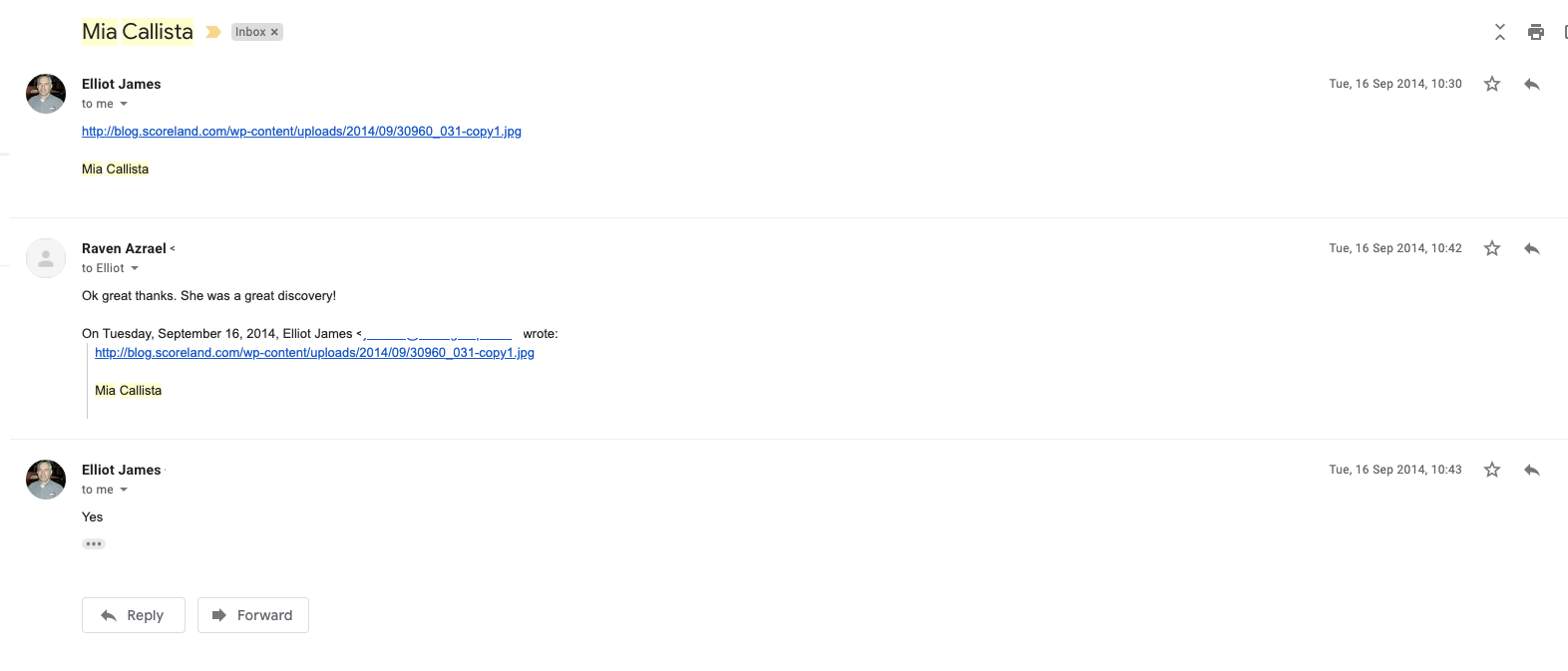 Here the video of Bangbros.
Bangbros has sent a Cease and Desist letter to Mia. Now Mia has seem to be embarked in a crusade against "the evil porn companies". I am sure there are many things to fix. Pornhub is mainly a problem , as many have pointed out they do not filter properly the content uploaded by users. They also pay peanuts for rev sharing while they keep more money and profit from stolen content. However, being wrong in many things does not make Mia Khalifa right in one. Mia, as well as 99.99999% of performers sign a model release, where it states the owner of the videos are the producers. There is no royalties, there is no profit sharing. Why? Because unless you are a big company, you really do not know if you will make a profit.  As I already mentioned in the 3-part how much does it cost to shoot videos, as a producer you have several expenses to cover and adding a % of your profit to the USD0000 that a model/pornstar get is just not viable, unless the girl is committed to promotion and somehow acts as an active sales force, which does not happen.
Let's remember that the only reason why we are talking about MIa Kahlifa and why people search her in porn is because there was a media machine behind it. How come a fake-tittied girl with a big nose is more popular than Lucie Wilde and Viola Baileys? Media has sold her as the top pornstar or the most searched.. which is true, but those attributes came as a result of media pushing for it. Has the media talked about the best busty girls in porn?
The former Mia Callista posted on her social media sying she was one person fighting agains the machine… and mre stuff to make her relatable to the mob.
Let's be clear, if Mia Khalifa gets videos that she does not own taken down, would mean that others who just don't want content out there but were legally paid to create it and is owned by third parties would be taken down. As an example, Beth Lily does not want any content of her online, however, she got paid by all companies for that and signed released form. Tomorrow a girl who has a boyfriend will take down her videos. Say bye to the videos shot by Lucie Wilde, Jenna Doll, Viola Baileys, etc because they moved on with their lives. Forget about signed documents, forget about ownership of material.
Honesty > Trump administration style "facts" pic.twitter.com/B0kBM4vAC0

— Mia K. (@miakhalifa) July 17, 2020
So again always take statements with a grain of salt if you do not know how things work backstage. Let's see what happens with Mia Khalifa and what do her now 3.3M followers have to say.