For the third time Tessa Fowler wins Miss Boobs Realm. Congratulations to Tessa Fowler who won by far the fan voting and still got away with a tie-breaker vote by a Committee member. Below the explanation of the results and the fan voting, plus the Committee member reasoning behind his vote.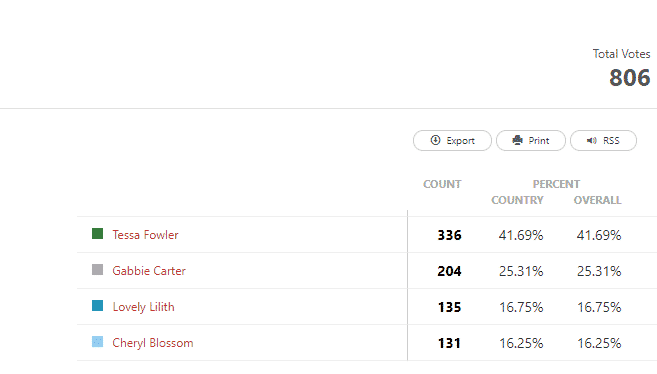 Tessa Fowler got  points from winning the fan voting. Two members of the Committee voted Gabbie Carter as the winner. The third member voted for Cheryl Blossom. As there was a draw, the third member was asked make a new pick between Tessa and Gabbie. This time it could be a controversial win, but a win still. Cograts to Tessa Fowler.
Below the fan voting. Anthony, long time collaborator of the blog voted Gabbie Carter as she is the pornstar of the year. I also voted Gabbie because, while she is not Lucie Wilde, I felt this was a 2014 deja vu between Antonella and Lucie, only that this time fans were voting for Tessa as a result of her past work and not looking at the whole year, where Gabbie was the one pushing limits. Still the draw was broken by NinersFan who has been a member of the Committee since its inception and also has collaborated with the blog in the past.
"A) fans but most importantly B) she still put in work so it's not like she was absent and it's  nice capper to the decade. She might be the definitive big boob model of an era. That being said, excited about the future and seeing a new girl go for the crown next year/decade.  Thought cheryl would be it, but maybe next year".
Tessa is the first-ever 3-time winner. As a result she will get a custom t-shirt. Ideas are welcome! Also a coronation video will happen when she shoots for BoobsRealm in 2020.
Tessa has been one of the best of the decade. Let's have Tessa celebrate and let's wait for what 2020 will bring us!