I do not know how aware are you on the situation in the porn industry, but there is a moratorium in the US as several performers have tested positive for Chlamydia and gonorrhea. I will give you some general info on this post.
Regular Testing
Porn performers are required to get tested every 15 days at a specific facility that tests adult performers. The results are submitted to a database and a moratorium is declared when any performer tests positive. A tracking of all performers interacting with the positive case is performed and once it is cleared that none other performers are infected by any STD porn performers are allowed to work.
How it used to be
Porn performers used to be more careful when having sexual intercourse with "civilians". It is widely known that many – not all- female performers are escorting on the side. You can check several escort directories and see who is who. Also check instagram stories and see who is traveling more often to places where shoots are not usually taking place.  The risk was there. However, you knew who were the pornstars and who were they interacting with. It was a circle of pornstars and people in the porn business.
The Onlyfans effect
Now that everyone and their mother can shoot porn and do not need money to pay to performers and agents or rent a shoot as many Onlyfans collabs take place at hotel rooms or the spare room at a guys house it is not really possible to know if all performers get tested at Talent Testing. I do not even know if everybody asks for the testing as sometimes some people trust referrals. I will elaborate more on this lines below.
I have been told that usually mean are scared to get STD tests and sometimes some people could just modify test. I heard that, but I do not know of any case.
Missing the old days of Porn. Photo on main image is Sophia Traxler. Below is Suzy Sun.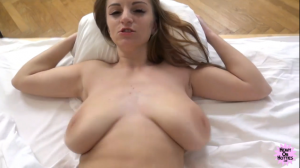 What I have witnessed
Firstly, I saw this coming and that is why I decided to not shoot any boy/girl anymore. I shot a couple of hardcore videos but everything with the required measures. However, as I interacted with other performers and saw not only their behaviour online but found out about their extracurricular activities I decided to only focus on solo and boob grab. It is not worth the risk.
I was scheduled to have a b/g shoot with a very popular girl back in September. I got tested and did not do anything with anybody 15 days before the test and 15 days after. I also had been tested 3 months before and I had not had sex in that period. This female performer requested to show her the test result which I did, but she never showed hers. Days passed by and we were 3 days away from the shoot. I saw on twitter she was fucking her friend with no condom. This was a red flag. I was a bit worried and was thinking of just keeping it solo and boob grab despite already having agreed on a price including b/g. The day of the shoot came and some shenanigans happened. I canceled the shoot. The girl messaged me and told me she really wanted to shoot for me and even if I was mad due to her behaviour I could "still fuck her as a client". I told her, thanks but no thanks. This event got me thinking that it is not worth fucking around with people who are having sex with God knows who.
Fast forward this week. Some of the girls I know have "extra curricular" activities, including the girl I was going to work with have been doing bareback sex videos. One of them mentioned already online that she tested positive. The fact that now amateurs have sex without protection because they want to be the cool kids is really going to have an effect in the professional porn industry.
Conclusion
While you consider it can be fun to shoot and fuck pornstars -even paying or for free- the risk is bigger than ever. Add that there is a lot of things I am not talking about and that some fans that think they know it all or know who is good or bad in this industry just because they want to feel offended and you have a recipe for a disaster. Just remember something, we see the faces, but we do not know where those pussies ahve been.
Advice
Going forward I will not even get BJ from a girl even tested. I recommend most girls getting messages from guys to do collabs to better refrain from it and just either do solo or go with their partners. Nowadays guys are fucking whatever they get. Just follow the OF guys and see that some do not even have standards.