Jesse Quinn is a pretty non busty cutie who is eager to please you on Skype. Her sexy face and her piercing green eyes makes your brain come up with the dirtiest things you would do to this spinner. Jesse Quinn is without a doubt a beauty. She is flying solo as a camgirl and poses on her own camsite http://quinn69.com She is there… lonely, waiting her her white knight who will rescue her from boredom and spend with her the best night of her life. Look at this girl… Who wouldn't want her as a girlfriend… at least for just some minutes. You can make her your sweet princess or your bitch HERE.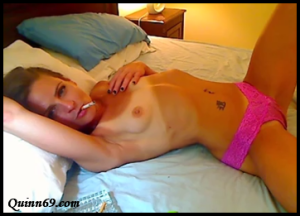 In addition to this pretty lady, you can also spend quality time with some busty girls who are also offering pleasure on skype. Check this Busty Girls on Skype and you will cuddle between their pillows. Among the big-boobed ladies on the site two caught my attention: brunette Esther Hugelita (I think the Huge is pun intended) and redhead TashaTo_
Check them out and check the site to get in their room when they are ready to play with you.