CzechCasting is becoming the top site right now. The volumen of czech girls they have managed to get is impressive. From amateurs to experienced pornstars, CzechCasting is at the top of the porn world. Check out thousands of czech girls getting fucked in a casting now. From I have not been excited for a website in a long time. They are the most legit porn casting out there. Even the models give their real names, which gives a feeling it is a real casting and not some scripted gonzo porn. On CzechCasting.com you will find tons of pretty girls, which confirms why Czech Republic has the prettiest girls in the world. You will also find some girls that may be towards a niche that is not big boobs, but there are several dozens of busty girls that make this site worth its membership. The best thing is that they keep adding new girls every week and by joining Czech Casting you will have access to more Czech Porn sites.
On this post I will feature Monika, who showed up  in the porn world late 2015, whose tits are natural and huge! and Renata, the new Lucie Wilde. I hope she is renamed Renata Wilde or something similar. Renata has huge tits and a vert beautiful face. Both Renata and Monika enjoy sex. Both come as slutty girls.
Monika looks shy, but she wants to be a pornstar. Renata wants to be famous and says she is 22 and has fucked over 25 guys… However, she has had a boyfriend for 7 years.. so she confirms she is a slut.
Sad news is that Renata tells us that the first time she had sex was when she was raped. She does not go into detail, but you can't avoid want to hug her.
Anyway, enjoy these two busty girls and pray that they come back. Besides watching their scenes you will find some familiar faces on Czech Casting such as Angel Wikcy, Anabelle, Katerina Hartlova and more.
Bear in mind that each girl has a casting number: Renata 2907 and Monika 6051.
Monika during her casting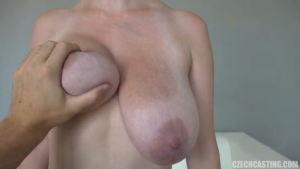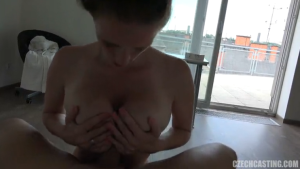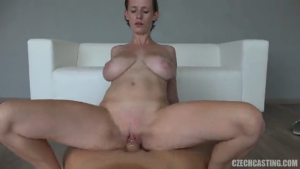 Renata is a the top busty slut at Czech Casting