I was adamant to not post this when I found out about this one month ago. However, everybody has either seen it or post about it. The reason why I did not post the pic I got from a fan was because I was told she did the reduction due to being diagnosed with breast cancer. I was deeply sad, devastated. I wish her the best and hope that she gets better. I have personally seen the effect a surgery like that has on a woman's mind after been diagnosed with cancer. I think that Anya is really strong to show up in front of a camera and perform for her fans and friends.
But well, it is what it is. Anya was one of the legends that we all dreamed about. This post is an appreciation of her big breasts. I spent hours and hours looking for her hardcore videos back in the day. I think she is among the top 10 girls that has costed me more cum. I really really really was so jealous when lucky Cel got to kiss and play with those huge melons -stay tuned for my interview with  Cel who will tell-it-all about what really happened to get to that scene- I had cammed with her. I spent my hard-earned money on her cam. I stayed awake overnight for many days just to get a good night from her. We chatted on msn messenger. She sent me pictures. Gave me the news about her own site and asked me to help her in the programming. I gave her some info -based on what I knew at that time- of how things work to get revenue from the sites-. She told me how uncomfortable she was by being asked about hardcore. She was sweet and nice. A lamb in a wood where many wolves want to get the most out of her. However, Anya got disappointed on the business. On me for not helping her as much as she thought I could. She was the first MissBoobsRealm. The original one. Anya was not considered doing hardcore, but she knew it was the only choice she had. So she opted to retire from modeling and stick to camming, to the little world where only the fans that got to know her -and her cats- better.
If there is something you should do tonight is check her tittysucking video on xx-cel. He did what many wanted to do. The best thing you can do as fans is join the site and watch the video in the best quality possible. Cel deserves it, Anya deserves it, her gone boobs deserved it.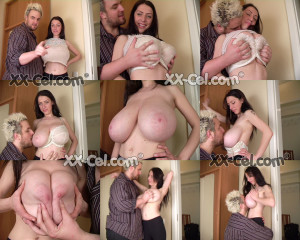 Her webcam room is here
She has sets on pinupfiles, Scoreland, ddfbusty 
You know I am against the way tube sites steal from producers, but only for this time. I want to show you the video of her post-reduction breasts. Both have silicone. They may not look good, but let's not be selfish and keep our mouths shut if we do not have anything positive to say -and our fingers on our cocks if we do not have anything good to type-
Merilyn before