Unless you have been living in a cave, you must know that Germany defeated Argentina 1-0 to win the 2014 Fifa #WorldCup. Well, we all celebrate the German's fourth World Championship. Because we are Germans? Nope. Because, ravishing blonde Siri and hot MILF Sara Jay will give FREE BLOWJOBS to their twitter FOLLOWERS!!!. Before the biggest football -soccer in some places- party started they vowed to give BJs to all their twitter followers if any of the USA, Germany, Brazil or England teams win the cup. Well, as a consequence of marvelous kid Mario Götze's goal at the second half of stoppage time the 2 busty pornstars will keep their promise. #TeamBJ was an almost trending topic as fans all over the world were salivating about getting a BJ by their favorite busty stars.
Note: Visit Siri on her Official Site as she is giving away many vids!!
Note 2: Check requirements!!! and more here http://officialteambj.com/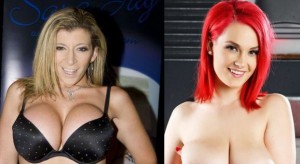 The sate of such a huge event? September 4th. The place? Las Vegas. Both bosomy ladies chose the city as it is easy to access from all over the USA. Siri has over 125K followers, while Sara Jay is followed by 449K. It is obvious that they would not give over 500K BJs, as many fans are overseas and for others is not so feasible to travel in a Thursday.
BoobsRealm.com is in the process of some arrangements to be present in the event. It is still not confirmed as I have some other obligations in that week.
In case you are interested in any donation to BoobsRealm.com for the trip feel free to contact me at ravenazrael@gmail.com and I will let you know what I can do for you and confirm if I am actually traveling to Las Vegas.
Follow them on twitter ( @SIRIpornstar – @SaraJayXXX )and hit your head 1,000 times if you were not following these busty dolls. While you wait, enjoy some pictures of both.