I will open up a bit on the retirement decision and also give you more info on what are the hard decisions when shooting content in terms of selecting models for shoots.
Picking Girls And Dismissing Girls for Shoots
Back in 2019 I approached many girls for shoots. However, as the brand awareness spread and BoobsRealm caught interest from fans and models I realized I had limited time to shoot. Some of the models -who are famous- I had to just not contact again as I had to focus on the big names and who I could shoot and who would be good to shoot with.
I have stated it before. I repeat it now. I like to work with girls I feel I will enjoy working with. The 90% of the models I worked with have been wonderful to work with. I have contacted others who have certain attitude. I have refrained to contact others that would be an issue to deal with or who had history of No Shows.
One of my dream girls to work with Vanessa Lovell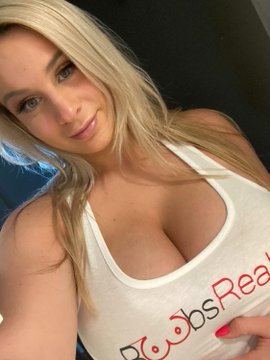 I will not reveal the names of the girls who have confirmed their first ever BoobsRealm shoot -as the shoots now include a manhanlding, and you will see more FIRST EVER groping, including some girls I never thought I was going to work with- . So as there are limited resources and limited time I have had to scratch some girls form the list.
The Pornstars
I was excited to shoot Annabel Redd, Skylor Voxx and Josephine Jackson; however, I am aware that besides the interviews I might not be able to show stuff they have never done before. The only 2 pornstars that would be joining the BoobsRealm roster are Christy Marks and Kit Farrin.
The face of realisation 😳…
was on my onlyfans first pic.twitter.com/nqo3nBpXX2

— kit 💕 // birthday month 🎂 (@kitfarrin) September 27, 2021
Part of Why I retire
It gets harder and harder to find girls that are open to work for producers. And it is even harder to find new girls who have not big star attitudes.  Add the girls that confirmed shoots, make you rent a place and No show or cancel the very same day of the shoot. This happened to me a few months ago. I lost over $1k
My original list of 13 girls I wanted to shoot with has been expanded to 19 as some of those 13 might not be able to work or schedules will not meet.
After the shoots planned I do not see anyone interesting me for 2023.
Additional Info
Shooting with Katerina or Sha Rizel got me used to having amazing shoots. I was told by other producers that shoots are not always that nice. They were right. Shooting with Katie Savannah (Katie Savannah is the girl on the featured image  onlyfans.com/realbabygirlxxo ) and newcomer Meghan Monblanc made me love shooting. Sadly they set the bar too high, so it is hard to compete when you work with people that it feels like two friends doing photos and videos rather than work.
October is the Katie Savannah and Meghan Montcalm 
Watch Meghan Montblanc @meghanmb French Teasehttps://t.co/59uiJUYUSD https://t.co/k5GzqXhPS9 pic.twitter.com/R5Nqz0D2Fj

— BoobsRealm.com & loyalfans.com/boobsrealm_com (@BoobsRealm) October 4, 2021