To any breast man, their favorite model getting a reduction is the worst news they could hear. Once they do it, there is no going back. No matter what they do later, their boobs will always look worse than before they went under the knife.
While some women do it for health reasons (Merilyn Sakova, for example, had a cancer, which made her mastectomy a life or death matter), there seems to be a push for women to chop up even healthy breasts, and for what I consider to be very bad reasons.
For the record, I am not a doctor, a psychiatrist or a sociologist, so what I write is strictly one man's opinion. However, I will be discussing some politically incorrect subjects which even experts often avoid on pain of being "cancelled".
Note: This a fan submitted article. If you want to share your thoughts in an article please contact me.
– Poor self-confidence
Pretty much every surgery website I checked that listed the reasons for breast reduction had among them "poor self-confidence".
Plenty of people suffer from low self-esteem, for various reasons. However, if cutting up your arms because you feel sad/anxious/depressed is something for which you should get help, how is chopping off your breasts any different? Even considering boobs aren't as useful as arms,you are still mutilating your body due to psychological issues. Any woman suffering from poor self-confidence should consult a mental health professional, NOT a plastic surgeon.
In the next two sections of this article, I'll elaborate on what I believe are the main reasons busty women feel insecure.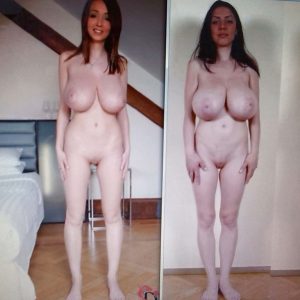 -Breast Envy
While some women feel that having small breasts is better since they don't have back pains and can fit better in clothes, the truth is plenty are envious of the attention afforded to busty women. One of the earliest examples of breast envy can be seen in a photo of Sophia Loren (who was hardly flat chested herself) looking disdainfully at Jayne Mansfield's cleavage (Loren revealed in 2014 she was afraid Jayne's boobs would spill over her dress).
Women who feel their busty friends will steal their men may make them feel abnormal and suggest to them undergoing a breast reduction to look more "ordinary" and fit in with the others.
-Demonization of male sexuality (aka the "Male Gaze").
Many women have been taught by feminists to feel anxious about being seen by men as potential sexual partners, even though interest in women's bodies is a normal aspect of male sexuality. In the world of visual arts, this mentality has resulted in less sexy nude scenes in movies and series, along with giving roles in blockbusters to flat-chested women. One example is Lara Croft, who was played by the (at the time) fairly busty Angelina Jolie in 2000, and in 2018 by Alicia Vikander. Another is Wonder Woman, who was played in the 70s by Lynda Carter and nowadays by Gal Gadot. Adult film actress Kenzie Taylor, who starred in the porn parody of "Captain Marvel", pointed out in a video that, unlike how the titular character is depicted in the comics, Brie Larson has neither a nice ass nor big boobs. Whatever you may think of these women as actresses, the fact remains their breasts are much smaller than those of the characters they are playing.
To be frank, I think many feminists, besides hating anything that men may enjoy, also resent women who look better than them, which are the real reasons there has been such an ideological push to give the spotlight to flat-chested, tomboyish-looking women as opposed to feminine and conventionally attractive ones.
-Not wanting to make the effort
While preparing this article, I asked Sha Rizel, who I chat with sometimes, what her opinion on breast reductions was. She told me that, while she does occasionally suffer from back pain, it has never occurred to her to reduce her breasts. The reason was, she sees them as "a reward and a responsability", a symbol of feminine beauty that is worth preserving. According to Boobsrealm, Demmy Blaze agrees with Sha in that she would never undergo a reduction. Their view is reminiscent of poet William Blake's proverb "The nakedness of woman is the work of God". Which is another way of saying that beautiful things are to be safeguarded.
While some women do complain about back pains and not being able to exercise properly, there is a difference between suffering from gigantomastia and having only somewhat larger breasts than most women. If you belong to the latter category and still think a reduction is necessary to exercise and feel good, perhaps you should consider whether you're just too lazy and spoiled to handle even the slightest difficulties.
Eden Mor in 2019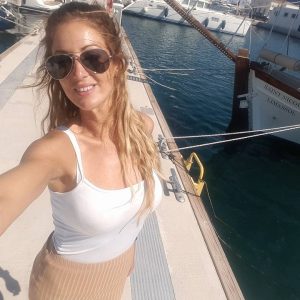 Conclusion
While there are legtimate health issues that require a mastectomy or reduction, I believe many women are, and have been, manipulated into undergoing them for malicious or ideological reasons. You may think the man who tries to convince you to keep your large breasts is doing it because he's a perv, but he is also trying to tell you that it's okay to be a bit different from other women, and that you should embrace your body as it is, instead of butchering it on another person's whim.
Furthermore, the puritanical feminist doctrine, both misandric and misogynistic, has contributed to making women feel that attention from men is degrading, that their breasts are "unusual" (in a bad way), and that it's better not to have them at all. Not helping matters is the fact they rarely see other bosomy women in movies and series, which only worsens their feeling of "otherness".
Finally, a reduction is a surgery like any other. As such, it carries risks and will scar you forever.
Having large breasts is not abnormal. What is, is to destroy a part of one's body for the sake of fitting in a group, ideology or laziness. Unfortunately, since criticizing women's decisions about their body, even for their own good, has become a taboo these last few years, it's unlikely we'll see less reductions in the future, since we can't have an honest and blunt discussion about the matter except in adult websites and behind the safety of anonymity.
Lolosavo and Eva Batista