Two years ago I made a post about the Top 10 busty wrestlers from the independent circuit. After that beautiful Jessicka Havok blocked me on twitter and most of the girls in the list retired. Also, the #1 of the list, Sami Lane dropped a lot of weight, so those big natural breast got smaller. Some fans say she got a reduction – alas Simona Halep- but I am not sure. Sami Lane still looks nice and I gotta admit her promo skills have improved. She has a great body and still a big rack, but not as Tittylicious as 2 years ago. This time, due to the lack of big breasts in the indie scene, I included WWE -which does not make much difference to be honest-
Note: Despite the previous post about Nikki Bella supposed nude photo, she does not make it to this list.
Note 2 : This girl Heidi Katrina has an impressive body. Not big tits, but wow.. she has to be famous. I am sure she can be a good challengeragainst "Booty Queen" Iskra Lawrence. Follow her on twitter @HeidiKatrinaa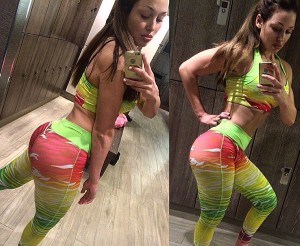 Note 3: If you are into wrestling I really invite you to check out female wrestlers on Shimmer, Shine, EVE, AIW, WSU plus ROH and now GWF. There are quite some talented women. There are very beautiful ladies that despite not being on this list I would like to give a shout out: Crazy Mary Dobson, Allisyn Kay, Leva Bates, Candice LeRae -whose boyfriend Joey Ryan was on the penis-slam video that went viral last week -, Cheerleader Melissa, Nikki Storm, Kay Lee Ray and Nicole Matthews. All beautiful and professional ladies who deserve to be famous and a spot on national television… well now.. let's go to the list
Note 4: Rachel Sumerslyn, Shelly Martinez, Rain and Celeste Bonin are no longer active, so that is why they did not make it to the list.
Honorable mention: Cherry Bomb. Cherry Bomb, may not be the bustiest wrestler, but she is really good-looking and has a nice rack. Cherry Bomb qualifies as a MILF, as she is married to a fellow CZW wrestler. Cherry Bomb is currently sidelined by an injury. BoobsRealm wish her a speedy recovery. OH, BTW, I am sure that if you google her name you will find a pornstar in yor search.. make sure you type wrestler..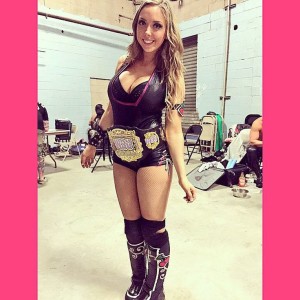 5. Paige: The great young british athlete made it to this list. Not because of the push-up bras she used during Tough Enough, but because WWE's Paige has always had nice breasts. Here a photo of the former WWE Champion and fantasy of dozens of thousands of mean and women. The photo below is from her days as Britani Knight.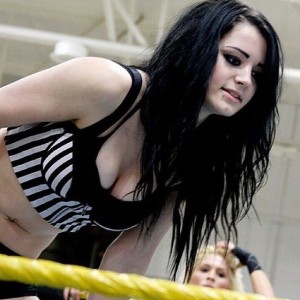 4. Sami Lane: The former #1 best busty wrestler seems to have gotten a reduction. I will post a before and now photo so you can tell me if it was only weight loss or it is also the wrestling attire she is wearing.
3. Mary Elizabeth Monroe: An indy girl whose wrestling skills are not as good as her looks. Not meaning that she is bad, but she is not on the PWI Top 50 list. Mary Elizabeth Monroe has nice breast. Sometimes they seem natural whereas others they look enhanced. Anyway, enjoy!
2. Angie Skye: An underrated technical wrestler from Quebec. Angie Skye not only has nice breast, but also has a nice booty. Angie Skye has wrestled for local NCW and crossed the border for showing her skills and bouncing her firm breast at Shimmer Wrestling events. Hopefully she can make it to TV. In an era where WWE lacks of big chested women -after years of having Lita, Trish Stratus, Molly Holly -Angie has to offer beauty and rink skills.
1. Taeler Hendrix: Taeler made it to TNA wrestling some years ago… TNA is the acronym of Total Non-Stop action, but looking at Taeler Hendrix I am pretty sure you thought it was related to Tits N Ass. Taeler Hendrix has improved her game and has been getting standing ovations -pun intended- on OVW and ROH.
So guys.. who is your favorite busty wrestler?