Wacth the complete Veronica Zemanova hardcore tryout. The exclusive is story behind this legendary scene is below.
Note: Do not forget to vote in each group of round 1 Miss Boobs Realm 2016.
BoobieBlog posted a shorter version of this hidden gem. However, I could find the 26-minutes video of Veronica Zemanova. The full-story of the video is the following. This is Veronica Zemanova's first scene. Her agent at the time did not know what to do with her. He saw her as another czech girl who would do dozens of hardcore flicks and was gonna be just another girl making him some cash. He never saw  in her the softcore Veronica Zemanova later became. The agent took Veronica Zemanova to an obscure porn producer in Germany. Veronica was supposed to get fucked in the scene' however, when the dude was about to stab his cock in her pussy she got nervous and decided to leave the scene. It was no big deal for anybody in the set, as rookies have cold feet and realize they are not made for porn while they get the D inside. However, this scene became a hidden gem as it is the only video where we see legendary softcore model Veronica Zemanova with a dick.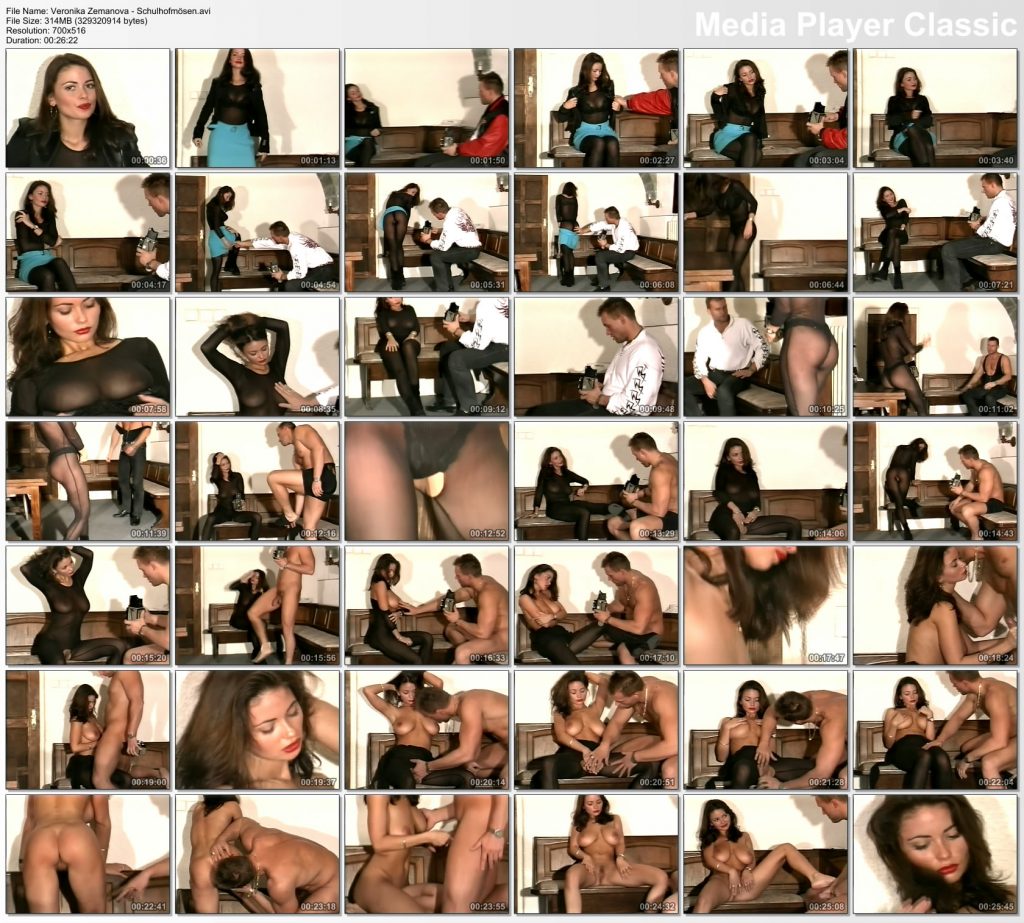 According to Pierre Woodman, he was offered Veronica Zemanova long time before this scene took place. He was about to fuck her -2ok deal for 4 hardcore scenes- but the agent got jealous or did not like the idea they were going to fuck and Woodman got cock-blocked. Months later he saw this scene in Berlin. He called her agent, who said it was the first boy/girl she was doing, but she felt like not doing it while shooting, so nothing else happened. Woodman said he watched the original version of this video and there was a hardcore scene. However, I don't see it having happened, as there are no edit during the handjob or tit fuck.
Watch the video below and let me know what you think
Do not forget to vote in each group of the first round of Miss Boobs Realm 2016. Remember that this year besides fans voting, a Special Committee will vote too to decide who advances to the next round
Group 1
Alicia_Rio10, Alisena, Channel Frost, Cosmic, HollyWouldX, JennyLove52, Lily Ivy, neoaphrodite, OneBigKiss, Sheridan Love
http://www.boobsrealm.com/2016/11/30/miss-boobs-realm-round-1-group-1/
Group 2
Alisa May, Allie Bay, Andreea_93, Angeleyesblue25, Anri Okita, Cathy Heaven, Eva Quinn, Lola Fauve, Scarlett De La Torre, Tiffany Cappotelli
http://www.boobsrealm.com/2016/11/30/miss-boobs-realm-round-1-group-2
Group 3
Angye69, AnnySmiles, April Dawn, kattelovely, Kaycee Barnes, Lea (Watch4Beauty), Maitland Ward, Nicole Belle, Selina Kyle, Sexy Creolyta
http://www.boobsrealm.com/2016/11/30/miss-boobs-realm-2016-round-1-group-3/
Group 4
Anastasia Lux, AngelVane aka Rose Taylor, Anya96, BohemianBabe, Candypuff, Karin Shubert, Katrina Jade, Rhian Sudgen, Sexxy Bunny, Shay Laren
http://www.boobsrealm.com/2016/11/30/miss-boobs-realm-2016-round-1-group-4/
Group 5
Blue_eyes96, Candie Cane, Kym Graham, larisa Love You, Lauren Redd, LeelaJayy, Rhaenys, Rion, ronna raze, Subelizabeth4use
http://www.boobsrealm.com/2016/11/30/miss-boobs-realm-2016-round-1-group-5/
Group 6
Budfairy, Busty Von Tease, Daniela Leon, Gabriela Baeva, GreenDaisy_80, Heather DD, Marie Leone, Nalizabeth, SweetMissAmelia, Ursweetanna
http://www.boobsrealm.com/2016/11/30/miss-boobs-realm-2016-round-1-group-6/
Group 7
Hilary Craig, Kriisus, Lennox Luxe, Lovely Lilith, Micky Bells, Mila (W4B), Roxi Red, Skyla Novea, Smiley Emma, TaniaAngel
http://www.boobsrealm.com/2016/11/30/miss-boobs-realm-2016-round-1-group-7/
Group 8
Aida Swinger, Ann Kitajima, Bella Roux, Cherubesque, Lovely Gigi, Mila Steele, SexyGamerGirl123, Sexyplaynatty, Soniiia, Sweetmila1
http://www.boobsrealm.com/2016/11/30/miss-boobs-realm-2016-round-1-group-8/