For many guys around the world Viola Baileys has been the star of 2014 so far. The natural beauty who hails from Latvia shocked the world when performed her first boy girl for the "Spider" Pierre Woodman. Her second scene has been released last week and despite having Viola in a non-sex role, it shows us what she can take in the ass.
Pierre Woodman is a star maker. Not for anything some of his followers call him "Master". Pierre knows how to make business and get the most out of everybody delivering content that becomes must-see. Pierre has taken Viola under his wing and is guiding her in this "mischievous" world that porn is behind the scenes.
We all know that Viola likes Pierre and has shot many "many" scenes for his site. However, people does not know the specifics of said scenes. BoobsRealm.com talked to someone who claims to be an insider and revealed information that just time would confirm:
In her interview with me Viola Baileys claimed that many people said that she had sex with photographers and did boy/girl. I know that some producers have offered Viola good money for off camera sex and she has rejected it. This insider says that Viola and Pierre had sex when she did the casting scene. There ha been subtle text that kind of confirms this statement. Pierre has said that Viola is really tight and she likes anal sex.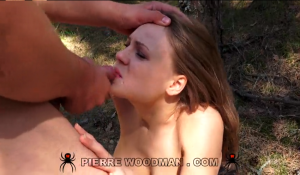 Viola has already shot scenes with other guys. Actually, they have shot a scene in Hungary where, according to my source, she blows 3 dicks -one being Pierre's-.
BoobsRealm.com has been trying to confirm what this source stated: however, for obvious reasons no official word has been said. What I know is that whatever happens with Viola on http://enter.woodmancastingx.com but we know that we are witnessing the development of the new Silvia Saint.
Legal Porno has been trying to reach Viola Bailey, but as they have bad blood with Pierre Woodman, probably they would destroy her holes and everybody would have seen everything in 2 shoots
Just enjoy Woodman's site. Viola is about to change the porn world as we know it. Keep Calm and Check Woodman Casting X